Written by Lynn Craig of Cookie Baker Lynn.
Pickles seem like a funny thing to get excited about. They're just cucumbers in jars with liquid and seasonings, right? Right, but some people are quite passionate about their pickles.
A dear friend of mine who is a US transplant living in the UK says one of the things she misses the most is dill pickles. The shops there just don't carry them. On a trip to visit family in the US she returned home with jars of pickles in her carry-on luggage (not something you can do these days). She got strange looks, but it was worth it to savor just-right dill pickles.
There is a deli in the Pike Place Market in Seattle that flies in their pickles every week from New York so they'll be "right."
And then there's my son. Pickles are his favorite food group. He'll beg me for a pickle to snack on while I'm slicing some and when he's eating a sandwich or a hamburger, it's got to have pickles or it's not right.
The beauty of canning your own pickles is that you can make them to suit your own personal tastes and needs. Pints or quarts, dill or sweet, garlic or jalapeno, you can choose. And if you grow your own pickling cucumbers (I don't – I am known as She-Who-Kills-Plants), you can even get just the right variety for the size and type you prefer.
ALL photos by Lynn Craig
Methods and Pickling Basics
Pickles can be as quick and easy as pouring hot brine over cold cucumbers in jars and processing in a water bath. Or you can choose to brine the cukes overnight in a salt water bath to draw moisture out of them so the pickling solution better permeates into them. Or you can barrel ferment them over a period of 3 to 6 weeks. Or process them over 9 days to draw out the best flavor.
The methods of making pickles, the varieties of pickles, and the recipes for making them would fill several cookbooks, so I'm not going to try for all-inclusive here. I'll walk you through a basic dill pickle recipe, then you can experiment and find the recipe that will be cherished and handed down in your family with your name attached to it.
Imagine having your great-grandchildren bugging their mother for Nana Lula's Garlic Dills recipe! (Well, that only works if your name is Lula, so try imagining it with your name inserted.)
Some pickling basics:
~ Select only ripe, firm, unblemished pickling cucumbers of the appropriate size for your recipe. Mushy cucumbers will not magically become crispy when brined.
~ Pickling cucumbers have a thinner skin than regular cucumbers, so they are best used within 2 days of harvest.
~ Use pickling or canning salt which is pure salt without additives. Table salt has anti-caking agents and iodine which will make your brine cloudy.
~ Don't modify the amount of salt, sugar, vinegar, or water in a recipe. They work together to produce a safe pH level for the pickles and a good flavor balance.
~ The jars need to be hot when you fill them. You can run clean jars though a sanitizing cycle in the dishwasher, or fill them with hot water and put them in a pot of hot water over low heat. I like to use the canning pot as a hot water bath. Don't heat the jars in a dry oven; this can damage the glass.
~ Most pickles need to mature at least a week for the best flavor. Label the finished jars with the date they were made and the date they'll be ready to eat.
~ Grape leaves or alum are sometimes added to a pickle jar to enhance the crunchiness of the pickles.
~ Chill pickles thoroughly in the refrigerator prior to opening for best texture.
Recipe: Extra-Garlic Dill Pickles
Because garlic is popular in our house (understatement), I made Extra-Garlic Garlic Dills. Again, you can change the amounts if that's too much for your tastes.
This recipe makes about 7 quart (1 L) jars of pickles. Here's what you'll need: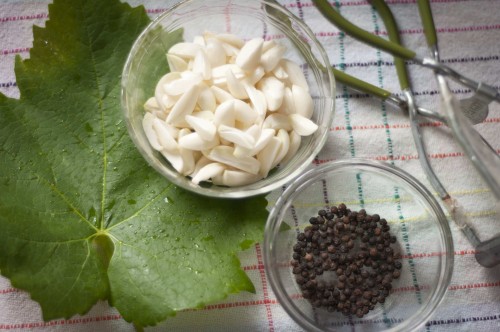 Equipment –
7 glass quart canning jars, wide-mouth
7 canning lids, new
7 canning screw rings, rust-free
A large canning pot
A rack for the canner
A small saucepan for the lids
A large pot for the brine
A large non-reactive bowl that will hold 7 lbs of cucumbers
A wide-mouth funnel
Clean towel to set the jars on
Clean cloth to wipe the jar tops
Kitchen timer
Jar lifter
Silicone tongs
Ingredients-
Day 1
7-8 lbs (4 kg) of 3-4-inch (7.5 to 10 cm) pickling cucumbers
1 cup (250 ml) pickling or canning salt (not table salt)
Day 2
35 peppercorns
1 Tbsp (15 ml) pickling or canning salt
7 cups (1.75 L) water, preferably filtered
6-1/2 cups (1.625 L) of white vinegar
21 cloves of garlic, each cut into quarters
14 dill heads
7 grape leaves (optional)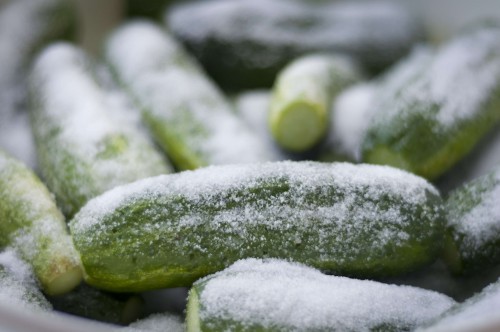 Day 1
1- Scrub the cucumbers gently under running water to remove dirt and prickly bits. Trim off 1/8-inch (3 mm) from each end and prick all over with a fork.
2- In a large bowl, layer cucumbers and salt using about one-quarter of  each per layer. Add cold water to cover by about 1 inch (2.5 cm). Place a plate on top to weigh down the cucumbers. Cover and let stand at a cool room temperature for at least 12 hours or for up to 24 hours.
3- Soak dill heads upside down in a bucket of salt water overnight. Any bugs on the heads will either drown or crawl away.
Day 2
1- Wash jars thoroughly in hot, soapy water and rinse well. Fill the jars with hot water and place them in the canning pot. Fill the canning pot with hot water, making sure the water covers the jars by at least 1 inch (2.5 cm).
2- Cover the pot and bring the water almost to a boil over medium-high heat (30 to 60 minutes). When the water is almost boiling, reduce the heat to keep it at a simmer and keep the pot covered until you're ready to use the jars.
3- In a small saucepan, bring 2 inches (5 cm) of water to a simmer. Add the lid disks, cover the saucepan, and take it off the heat.
4- Working in batches, with a colander, rinse and drain the cucumbers. Rinse again and drain well. Set aside.
5- In a pot combine the salt, water, and vinegar. Bring to a boil over medium-high heat, stirring often until salt is dissolved. Boil for 1 minute. Reduce heat to low and keep liquid hot. Keep covered to prevent evaporation when you're not using the liquid.
6- Use the jar lifter to lift a jar out of the simmering water. Pour the hot water out into the sink and put the jar on a towel on the counter. Place 1 grape leaf (if using), 6 pieces of garlic, 4 to 5 peppercorns and 1 dill head into the jar. Pack cucumbers into the jar, leaving about 1 inch (2.5 cm) headspace, and top with 6 pieces of garlic and 1 dill head.
7- Place the canning funnel over the jar and using a ladle, pour hot pickling liquid into the jar, leaving 1/2-inch (1 cm) headspace. Remove air bubbles and adjust headspace as necessary by adding hot pickling liquid. Wipe the rim with a clean cloth or paper towel dipped in warm water. Using the silicone tongs, remove a lid disk from the saucepan of hot water and place it on the jar. Screw on a band until it's fingertip-tight.
8- Repeat steps 6 and 7 with the remaining jars and ingredients.
9- Place the jars in the canner and return to a boil. Process for 15 minutes (start timing after the water has reached boiling). Turn off heat and remove the lid from the canning pot. Let the jars stand in the hot water for 5 minutes. Then use the canning tongs to transfer the jars to a clean towel on the counter and let them stand for 24 hours. You should start to hear the happy pinging of lids sealing as they cool. Any jars that do not seal should be refrigerated. Once the jars are cooled, label them with the name of the recipe, the date made, and the date they'll be ready.
[print_link]
What's your favorite pickle? If you have a favorite pickle recipe you've posted, feel free to leave a URL in your comment.