Written by Shaina of Food for My Family.
This summer has been one of rushing around, struggling to fit things in and generally moving faster than I'd like. Suddenly and without warning, it was time to start plucking food off my garden vines and begin packing them into jars.
My plan yet to be formed, there was one thing I knew I would be crossing off the bucket list: pickled green beans.
Last year late in the winter, my brother-in-law showed up at a snow-covered gathering with a jar of such green beans. They were set out on a buffet-style table and offered up to the group. I found myself returning to the jar no less than three times.
The snap of the green bean and the smell of summer all perfectly preserved and eaten in the dead of winter when we were bundling up from head to toe had captivated me.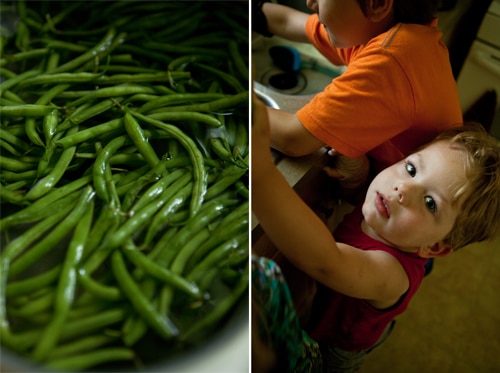 All photos by Shaina
I knew then that I would be pickling green beans all summer long in an effort to bring that snap and crunch to mealtime atop salads and alongside appetizers, and sure enough, I scooped them up the minute they appeared at the market.
Today, Shauna Ahern, the Gluten-Free Girl herself, is hosting a Pickling Party. After 1500 of us made pie together last month, Shauna organized a pickling party for the month of August, just in time for canning season.
I can't wait to see what everyone else is pickling and putting up this summer!
Ingredients
2 1/2

cups

distilled white vinegar

2 1/2

cups

water

soft and not hard water

1/4

cup

pickling salt

2 1/2 - 3

pounds

fresh green beans

washed and ends trimmed

3

cloves

garlic

1

bunch

fresh dill

4-6

Thai chilies
Instructions
In a medium-sized saucepan, bring vinegar, water and salt to a boil. Stir and boil until salt is dissolved. Keep warm over medium-low heat.

Sterilize 3 quart-sized canning jars, lids and rings by boiling in a large pot of boiling water. Leave the lids and rings in the water, but remove the jars and pack tightly with green beans, a sprig of dill and a Thai chili or two. Move quickly so the jars stay warm.

Ladle the vinegar mix over the green beans until it comes within a 1/4" of the lip. Wipe down the rims, cover with a lid and lightly screw on the rings.

Process the jars in a hot water bath for 10 minutes (15 minutes for above 6,000 feet altitude). Remove the jars to a clean, dry towel. Be sure none are touching. Allow to cool.

The jars will pop and seal as they cool. Any unsealed jars can be refrigerated and used promptly.
Nutrition
Calories:
213
kcal
|
Carbohydrates:
39
g
|
Protein:
10
g
|
Fat:
1
g
|
Saturated Fat:
1
g
|
Sodium:
9480
mg
|
Potassium:
1211
mg
|
Fiber:
13
g
|
Sugar:
19
g
|
Vitamin A:
3870
IU
|
Vitamin C:
164.3
mg
|
Calcium:
209
mg
|
Iron:
5.6
mg
More Pickled Produce
:: Garlic Dill Pickles | Simple Bites
:: Pickled Peppers | Food for My Family
:: Lacto-Fermented Pickles | Simple Bites
:: Pickled Green Tomatoes | Food In Jars
:: Pickled Turnips | Georgia Pellegrini
Do you pickle? What are your favorite things to pickle, and what would you like to try?