Written by Marisa of Food in Jars.
I grew up in a household that was entirely divided on the issue of barbecue sauce. My father was a devotee, who regularly worshiped at the altar of sauced ribs and slathered pulled pork. When there's nothing else in the house to snack on, he'll make cheesy toast, dressed with lashings of sweet, hot, tangy sauce.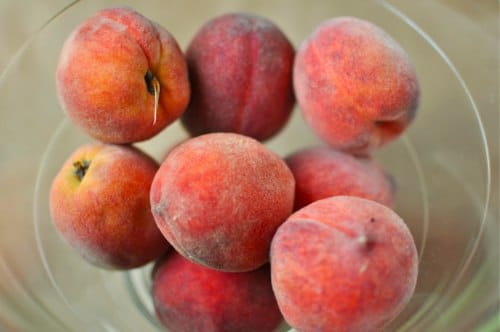 My mother lives in direct opposition to my dad. She can't bear even the faintest whiff of barbecue sauce and refuses to share a dining table with anyone who is partaking. I credit this dislike to the fact that she grew up in a Jewish neighborhood of suburban Philadelphia, where barbecue meant pork. Though hers was a secular household, they held onto the practice of avoiding anything from the pig.
I find myself somewhere in between my parents' sauce extremes. I don't love it with the same fervor as my dad, but I can see its virtues, particularly when painted onto a chicken leg that's been slowly cooked on a charcoal-burning Weber.
These days, my favorite version of barbecue sauce is one that's made with peaches instead of the more traditional tomatoes. Because peaches are naturally denser, the sauce cooks faster and the finished texture is thicker and pleasantly fruity.
I keep the heat in check with just a half-teaspoon of cayenne and a pinch of Aleppo pepper. Heat fiends are welcome to increase the spice.
A warning: Make sure to use yellow peaches in this sauce. A version made with white peaches will be too sweet and, due to lower acid levels, will be unsafe for boiling water bath canning.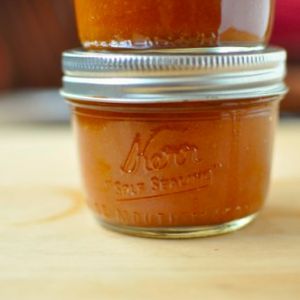 Ingredients
2

pounds

yellow peaches

approximately 7-8 peaches

3/4

cup

apple cider vinegar

1/2

cup

brown sugar

1/2

cup

minced onion

1

clove

garlic

crushed

2

teaspoons

smoked paprika

2

teaspoons

salt

1/2

teaspoon

cayenne pepper

1/4

teaspoon

crushed Aleppo pepper
Instructions
Cut peaches in half. Remove stones and peels.

Combine all ingredients in a wide pot with a tight-fitting lid and stir to combine. Place lidded pot on the stove over medium-high heat and cook for approximately 10 minutes, until the peaches and onions have softened.

Using a potato masher, break down the peach pieces. Continue to cook, with the lid off, until the mixture has reduced by approximately half.

Remove pot from heat. Using an immersion blender, puree the mixture until smooth (you may have to tip the pan a little in order to do this without splashing). If you don't have an immersion blender, scrape the mixture into a blender or food processor and blend until smooth.

If the sauce is nice and thick, it is done. If it's still a little watery, return it to the heat and cook a bit longer. At this point, taste it and add more salt or pepper, if necessary.

When it's finished, divide the sauce between two half pint jars. Wipe rims, apply lids and rings and process in a boiling water bath canner for 20 minutes.

When time is up, remove jars from canner and let them cool on a folded kitchen towel.

Sealed jars can be stored in your pantry for up to one year. Unsealed jars should be refrigerated and used promptly.
Notes
If you struggle to peel the peaches, either blanch the halves in a pot of boiling water for 60-90 seconds or get a serrated peeler. Either method makes quick work of the peach skins.
Nutrition
Calories:
862
kcal
|
Carbohydrates:
208
g
|
Protein:
10
g
|
Fat:
3
g
|
Saturated Fat:
1
g
|
Sodium:
4706
mg
|
Potassium:
2209
mg
|
Fiber:
17
g
|
Sugar:
188
g
|
Vitamin A:
5490
IU
|
Vitamin C:
66.7
mg
|
Calcium:
177
mg
|
Iron:
4.2
mg
Editors Note: Don't forget! You can still enter to win a copy of Marisa's cookbook, Food in Jars, by tagging your Instagram photos and tweets with #SBCanIt! Winner will be chosen randomly.
We're looking forward to seeing your canned goodies!
Barbecue sauce: love it or leave it?