Three days into January, I cracked open a jar of the blueberry syrup I canned back in July and inhaled the sweet smell. One nearly-black, sticky spoonful transported me back to that lazy summer day when the fruits simmered into a sauce; I could almost hear the drone of my neighbor's lawnmower.
There's not a single item in the grocery store that can provide a pick-me-up like that blueberry syrup. You've already heard why I'm sold on home preserving, so I won't say much more other than there are few tonics that beat the January blahs like the flavors of summer preserved in a jar.
In praise of winter canning
If you're a beginner to intermediate home canner, you might want to try canning in smaller batches and spread out the task over the year. This keeps you in the groove, and helps prevent burnout! I've talked to many people who've walked away from preserving altogether because of one overly intense week.
Granted, you really should work when the produce is in season, so the bulk of preserving happens from June to September; however there are still plenty of fun preserving projects possible during the darker months of the year.
You may remember a round-up of winter home canning projects that I posted in November. It was always my intention to get through the holidays, and then unwind in my kitchen with a couple of preserving ventures in January, because with the snow flying outdoors and the kids away at school, this is the perfect time of year to try something new – like marmalade!

Homemade Marmalade: Tips to Success
Ah, marmalade. That jewel-colored jelly with threads of citrus rind suspended throughout which offer both a delightful texture and hint of bitterness – perfectly contrasting the sweet jelly. Whether you like it tucked into warm croissants or brushed onto a baked ham, I've found marmalade is always best when you make it yourself.
Here are a few tips to making great marmalade at home.
Use organic citrus whenever possible to avoid the pesticides on the skin which you will be including in your recipe instead of composting.
Use a very sharp knife to remove and prepare the rind. This is one kitchen project where you cannot use a food processor.
Measure all ingredients out ahead of time.
Assemble all canning equipment ahead of time. See our guide on Canning Basics for a list of tools.
Allow the marmalade to sit, undisturbed for at least one week, to allow it to fully set.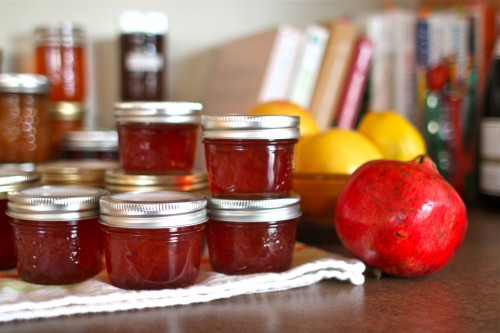 Ingredients
4

large

pink grapefruit

scrubbed and dried

1

cup

water

1

cup

unsweetened pure pomegranate juice

1

package

powdered pectin

(1.75oz)

4 1/2

cups

granulated sugar
Instructions
Using a paring knife, remove peel from grapefruit in large strips, taking care not to remove too much of the "pith" or white part. Thinly slice peel, to make 1 cup.

In a small saucepan, combine peel and water and bring to a boil over high heat. Reduce heat and simmer, covered, for 15-20 minutes. Set aside.

Remove and discard the remaining peel and pith from the grapefruit. Finely chop grapefruit, discarding seeds and any connective membranes.

Measure to make 3 cups, including juices.

In a dutch oven, combine grapefruit, cooked peel with liquid, and pomegranate juice. Bring to a full boil over high heat; reduce heat and simmer for 5 minutes, stirring occasionally.

Stir in pectin until dissolved. Bring to a full boil over high heat, stirring constantly.

Add sugar in a steady stream, stirring constantly. Return to a full boil, stirring constantly to dissolve sugar. Boil hard for 1 minute. Remove from heat and skim off any foam. Stir for 5 to 8 minutes to prevent floating rind.

Ladle into sterilized jars to within 1/4 inch of rim; wipe rims. Apply prepared lids and rings; tighten rings just until fingertip-tight.

Process jars in a boiling water canner for 10 minutes.

Transfer jars to a towel-lined surface and let rest at room temperature until set. Check seals; refrigerate any unsealed jars for up to 3 weeks. This marmalade is best served after resting for 1 week.
Notes
Used with permission from 250 Home Preserving Favorites
Nutrition
Calories:
542
kcal
|
Carbohydrates:
140
g
|
Protein:
1
g
|
Fat:
1
g
|
Saturated Fat:
1
g
|
Sodium:
18
mg
|
Potassium:
291
mg
|
Fiber:
3
g
|
Sugar:
128
g
|
Vitamin A:
1910
IU
|
Vitamin C:
51.8
mg
|
Calcium:
40
mg
|
Iron:
0.4
mg
This post is brought to you by Tattler Reusable Canning Lids. Tattler provides BPA-free canning lids with a lifetime guarantee. Ideal for all types of canning. Visit Tattler Reusable Canning Lids for more information.
What are you enjoying now that you preserved last year?