Each visit to the market in August finds me with 4-5 pints of blueberries in my basket. I always have high ambitions for jam or pie, muffins or cake, and yet invariably, we always gobble them up in enormous handfuls (and the occasional smoothie) before I can work them into a recipe.
Last week, I had a busy day, but was determined to preserve some of their blueberry goodness in jars before the short season was over. With three kids at home and two separate meetings to attend, my day felt too busy for jam or pie. Fortunately I had a recipe for slow-cooker blueberry butter bookmarked in Marisa's Food in Jars
cookbook, and knew it would be something I could accomplish while highly distracted.
Puree fruit. Simmer in the slow-cooker for the day. Process it in jars in the evening. That's exactly what I did.The next morning when I cracked open a jar and dipped a spoon inside, I just knew I needed to share the recipe.
This fruit butter receives high scores for simplicity, and is full on delicious; it's hard to imagine a nicer way to start the morning.
Most days I'll reach for a fruit butter over a jam for my morning toast, because, well, the fruit (rather than sugar) is the star. Thanks to a long slow cooking time, fruit butters offer an intense flavor and smooth, spreadable texture.
Also, a lot of the water is evaporated out during the simmering process and the natural sugars are concentrated, which means we don't need to add as much sweetener.
The slow-cooker, as opposed to a heavy-bottomed pot, just means that you can step a little further away from the kitchen, if need be. And believe me, when you've got to chase down two boys and scrub their faces for dinner, you don't want to have to worry about a bubbling pot on the stove.
Where did the plums come in? I was short on blueberries and had four purple plums going soft in my fruit bowl. It seemed like a logical pairing to me and I've always been a fan of mixed fruit jams and butters.
Lastly, if you've never canned before, don't let that stop you from making this butter. It will keep for up to two weeks in the refrigerator, or up to 6 months in the freezer. If freezing, be sure to leave a good half-inch of head space at the top of your jars for expansion.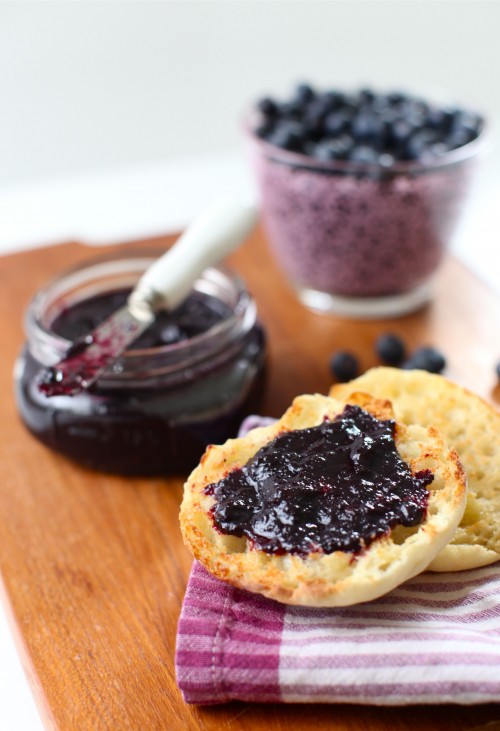 This recipe is adapted from Food in Jars: Preserving in Small Batches Year-Round
by Marisa McClellan. In her original recipe, Marisa uses only blueberries (8 cups of puree) and spices things up with cinnamon and nutmeg. I tend to over do the spices, and decided to forgo them this time and let the flavor of the blueberry – and plum – shine through. Lastly, Marisa uses white sugar, but I was very happy with how the spread turned out with organic golden cane sugar as a sweetener.
Update: Here's Marisa's original recipe, over on the Food in Jars blog, should you prefer the spiced version.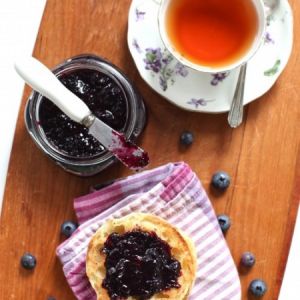 Slow-Cooker Blueberry-Plum Butter
This Blueberry-Plum Butter receives high scores for simplicity, intense flavour, and thick, yet spreadable consistency.
Print
Pin
Rate
Servings:
6
half-pint jars
Ingredients
5

pints

blueberries

4

large

plums

2

cups

organic golden cane sugar

1

zest and juice of one organic lemon
Instructions
Spread blueberries on a tray or baking sheet and check over quickly for large stems, leaves or bugs.

Wash blueberries and plums and drain well. Cut plums in half and remove pit.

Combine fruit in a food processor and blend until it is a smooth puree. You should have about 8 cups of puree.

Add puree to a slow-cooker, cover and turn to high. After one hour (set a timer!), stir the butter and leave the lid open a crack for the remainder of the cooking time. This will allow for the steam to escape and the butter to reduce and thicken.

Cook the butter for 4-5 hours on high or 6-8 on low. Times WILL vary with different slow-cooker brands. Be sure to stir the fruit butter once an hour or so.

In the final hour of cooking, add the sugar, lemon zest, and lemon juice. Stir well, and bring to prepare your jars and water bath for canning.

Fill a canning pot with 6 half-pint jars or 3-pint jars. Bring to a boil and boil for 10 minutes to sterilize the jars.

Place rings and lids in a small sauce pot, cover with water, and bring to a simmer.

Once blueberry butter is the consistency of ketchup, it is ready to can.If you want it super smooth, like baby food, you can puree it again with an immersion blender. If not, your butter is ready to can.

Working with one jar at a time, remove jars from canner and fill with butter. Wipe the rims with a clean cloth, place a lid and a ring on the top, and return to the canner.

Bring canner back up to a boil and process jars for 10 minutes. Carefully remove jars and allow to cool on the counter overnight.

Check that all the jars have sealed, then store in a cool place for up to 6 months.
Notes
~You can use a blender, Vitamix, or food processor to purée your blueberries.
~I used organic golden cane sugar for this recipe, but white sugar can certainly be substituted. And I'd love to try it with maple syrup.
~Slow-cookers may vary. Marisa recommends cooking the butter for up to 8 hours on low, but I had mine on high the whole time (5 hours) and had no scorching.
Nutrition
Calories:
472
kcal
|
Carbohydrates:
131
g
|
Protein:
3
g
|
Fat:
1
g
|
Saturated Fat:
1
g
|
Sodium:
4
mg
|
Potassium:
420
mg
|
Fiber:
11
g
|
Sugar:
111
g
|
Vitamin A:
365
IU
|
Vitamin C:
52
mg
|
Calcium:
31
mg
|
Iron:
1.3
mg
 More Fruit Butter Recipes:
Do you use your slow-cooker for jam, jelly or butters?