Written by Marisa of Food in Jars.
Plum jam tastes like childhood to me. When I was very young, my family lived in a house with three Santa Rosa plum trees scattered around the yard and every other year, we spent three weeks wading through a sea of plums.
We'd eat them until we couldn't bear to look at another and then my mom would make enough jam to last until the trees ripened again.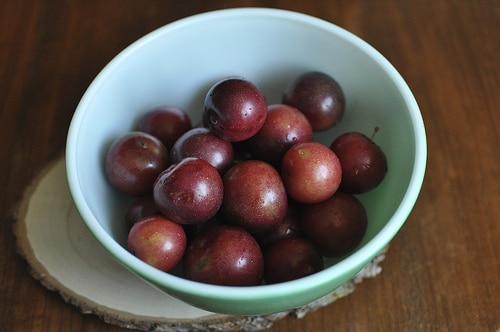 All photos by Marisa
These days, I don't live surrounded by plum trees but that doesn't stop me from making a yearly batch of plum jam. I cook it up just the way my mom did, with cinnamon and nutmeg. The result is a sweet and tart spread that tastes just slightly of Christmas.
This summer, I've become enamored of making smaller batches of jam. When you reduce the volume of jam you make, you also get to cut down on both the preparation and cooking time.
It also means that you can make a wider variety of flavors because you haven't filled your pantry with a dozen jars of the same thing.

Ingredients
1

quart

red plums

about four pounds

2

cups

sugar

1

teaspoon

cinnamon

1/4

teaspoon

freshly ground nutmeg
Instructions
Prepare three half pint jars and a small canning pot. Put lids in a small pan of water and bring to a bare simmer.

Wash, pit and chop the plums. The yield from the quart should be approximately four cups chopped fruit.

Combine chopped fruit and sugar in a large, non-reactive pan. Stir until the fruit begins to release its juice. Turn heat to high and bring to a boil.

Boil the jam over high heat for 15-20 minutes, stirring regularly to ensure that it does not burn. Add cinnamon and nutmeg and stir to combine. When jam begins to thicken, use the cold plate test to

check for set

.

When the jam appears to have reached set, remove the pot from the heat. Ladle into prepared jars.

Wipe rims, apply lids and rings and process in a boiling water canner for 10 minutes.

Remove jars from canner and allow to cool 24 hours on the counter.
Nutrition
Calories:
664
kcal
|
Carbohydrates:
170
g
|
Protein:
2
g
|
Fat:
1
g
|
Saturated Fat:
1
g
|
Sodium:
1
mg
|
Potassium:
495
mg
|
Fiber:
5
g
|
Sugar:
164
g
|
Vitamin A:
1090
IU
|
Vitamin C:
29.9
mg
|
Calcium:
26
mg
|
Iron:
0.6
mg
What is your favorite stone fruit jam?