Simple recipes and methods for preserving the bounty of summer herbs.
Few gardening tasks make me happier than gathering enormous bundles of fresh herbs and bringing them into the Simple Bites kitchen.
The bouquets of thyme, lavender, rosemary and other herbs feel like such an abundance of wealth. I keenly feel the responsibility to preserve the bounty for the winter months.
We've arrived at that time of year when herbs have taken off and home cooks are wondering what else to do besides pesto and um….more pesto. I've responded to enough direct messages over the past few days asking how to use and preserve summer herbs that I figured I may as well write a post on the topic.
My tips on how to use and preserve summer herbs will help you waste less, save more, and eat with flavour.
Recipes that feature lots of herbs
Seemingly over the weekend, my chive plants have grown a foot. The oregano is nearly flowering, and the lavender is reaching its delicate purple blossoms in every direction.
I'm kicking things off with a few recipes, because this is THE season to pile herbs onto anything and everything.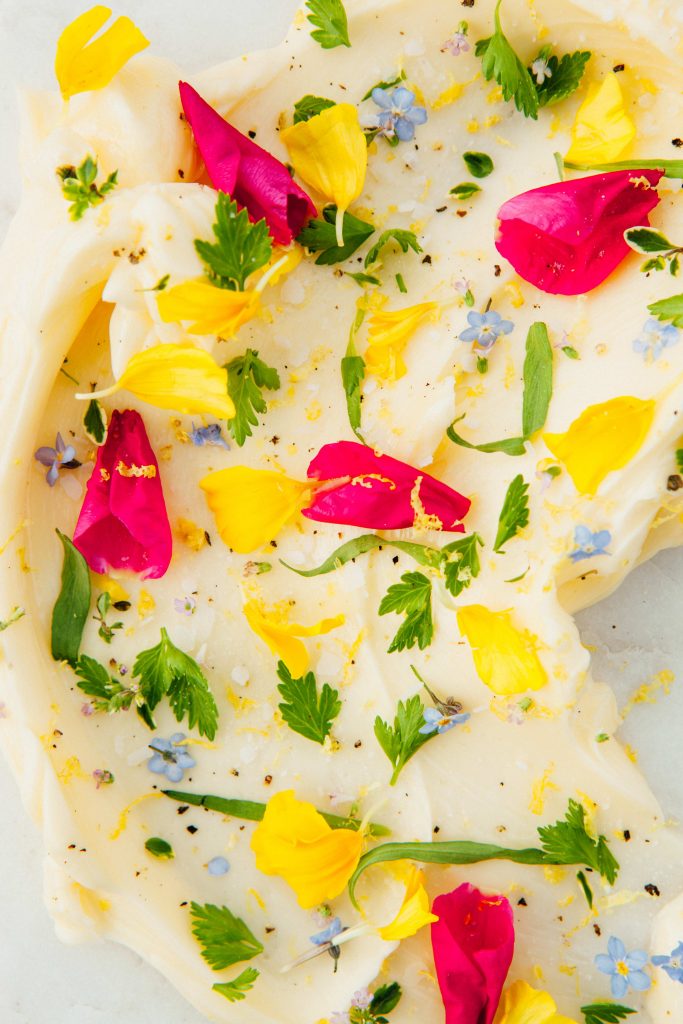 Preserving Herbs (Pesto, Salt, Honey, etc)
Here are a handful of recipes that are specific to preserving ample amounts of fresh herbs in simple and creative ways.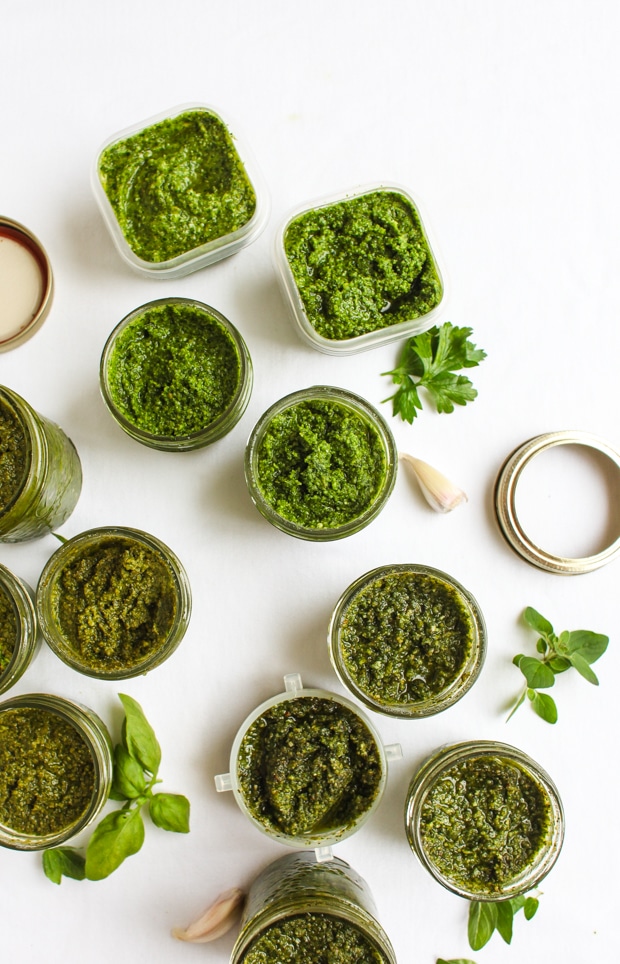 Drying Summer Herbs
Drying herbs is as simple as cutting and bundling the stalks, then hanging them upside down in a dry place.
Small leaves like thyme and rosemary can be left on the stem and removed once dry. If stored in an airtight container, like a small jar, they will keep until the following summer.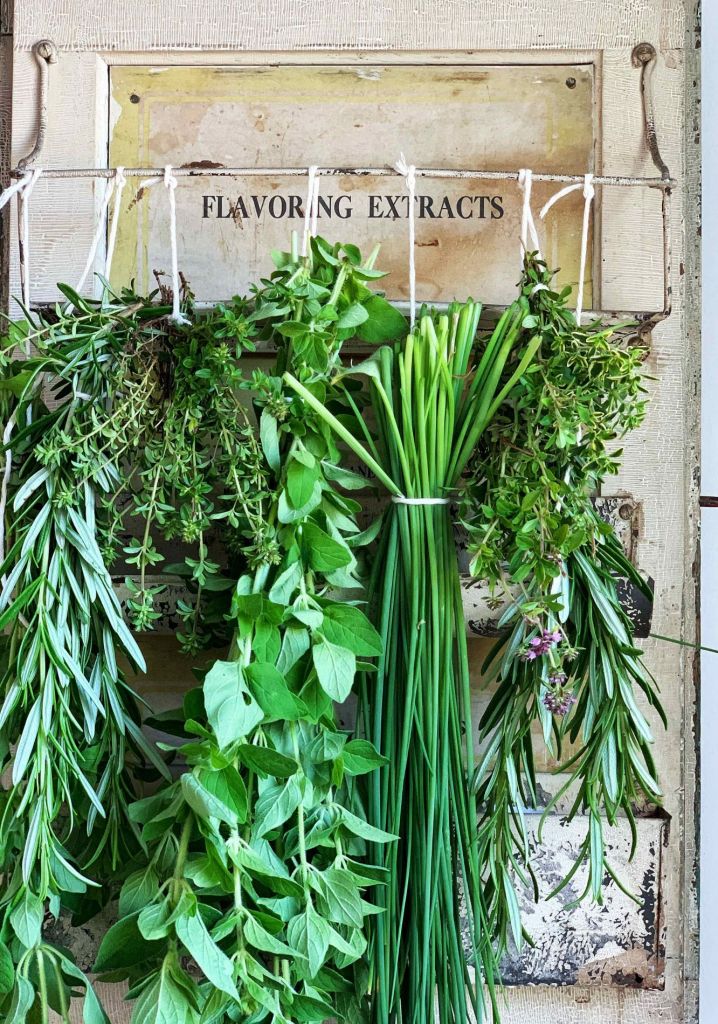 Drying is definitely the way to go for your most-used culinary herbs such as thyme, oregano and rosemary.
Strip the leaves off the lower quarter of stem.
Gather into a small bouquet, about 4-6 stems.
Tie bouquets with about 12 inches of kitchen twine.
Hang in a warm, dry spot that has great airflow (by an open window but out of sunlight).
Herbs will take anywhere from 24h to 5 days to dry. They are ready when the leaves can crumble between your fingertips.
To remove leaves, pinch the stem and run your fingers from stem to tip.
Transfer dried herbs into jars, and store in a cool, dark place.
Alternately, if you own a dehydrator, set it to the lowest setting (no more than 95 degrees), and let it run until the herbs are completely dried.
Chives should be chopped and dried on a tray in a dry place.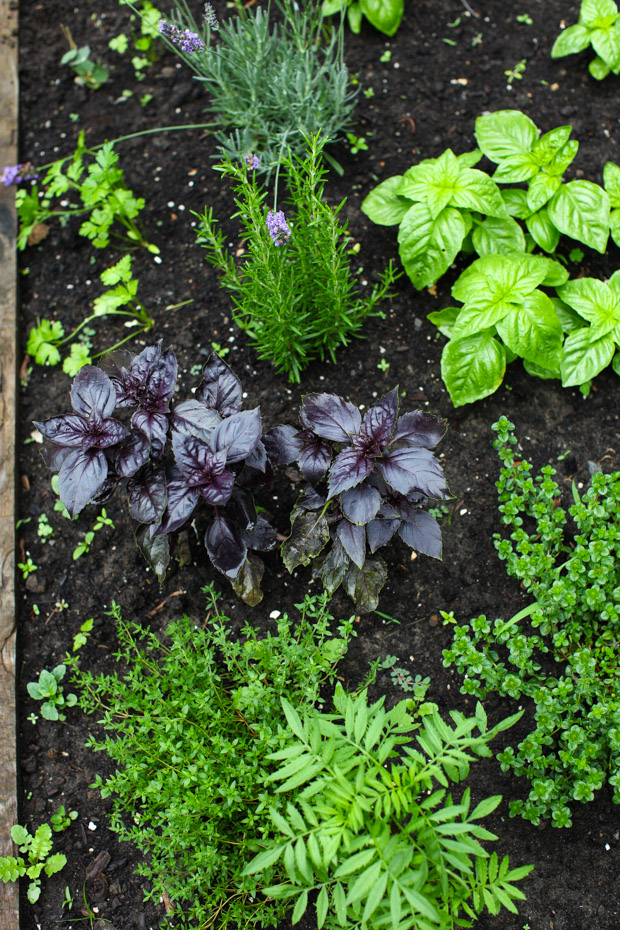 Herb Vinegars
Perhaps the easiest way to extend the life of your fresh garden herbs is to infuse a vinegar.
It's as simple as stuffing a jar with freshly picked herbs and topping it up with room temperature vinegar. Then just cap the jar and wait a week or two. Taste, and add more herbs if you want a deeper flavour.
Try these combinations, then whisk them into homemade salad dressing.
Tarragon + White Wine Vinegar
Thyme + Apple Cider Vinegar
Rosemary + Balsamic Vinegar
Oregano + Red Wine Vinegar
Chives + Champagne Vinegar
My friend Bernice makes a Chive Blossom Vinegar that is so pretty and practical.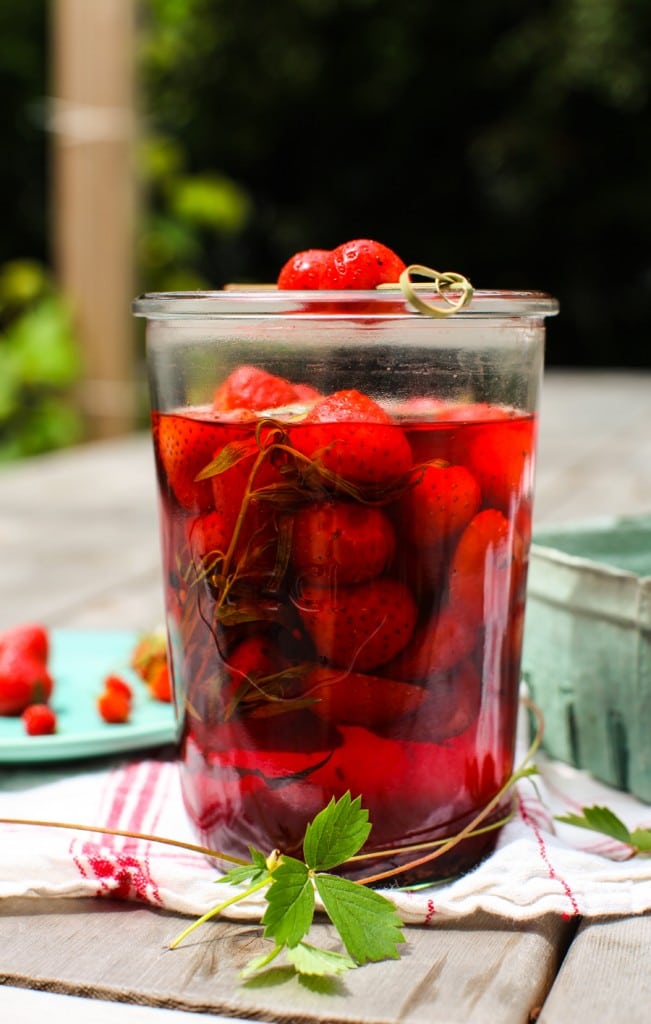 Preserving Herbs in Oil
Hearty herbs like rosemary, sage, thyme, tarragon, and oregano all can be frozen in olive oil for long-term storage. The delicious result is both infused oil and a preserved garden herb.
Preserved Herbs in Oil
Hearty herbs like rosemary, sage, thyme, tarragon, and oregano all can be frozen in olive oil for long-term storage. The delicious result is both infused oil and a preserved garden herb at-the-ready for off-season cooking.
Print
Pin
Rate
Ingredients
2-3

branches

Rosemary

2-3

branches

Sage

2-3

branches

Thyme

2-3

branches

Tarragon

2-3

branches

Oregano

1 1/2

cups

extra virgin olive oil
Instructions
Assemble empty ice cube trays, freezer storage bags, and bundles of fresh herbs.

Wash and dry the herbs well. Use a salad spinner or blot them dry with a clean tea towel.

Remove the leaves of the herbs from the stems. This is a good job for little helping hands and 'bruising' the leaves will help them to release more of their natural oils and fragrance.

Tear or chop the herbs into small pieces or leave them as individual leaves. (I prefer to leave them whole.)

Load the ice cube trays about two-thirds full with the herbs. You can keep the individual herbs separate or you can mix them in combinations you frequently use together.

Pour the olive oil over the herbs to cover.

Freeze the ice cube trays overnight. Pop the cubes from the trays and slip them into small resealable freezer bags.

Write the name(s) of the herbs and the date on bags. Seal and store them flat in the freezer.
Nutrition
Calories:
2885
kcal
|
Carbohydrates:
4
g
|
Protein:
1
g
|
Fat:
325
g
|
Saturated Fat:
45
g
|
Sodium:
9
mg
|
Potassium:
60
mg
|
Fiber:
2
g
|
Sugar:
1
g
|
Vitamin A:
242
IU
|
Vitamin C:
5
mg
|
Calcium:
80
mg
|
Iron:
4
mg
USES: Use these cubes of herbs in oil for starting sauces or soups, and sautéing vegetables. You can also melt the cubes and brushing the infused oil onto grilled meats. I toss the herbs in oil with pasta for a quick pop of flavour and also drizzle pizza with the herb oil.
Never ending ways to save the season
Wait, there's more! Herb salts, vinegars, pestos and butters…this is really just the beginning of how you can creatively preserve summer herbs.
Experiment with simple syrups for cocktails such as this Lavender-Thyme syrup (yes please!). Alternately, add the herbs right into the drink, like this Herbal Homestead Gin & Tonic. And definitely try my Lemon Balm-Infused Lemonade.
Work them into baking, from frosting to cake, like this recipe from my friend Joanne.
Let them shine in homemade pickles and salsa. Quick Pickled Strawberries with Black Pepper and Tarragon make an incredible condiment on charcuterie and cheese boards.
Make a brine with loads of herbs and give your Thanksgiving turkey a bath. Serve that bird with a Fruit and Herb Stuffing.
Turn wilting herbs and their leftover stems into a vibrant salsa topping, punched up with a good hit of vinegar.
Up your cleaning game and turn herbs into DIY cleaning products.
Your turn! I'd love to hear how you use and preserve summer herbs. As always, feel free to ask me any questions in the comments.