Imagine a blueberry syrup that actually tastes like blueberries, real ripe blueberries, and not just sugar. Now imagine producing it right in your own kitchen and stashing a few bottles of it away for winter. That is what we're going to do today!
Never mind the laundry piling up (our machine is currently out of order, so that gives me a good excuse) and the sticky floors, blueberry season is short and the berries won't wait around. Unfortunately, the laundry will.
This syrup is my new favorite way to preserve the sweet dark berries. When a recent tally of my jam pantry showed I still had nineteen varieties of homemade jam to be consumed, I relinquished my plan to make blueberry jam with my market haul and decided to go with syrup. We're huge pancake fans around here and fresh fruit syrups will not go to waste.
With average pancake syrups such as Aunt Jemima consisting basically of corn syrup, high fructose corn syrup and artificial flavoring, along with the hefty price tag of pure maple syrup, homemade fruit syrup is an extremely attractive option for topping your buckwheat pancakes – or blueberry sundaes.
A few ways we enjoy blueberry syrup:
Stirred into yogurt
Poured over ice cream
Drizzled over plain cheesecake
Spilled over pancakes or waffles
Added to milkshakes or smoothies
Ready to make your own blueberry syrup? Let's do it!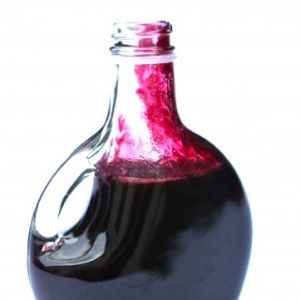 Ingredients
1

lemon

organic, whole and washed

5

cups

blueberries

organic, washed

1

cup

water

1

cup

Turbinado sugar

firmly packed (or white sugar)
Instructions
Using a sharp paring knife, peel three or four strips of lemon peel from the lemon. Skin should be about 1/2 inch wide and not have too much of the bitter pith or white part on it. Then juice the lemon, and set both zest and juice aside.

Place blueberries and  water in a medium pot. Don't worry about stems or leaves; they will be strained out later. Using a potato masher, crush the berries.

Over medium-high heat, bring the berries and water to a boil, then lower the temperature to medium-low. Simmer berries for 15 minutes, stirring occasionally. They will darken considerably.

Remove pot from heat and ladle berries into a fine sieve set over a heat-proof bowl or measuring cup. Using the back of a smaller ladle, press on the berry solids to extract as much juice as possible. Discard solids. (Update: or save them if you like. This part is apparently alarming to quite a few commenters! But my solids are full of stems, not worthy of a smoothie.)

Return the blueberry juices to the pot, then add the lemon peel (not juice yet) and the sugar. Bring to a boil and simmer for about 10 minutes until the mixture thickens slightly. (Optional: Add a stick of cinnamon here, if you like).

Add 2 tablespoons lemon juice and stir to combine. Boil another minute or two. Remove from heat and allow to cool. Remove lemon zest.

Using a funnel, pour syrup into clean jars. Top with lid and store in the refrigerator for up to three months, or the freezer for up to nine.
Notes
Recipe Update!
A lot of you have asked about canning this syrup. Yes, I have done so with success. Brush up on your canning basics before you proceed, then ladle hot syrup into hot, sterilized jars (I use 1/4 pint), wipe rings, and cover with lids. Place in a hot water canning bath and process for 10 minutes.
Nutrition
Calories:
417
kcal
|
Carbohydrates:
106
g
|
Protein:
2
g
|
Fat:
1
g
|
Saturated Fat:
1
g
|
Sodium:
9
mg
|
Potassium:
259
mg
|
Fiber:
7
g
|
Sugar:
92
g
|
Vitamin A:
135
IU
|
Vitamin C:
43
mg
|
Calcium:
32
mg
|
Iron:
1.2
mg
Would you use fruit syrups at your table?