Written by Marisa of Food in Jars.
It happens every February. Standing in line at my local produce market, buying a basket filled with local kale, potatoes and storage onions, I smell strawberries. At first I think I'm dreaming, until I glance to my right and see the display of red berries, shipped to the East coast from California or Mexico.
Knowing full well that those berries are bred for durability rather than flavor, I slip a container into my basket anyway. I'm ever hopeful that this will be the year that they'll taste as good as they smell.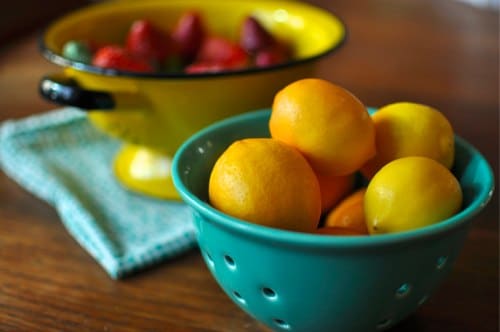 Sadly, just one bite reminds me of an essential truth. Buying out-of-season berries to eat plain is asking for disappointment.
Happily, all is not lost. Though the berries don't do much for me on their own, I know that combined with sugar and slivers of Meyer lemon, they'll transform into an entirely delicious marmalade. The end result is a loosely set spread that evokes strawberry lemonade and will get your juices flowing for the upcoming canning season.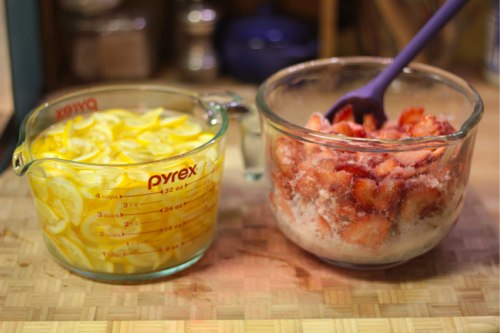 I realize that for some of you, the Meyer lemons will be the hard-to-find element in this recipe. While they are worth searching out for their sweet-tart flavor, if they're entirely impossible to find, you can substitute a combination of regular lemons and tangerines for the pound of Meyers that the recipe calls for.
Finally, if it's at all possible, do seek out organic ingredients for this marmalade. Because the entirety of the Meyer lemon is used, unsprayed fruit is truly best.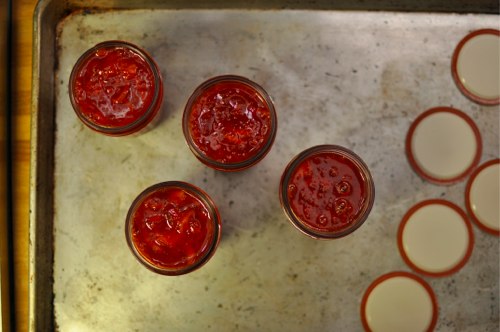 Ingredients
1

pound

Meyer lemons

1

pound

strawberries

1

pound

granulated white sugar
Instructions
Wash and dry Meyer lemons. Trim off ends and slice the fruit in half from to top to bottom.

Using a sharp paring knife, cut out the pithy center core of each lemon half and remove seeds. Reserve both the pithy cores and seeds, as these will later be our pectin source.

When all lemons have been trimmed, slice the halves into thin half moons.

Place Meyer lemon slices into a glass or plastic bowl and cover with two cups of water.

Gather up the reserved seeds and pith and place them into the center of a cheesecloth square. Tie bundle up tightly to prevent seeds from escaping. Add this bundle to the bowl where the lemon slices are soaking. Cover and set aside.

While the lemon slices soak, wash strawberries and chop them well. Place them in a glass or plastic bowl and add the sugar. Stir to combine and cover.

Let both the lemons and the strawberries sit for at least an hour and up to three hours. Stir the strawberries once or twice if possible, to help the sugar draw out their liquid.

When you're ready to cook the marmalade, first set up your canning pot. Place four half pint jars in a pot fitted with a shallow rack. The pot must be able to hold them fully submerged with at least an inch of water over top and an inch of space to allow the water to boil.

Place lids in a small saucepan of water and set over low heat.

Pour the lemons, their water, the strawberries and sugar into a large, wide, non-reactive pan that holds at least five quarts. Bring to a boil and cook over medium-high heat for 30-40 minutes, stirring regularly.

Marmalade is done when it reaches 220° F and passes the

plate test

.

Funnel finished marmalade into prepared jars. Wipe rims, apply lids and rings and process in a boiling water canner for 10 minutes.

When time is up, remove jars from canner and let them cool on a folded kitchen towel.

When jars are cool enough to handle, remove rings and check seals. Any unsealed jars should be refrigerated and used promptly.
Nutrition
Calories:
508
kcal
|
Carbohydrates:
133
g
|
Protein:
2
g
|
Fat:
1
g
|
Saturated Fat:
1
g
|
Sodium:
5
mg
|
Potassium:
330
mg
|
Fiber:
5
g
|
Sugar:
122
g
|
Vitamin A:
40
IU
|
Vitamin C:
126.8
mg
|
Calcium:
48
mg
|
Iron:
1.2
mg
I like this marmalade rolled into crepes or stirred into Greek yogurt. How would you use it?