I keep telling myself that September is going to be my big canning month, and it very well might be; I can't say no to the bushels of tomatoes and crisp new apples beckoning at the markets during the fall.
So far, I've pickled a few jars of asparagus and made my usual strawberry honey jam, there was a batch of sweet relish, too, but I am not regularly turning my kitchen upside down with mega home canning projects. Oh, the cookbook is taking care of keeping us in dirty dishes just fine, thank you very much.
That said, I am still preserving the beautiful summer produce here and there, by freezing, roasting, packing in oil and drying. These are just some of the options to saving the season.
12 ways to preserve the August harvest (without canning)
Today I'm sharing some alternative to hot water canning in hopes that they will inspire a weekend project or two.
1. Whipped Raspberry Honey Butter
You can make this beautiful breakfast spread with any berry, really. I currently have both blueberry and raspberry butters stashed in the freezer.
2. Strawberry Lemonade Concentrate
We just made a few jars to freeze yesterday, as the local berries are benefitting from our cool summer weather. You can use limes or lemons interchangeably in this recipe.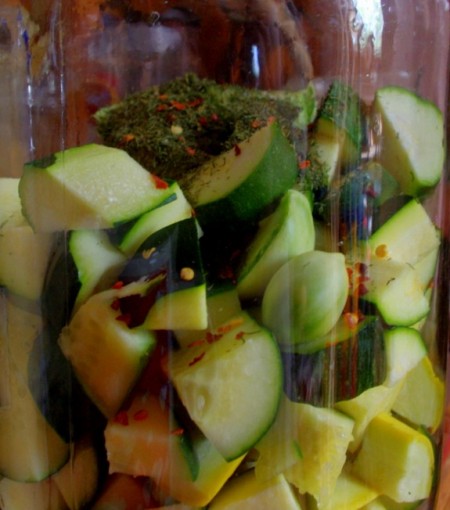 These are old-fashioned brined lacto-fermented pickles, and are super easy to make in any batch size you wish.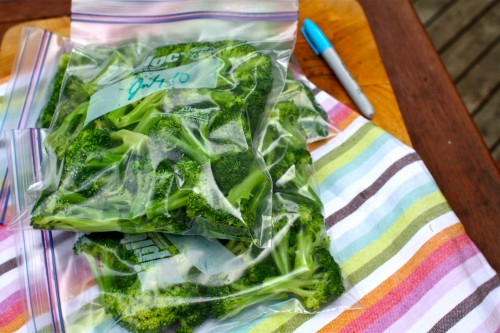 It's one of my children's favourite vegetables, so I do try to freeze some in the peak of summer to add to soups, stir-fries, and winter pizza.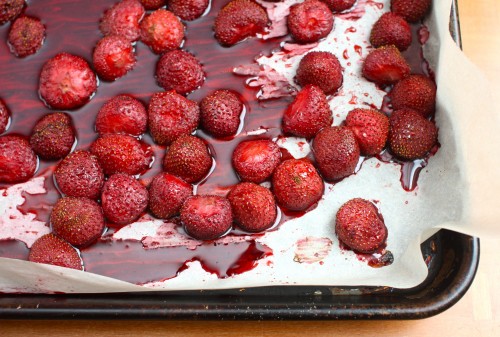 I made these in mass amounts this year, then packed them into Bernardin freezer jam containers and stashed them in the freezer for this winter.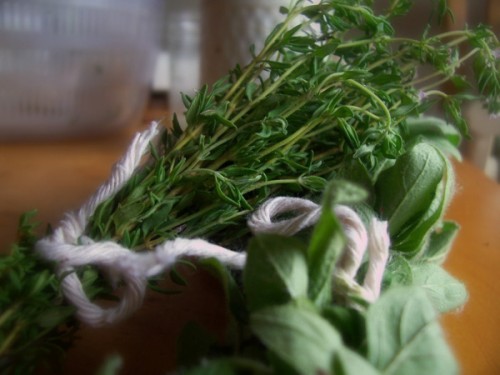 6. Drying and freezing fresh herbs
I do these in small batches, or else it takes too much time. If I'm washing a bunch of parsley for dinner, I'll prep some to dry overnight as well.
Updated post: How to Use and Preserve Summer Herbs.
7. Frozen Corn
First use these tips for cutting corn easily off the cob, then freeze your sweet corn with these directions.
8. Slow roasted tomatoes packed in oil
A favorite pizza topping come January! Roast as per directions, then pack into small jars and cover with olive oil. Freeze for up to 6 months.
9. Tomato Herb Sauce for Freezing
A family staple, particularly handy when you need a quick dinner.
10. Stir-fry Vegetable Freezer Packages
A quick blanch, a chill and these colorful summer vegetables are ready to be frozen for the winter. We like them in soups and stir-fries, as well as our favourite slow-cooker meal, Coconut Ginger Chicken & Vegetables.
Minced parsley and dill get incorporated into butter, wrapped and stashed in the freezer to serve many different uses later in the year.
Go ahead and simmer that ketchup, then cool completely, portion in clean jars, leaving plenty of headspace, and freeze to preserve.
Now, if you are packing away some of this goodness into a chest freezer, you'll want to be sure that handy appliance is running in top condition. Contributor and engineer-in-residence Danny has expert advice on How to Keep Your Freezer Cold. Be sure to read it before commencing to 'put up' the entire garden.
Happy preserving!
Do you have any suggestions to add?