Written by Elizabeth of Guilty Kitchen.
When fall hits and you know you've got more tomatoes than anyone could ever eat fresh, no matter how many tomato and bocconcini salads, or BLTs, or tomato soup you serve, you know it's time to think about canning or freezing. There is just always going to be an abundance of tomatoes when you grow your own.
Another thing in abundance at the end of the warmer weather is fresh herbs, waiting to be used up before the weather turns bleak and gray. What better way to combine tomatoes and herbs than making your own tomato sauce to freeze for later use in the doldrums of winter when you could really use that fresh, vibrant taste of homegrown?
This recipe has specifically been developed for freezing only, as tomato sauce with oil should not be canned using the boiling water method. No matter what you may have read elsewhere, the boiling water method does not reach a high enough temperature to safely can tomato sauce with oil, and a pressure canner should be used instead.
Yes, you can safely can tomatoes using this method with the addition of an acid such as lemon juice, as Marisa has done in this home canned tomatoes tutorial. Many varieties of tomatoes these days are low in acid and the addition of oils, other vegetables and garlic, can lower the acid content even more, which is where the lemon juice comes in.
So if you've never canned before, this recipe is for you! Yes, you can still use up those tomatoes and enjoy homemade tomato sauce year round – just from the freezer instead of the pantry. Let's get started!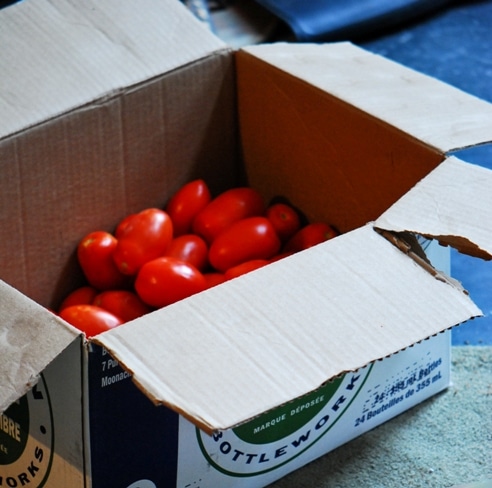 Photo by Elizabeth Nyland
What I want to create with my tomatoes is a lovely, full bodied tomato sauce. More of a recreation of the store bought variety of ready-made sauces than plain ol' tomatoes. What could be better than popping open a can of your own homemade tomato sauce, heating it up and having a fully cooked, spiced and seasoned sauce ready to go on those busy winter weeknights?
This sauce is easy to make, freezes beautifully and will be ready for dinner in less time than you can say "spaghetti sauce."
Tomato Sauce for Freezing
Yield: Approximately 3 1/2 quarts
Prep Time: 1 hour
Cooking Time: 1-2 hours
15 lb. Roma tomatoes
1/3 cup extra virgin olive oil
4 cloves garlic
1/2 cup fresh herbs or 1/3 cup dried herbs (such as marjoram, basil, oregano, etc.)
1 Large sweet onion
1 tbsp kosher salt
Fresh cracked pepper to taste
1/3 cup red wine
Photo by Elizabeth Nyland
1. Fill a large pot with water and bring to a boil. Lower the heat and keep at a simmer.
2. Create an ice bath either in a sink or in a large bowl.
3. Score the bottom of each tomato with a small "X", careful not to cut in too deep.
4. Throw four or five tomatoes into the pot at the same time, allow to cook for 30-60 seconds and remove to ice bath. Continue until all tomatoes are cooked and then cooled.
5. Peel the skin off each tomato and discard.
6. Remove the seeds from all the tomatoes and chop roughly. Add the flesh to a large bowl and set aside.
7. In another large pot, pour in olive oil and heat on medium. When hot, add in garlic and onions and stir for about five minutes.
8. Pour in all tomatoes and herbs and bring back up to a simmer. Lower the heat to low and allow to cook down for one or two hours, stirring occasionally. The tomatoes should reduce by 2/3 before they are done.
9. When tomatoes have reduced by half, add in the red wine and continue to cook until completely reduced.
10. Season with salt and pepper and remove from heat.
11. Prep jars or containers to freeze in by washing with hot soapy water (or running through a dishwasher) and drying them.
12. Pour sauce into jars, filling about 3/4 of the way up for jars with a mouth smaller than the jar. For jars with straight sides, fill to with a 1/2″ of the top.
13. Allow to cool to room temperature with lids off on the counter. Transfer to the freezer and place lids on once completely frozen.
Photo by Elizabeth Nyland
What is your favorite way to use up all those tomatoes?