Written by Marisa of Food in Jars.
I've always been of the opinion that when it comes to preserving raspberries, the simplest approach is the best. That's because to my mind, raspberries are nearly perfect without anything extra. Most years, I struggle to save enough to preserve because I so love eating them just as they come.
However, my rational side always chimes in to remind me that raspberry season is fleeting and that if I want taste them in February, it's in my best interest to put a few aside for canning. So I squirrel enough away to make a couple precious jars of jam that I ration out into bowls of yogurt or oatmeal.
And so, this is how I've always done raspberry jam. Entirely unadulterated, with just enough sugar to ensure a set and a squirt of lemon juice for balance.
But then, last summer while wandering a farmers' market, I happened on a vendor selling homemade jams with plenty of open jars for sampling. Out of professional curiosity and a appreciation for the work of my fellow canner, I worked my way down the line.
I tasted basic blueberry, a gingery rhubarb and a spicy raspberry jelly that made my eyes water.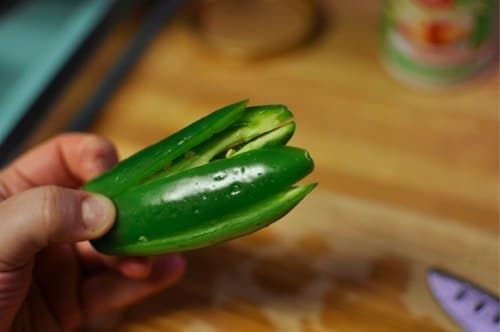 However, once the burn faded, I realized that there was something about the way the raspberry and the peppery heat went together that made me want to try it in my own kitchen. The recipe that follows is my take on what I discovered is a popular and fairly common combination of raspberry and jalapeno.
I like to keep the spice contained, so I simply made a few cuts in a smallish pepper and let it simmer along with the fruit while it cooked. The infusion is nice – it doesn't rip the top of your head off, but reminds you that this isn't your regular, mild-mannered raspberry.
If you want more heat, you can slice the pepper open fully or even cut rings that you can right into the final product.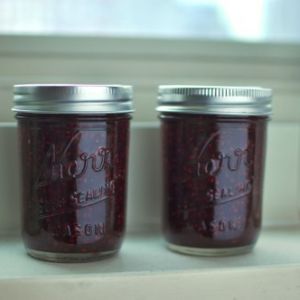 Ingredients
3

cups

raspberries

approximately 1 1/2 pounds

1 1/2

cups

granulated white sugar

1

jalapeno

sliced along the sides

1/2

lemon

juiced
Instructions
Prepare a small canning pot and two half pint jars. Place lids in a small saucepan of water and bring to a bare simmer.

In a medium bowl, combine the raspberries and sugar. Using a wooden spoon, stir the sugar into the fruit, mashing the fruit up a bit as you go.

Once the raspberries begin to release some juice and the sugar is starting to dissolve, scrape the fruit and sugar mixture into a wide, 4-quart saucepan. Add the jalapeno.

Bring the jam to a boil over high heat, stirring regularly, until the berries break down and the syrup thickens. You should smell both the sweetness of the sugar and the heat of the chili.

Once the jam has thickened to a spreadable consistency and passes the plate test, add the lemon juice.

Remove pan from the heat and fish out the wilted jalapeno. Funnel the finished jam into jars, leaving 1/2 inch headspace. Wipe rims, apply lids and rings and process in a boiling water bath for 10 minutes.

When jars are cool, remove rings and test seals. Any unsealed jars should be stored in the refrigerator.

Serve this jam with fresh goat cheese or alongside cold meats.
Nutrition
Calories:
684
kcal
|
Carbohydrates:
174
g
|
Protein:
3
g
|
Fat:
1
g
|
Saturated Fat:
1
g
|
Sodium:
4
mg
|
Potassium:
309
mg
|
Fiber:
13
g
|
Sugar:
159
g
|
Vitamin A:
135
IU
|
Vitamin C:
69.8
mg
|
Calcium:
52
mg
|
Iron:
1.4
mg
What is your favorite summer fruit combination for jam?