I'm the first to admit I'm a champion snacker, and now that I'm nursing a fast-growing Clara, I rely even more on a nutritious bite between meals to keep my energy up during the day.
Our snacking changes from winter to summer, moving away from nut butters, granola bars, and the ever-present carrot sticks, to a wide variety of fruits, vegetables, and their derivatives.
I find that summer eating can be often carb-heavy – pancakes for breakfast, sandwiches for lunch, and burgers on buns for dinner – so we try to avoid other bread-types at snack time like muffins and crackers. Besides, who wants to have the oven on for baking on a hot day? Not me.
Summer Snacking Pledge
Katie Goodman recently wrote an excellent post detailing some tips to help expand the picky eater's palate. When she mentioned that her family has a 'fruits & vegetables only' snacking policy, something resonated with me and I knew that was where we were headed for summer.
All too often summer snacks can be junk, with potato chips and sugary popsicles at the center of it all. Why not highlight seasonal produce such as crisp sugar snap peas and sweet cherries instead?
As of today, June 1, we are starting our summer snacking: fruits and vegetables only. Won't you join us?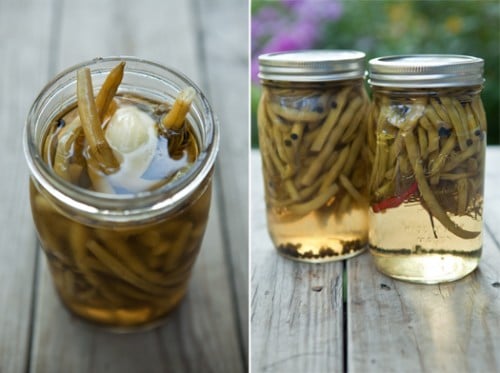 Photo by Shaina
Smart Snacking: Vegetables & Fruit
With the summer markets exhibiting new produce, now is the time to choose fruits and vegetables for snacks. Apple slices and celery sticks get boring fast and so why not mix things up a little bit with some of the recipes below.
Vegetables:
Radishes with Herb Butter – A simple snack, but quite perfect. If you've pulled the radishes from your own garden, then you really are set.
Pickled Green Beans – Pickles don't have to be cucumber-based! I think you'll find these pickled green beans rather addicting.
Garlic-roasted Edamame – I enjoy edamame as much as the other person, but roast it with plenty of garlic like the Wishful Chef and I'll have it for snack every day.
These Greek Salad Skewers are mostly all vegetables, combining cucumber, olives, tomato and feta cheese for a pop of flavor. Switch out the feta for sweet red bell peppers if you really wish to stick to vegetables.
Slow-Roasted Cherry Tomatoes – They're not just for adding to pasta! They make an addictive little snack, especially when paired with a bowl of fresh ricotta.
Dips & Spreads:
Instead of loading up on tortilla chips and crackers, try these dips and spreads on thinly sliced cucumber and radishes, or serve with celery sticks, endive wedges, and baby carrots. Red and green bell peppers also work well for dipping, as do sugar snap peas and asparagus spears like this Spring Crudité & Buttermilk-Pepper Dip.
Pea-camole – Don't judge it until you've tried it: green peas blended into traditional guacamole.
Sweet Potato Hummus – The Novice Chef makes a sweet, spicy and colorful hummus by adding sweet potato to her chickpea blend.
Roasted Red Pepper Dip – Serve with endive leaves, asparagus spears,and any other crudite vegetables. Roasting your own red peppers (as opposed to the canned variety) will make this dip doubly better. Promise.
Michel's Healthier Guacamole – You'd never guess that zucchini is the star of this rich and tangy guac.
Baba Ganouch – Smokey roasted eggplant shines in this creamy dip by David Lebovitz.
Photo by Naomi
Fruits:
A perfectly ripe peach or a fresh plucked apple is my favorite summer snack. Fortunately, the  best fruit of summer hardly require any preparation. A quick wash of plums, nectarines, cherries, grapes, peaches, and berries of all kinds is all it takes to enjoy them.
Feast on wedges of sweet melon with a squeeze of lime juice and a sprinkling of salt, or top with chopped mint, as Maria has done with this Melon Salad with Mint, Lime, & Sea Salt.
My boys could snack on wedges of watermelon all summer long, but for a change, I'll surprise them with something cool, refreshing and still full of fruit:
I just want to add: it's not as if we're never going to eat any more Honey-Oat Cookies with Chocolate Coated Sunflower Seeds or Hemp Cocoa Bites for the rest of the summer, but we will try to tack them onto the ends of meals instead of a mid-afternoon snack.
What is your favorite summer snack featuring vegetables or fruits?