My first son wore his toddler status like a badge of honor. He was into everything and anything as soon as he was mobile and I quickly had to figure out a few ways to keep him still more than five seconds. One of my favorite tactics was to plop him in his highchair and hand him a popsicle (usually frozen orange juice). It was always guaranteed to give me a sold twenty minutes to put dinner together or answer some emails.
Fast forward four years: I'm still making frozen treats, but now they are helpful to beat the heat and keep the peace between siblings. It is easy to remember that your brother is your best friend when you are both sitting on the back steps eating something lip-smackingly good.
Frozen treats are fun and delicious, no matter how old you are. This week we'll be bringing you all sorts of simple ideas for frozen treats to make -and enjoy- with your kids.
Here's to keeping cool!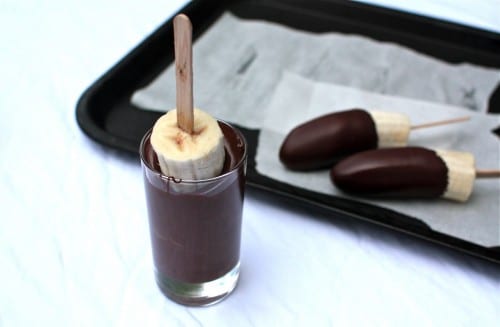 Chocolate-Peanut Butter Dipped Banana Pops
Ingredients:
3 bananas
1 cup chocolate-chips
2 tablespoons all-natural peanut butter
Materials:
9 wooden popsicle sticks
parchment paper
Peel bananas and cut into three sections. Gently insert a popsicle stick into the center.
Place on a parchment paper lined tray and place in the freezer while you melt your chocolate.
Combine chocolate chips and peanut butter in a microwave-safe bowl. Microwave on medium (power 6-7) until melted. Stir with a spatula until smooth.
Pour melted chocolate into a tall, narrow glass or container. Remove bananas from freezer. Dip, one by one, into the chocolate, letting it ooze up the sides of the glass and coat the banana.
Place bananas on tray again and sprinkle with nuts, if desired. Freeze until solid.
To enjoy: remove from freezer and allow to sit at room temperature for about five minutes. Serve with a napkin.
Strawberry Jam Yogurt Pops
Ingredients:
Equipment:
ice cream machine
popsicle molds
Whisk yogurt and honey together and pour into the bowl of an ice cream machine*. Churn until stiff.
Return to bowl and 'ribbon' jam into frozen yogurt.
Spoon into ice cube tray or popsicle molds, push in a wooden skewer and freeze until solid.
*I use this Cuisinart Automatic Ice Cream Maker
.
Berry-Smoothie Mini Cones
This is hardly a recipe as all it requires is blending frozen berries and cream until smooth and then freezing until firm enough to scoop. You can use a food processor or a blender, but either way, you will have to stop a few times to manipulate the fruit with a spatula and then restart the machine.
Feel free to omit the sugar entirely; raspberries are quite tart, and as this is intended to be a dessert, I added the sugar. Strawberries, however, do not need added sugar. Cream can also be upgraded to heavy cream (35 or 45%), or replaced with milk–as the chef wishes!
This recipe is also pictured at the top of the post.
Makes 1 pint.
Ingredients:
3 cups Raspberries, frozen, or berries of your choice
1/2 cup light cream
1/4 cup sugar, or to taste
Mini cones
Equipment:
blender
spatula
ice cream scoop
Combine all ingredients in a blender or food processor. Pulse a few times to get things moving. Blend until smooth. This will take a bit of time and it will look grainy, but continue until it is smooth.
Taste and adjust sugar if needed.
Transfer to a plastic container and freeze until quite firm. Scoop into mini-cones and serve.
There are no treats in the frozen food aisle better than the ones we can make at home. What are some of your favorites?