Written by Megan of Stetted.
Luscious, sun-warmed berries might be the greatest food around. Every spring and summer my family heads out to a nearby farm to pick as many berries as possible. For only 30 minutes of work we end up with enough berries to make jam, pie, muffins, cake, turnovers, and more. And don't forget all the berries just for snacking – it's hard to resist filling your belly as you grab the fruit off the bush.
U-pick farms are a great economical option for fruit-loving families. Because you're doing all the work and no packaging or transportation is required, farmers can charge less for their produce than in stores or even at the farmers' market.
To find a local U-pick farm, either ask around at your local market, or try the Pick Your Own website. It's a great resource, not only for finding farms but with recipes and tips for what to do with your haul.
ALL photos by Megan
Plan Ahead
Most U-pick farms charge by the pound, but some use bushels or buckets as their measurement.
Berries stain, blackberry brambles have thorns, and fields can be muddy. Dress accordingly!
Decide how you'll use the berries before picking. It's easy to over-pick, so be prepared to have freezer space when you get tired of eating berries (it happens). A batch of jam generally uses about 5 pounds of fruit.
Call the farm before you visit – picking conditions can vary from day to day, and the farmer will let you know the best time to visit.
Picking Tips
Ripe berries squish easily, especially in eager little hands. Don't try to pick by grabbing the berry; instead hold the stem just above the berry and pull down with a twist.
Push aside leaves to get to berries other people might have left behind.
Only pick berries that are ripe – unlike some other fruits, berries do not continue to ripen once picked.
Don't neglect smaller or "ugly" berries that don't match what you see at the grocery store. They are just as delicious, and smaller berries are often sweeter than their big brothers.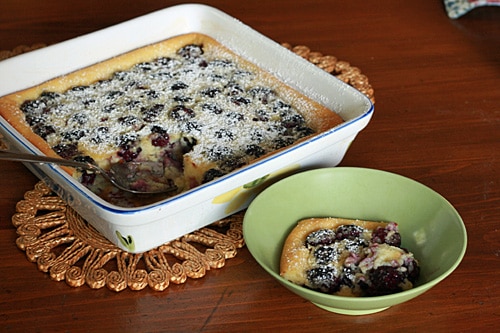 Recipe: Blackberry Vanilla Clafouti
Clafouti is a great showpiece for fresh berries, and it requires hardly any work at all. It can pull double duty as dessert one night and then as breakfast the next morning, and is delicious hot or cold. I like just a little bit of powdered sugar on top, but you can top with maple syrup, ice cream, or a berry sauce.
2 cups blackberries
1/4 cup flour
1/2 cup sugar
4 eggs
1/2 cup milk
3/4 cup heavy cream
1/2 tablespoon vanilla
Powdered sugar, to serve
Preheat oven to 350 degrees.
Grease a 9-inch square pan or pie dish and scatter berries across the bottom.
Whisk together flour and sugar, then beat in eggs, milk, cream, and vanilla.
Pour over berries, redistributing them as needed.
Bake for 40 minutes, or until puffed and lightly browned. Clafouti will sink as it cools.
Dust with powdered sugar before serving.
Do you visit U-pick farms? What's your favorite way to use summer fruits?