Sour cherries have a relatively short season. I've never found them in a grocery store but we visited a u-pick to pick raspberries and, to my delight, discovered three rows of sour cherry trees.
Sour cherries are gems to find because although they aren't necessarily for snacking, they make some of the best jams and baked goods around. So, even if you can't find them at your grocers or farmers market make sure to check out some u-picks nearby. They are worth every ounce of trouble to get them.
If you don't have a cherry pitter, no worries, I don't either. Depending on what I'm using the cherries for I will either cut the cherry in half and remove the pit with my fingers or, if I want to use the cherries whole, I use the wavy end of a clean bobby pin to loosen the pit from the stem end and then insert the bobby pin through the other end and push the pit through. At first it may take a bit to catch on to the technique but once you've got it down it's easy peasy.
Sour cherry jam was definitely on the top of my list of things to make with the cherries. But, as I was pitting them I was still having a bit of a tough time deciding how I wanted to use these precious jewels. A lot of people stay clear of sour cherries simply because they don't know what to do with them, if you're in that camp here are a couple of ideas to put them to good use.
1. Cherry Pie
There are so many ways to make a pie. You can make a classic double crust pie, or turn it into mini cherry pies by baking them in muffins cups, a slab pie by rolling it out and baking it on a baking sheet, or hand pies by rolling out the dough, cutting it into squares and folding them over a pocket of filling.
2. Candied Cherries
Candy some cherries and store them in the freezer. Turn them into Black Forest Ice Cream, bake them into scones, serve them over vanilla ice cream, or serve them in a trifle. Don't forget to save the syrup and serve it over pancakes or stir it into sparkling water.
3. Baked Goods
I think sour cherries are even better in baking then sweet cherries, they add another dimension of flavor and ensure that the baked goods are not too sweet. Make a cherry crisp, clafoutis, or coffee cake.
4. Pie Filling
Make some cherry pie filling and freeze it in 1 cup portions to use in recipes other then cherry pie. Try it layered with chocolate pudding or served on puff pastry along with whipped cream. Make a cheesecake, bake it in the middle of some muffins or serve it atop pavlovas.
5. Frozen
Freeze some pitted cherries and save them for a later date. You can let them thaw and use them in any of the applications above or use them frozen in Cherry Limeade Popsicles (or Cherry Limeade Slushies), smoothies or blender ice cream.
6. Jam
Jam isn't just for toast. Use it as a filling for doughnuts, bake them into bars or stir some into yogurt.
You can use sour cherries in pretty much any application that calls for sweet cherries (as in some of the links above), just remember that they are sour so you may need to add more sweetener.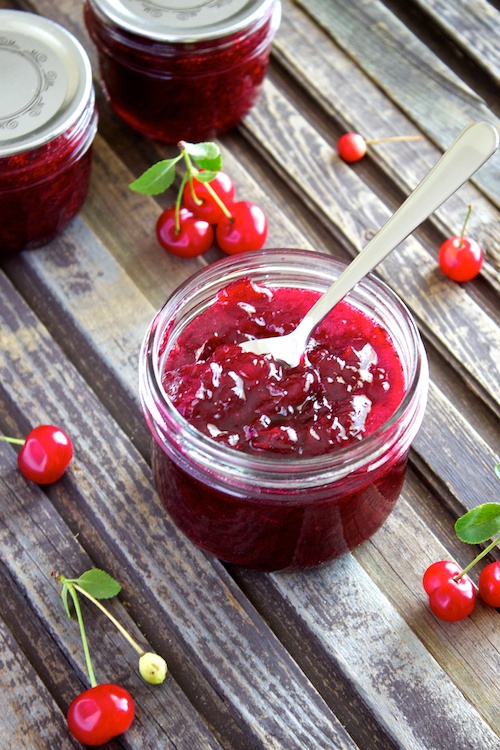 Ingredients
6

cups

pitted sour cherries

2.5

cups

sugar
Instructions
Prepare a boiling water bath and 3 - 250 ml jars as per our

canning basics

post. Place the lids in a small saucepan, cover them with water, and simmer over very low heat.

Stir together cherries and sugar in a large saucepan. Bring to a boil, stirring frequently. Boil rapidly for 20-40 minutes (time will depend on the size of pot, etc), until it passes the wrinkle test*.

Remove the pot from the heat and ladle the jam into the prepared jars. Wipe the rims, apply the lids and rings, and process in a boiling water bath for 10 minutes. Or put into jars/tupperware and freeze for up to 6 months.

Turn off canner, then carefully lift jars out and set on a towel on the counter to cool. Let sit 24 hours, then check that all have sealed. Label and store in a cool place.
Notes
Wrinkle Test: Place a small plate in the freezer while you make your jam. Once you think the jam is ready place a dollop on the frozen plate and return to the freezer for two minutes. Remove the plate from the freezer and push through the jam with your finger, there should be a slight film on top that wrinkles as you push. If it's not ready yet, boil it for a few more minutes and repeat the test.
Nutrition
Calories:
818
kcal
|
Carbohydrates:
210
g
|
Protein:
2
g
|
Sodium:
1
mg
|
Potassium:
612
mg
|
Fiber:
5
g
|
Sugar:
201
g
|
Vitamin A:
175
IU
|
Vitamin C:
19.3
mg
|
Calcium:
36
mg
|
Iron:
1.1
mg
Do you bake with sour cherries? What are your favorite ways to use them?