For some, batch cooking tends to go out the window when the thermometer rises outside, because, well, most batch cooking is not ideally suited to hot weather. Who wants to simmer a stew on the stove all day when you're trying to keep the kitchen cool? And while we're asking questions, who wants to spend hours cooking when the kids are calling you to come out and play?
Still,  it's nice to jump-start dinner with something from the freezer, especially after a hard day's work in the garden. Batch cooking can still be done in the summer heat, but in my kitchen it changes from pot-roasts and lasagnas, to something more suited to summer.
Here are a few of my favorite recipes to double and triple for stashing away. While they are not entire meals unto themselves, they proffer a spring board to dinner (or dessert!), and provide the opportunity for a meal with substance.

Ideas for Warm Weather Batch Cooking
Homemade Pesto
Incorporate the fruits of your labors –basil- in this fresh and quick sauce.  Toss with freshly cooked pasta and a handful of cherry tomatoes, grilled zucchini or other seasonal vegetables for a meal that tastes like summer on a plate.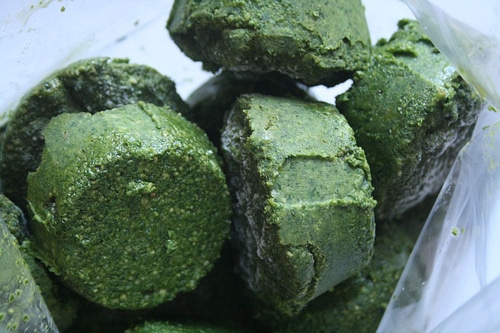 Photo by thebittenword.com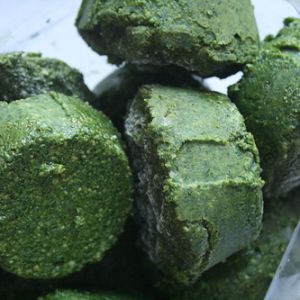 Ingredients
3

cups

fresh basil leaves

packed

2

cloves

garlic

(large ones)

3/4

cup

pine nuts

1 1/2

cups

freshly grated Parmesan cheese

freshly grated

1

cup

olive oil

extra virgin
Instructions
Combine basil and garlic in a food processor and blend to a fine paste.

Add pine nuts; process until smooth.

Add cheese and process again until smooth.

WIth the machine running, pour the olive oil in the food processor and blend until smooth. If the pesto seems too thick, pour in a few tablespoons warm water.

Freeze in ice cube trays or muffin tins and transfer to baggies or jars when frozen. May also be frozen in small resealable bags.
Nutrition
Calories:
1486
kcal
|
Carbohydrates:
22
g
|
Protein:
70
g
|
Fat:
130
g
|
Saturated Fat:
33
g
|
Cholesterol:
102
mg
|
Sodium:
2409
mg
|
Potassium:
955
mg
|
Fiber:
5
g
|
Sugar:
5
g
|
Vitamin A:
4970
IU
|
Vitamin C:
14.9
mg
|
Calcium:
1930
mg
|
Iron:
9.1
mg
Pizza Dough
The day I discovered you could freeze pizza dough was a happy one. Now my deep freeze is rarely without a couple of misshapen gray blobs rolling around in it, that, when thawed, rolled out and coated with pesto, tomatoes and cheese, make for a mighty fine summer supper. What better way to showcase the season's bounty than a dinner like this Asparagus & Cherry Tomato Pizza?
If you prefer, use our Whole Wheat Pizza Dough recipe, but I'm thinking you might fall in love with this oh-so-soft dough that I learned to make in culinary school. It never fails to rise beautifully and freezes very well.
Photo by whitneyinchicago
Honey Pizza Dough
You might fall in love with this oh-so-soft dough that I learned to make in culinary school. It never fails to rise beautifully and freezes very well.
Print
Pin
Rate
Servings:
16
individual-sized pizzas
Ingredients
1/2

cup

warm water

2

Tablespoons

dry yeast

5

cups

bread flour

1 1/2

cup

cool water

2

teaspoons

salt

1/4

cup

olive oil

2

Tablespoons

honey
Instructions
In a large bowl or the bowl of a stand mixer, stir the yeast into the warm water until dissolved. Let stand.

Add the flour, the cool water, salt, olive oil, and honey into the yeast mixture. Knead with a dough hook for about 5 minutes, or by hand for 7.

Place the dough in a large greased bowl and cover with a clean kitchen towel. Allow to rise for 30 minutes.

Punch down dough and divide into 16 portions (for individual pizzas) or four portions (for 16 inch pizzas). Coat each ball of dough in olive oil, wrap in plastic wrap or place in resealable bags and freeze.
To use
Remove from freezer 8-12 hours before using. Allow to thaw in the refrigerator. Let rise until doubled in size, then punch down and make your pizza.
Nutrition
Calories:
180
kcal
|
Carbohydrates:
31
g
|
Protein:
5
g
|
Fat:
4
g
|
Saturated Fat:
1
g
|
Sodium:
292
mg
|
Potassium:
44
mg
|
Fiber:
1
g
|
Sugar:
2
g
|
Calcium:
6
mg
|
Iron:
0.4
mg
Photo by dongkwan
Homemade Hamburger Patties
There's nothing like having burgers already made up when company drops over unexpectedly and stays for a barbecue, so the next time you are making hamburgers, double the amount of meat and make extra patties.
Slip a square of waxed paper between the raw burgers, slide into plastic bags or Tupperware and freeze for up to 6 weeks.
Chicken or Turkey Tetrazzini with Garden Vegetables
A 'Tetrazzini' caserole is well-known for two things and I've added a third:
it is one of the most freezer-friendly pasta-based dishes around. A batch-cooking icon, if you will.
it often features Thanksgiving leftovers in the popular 'Turkey Tetrazzini'.
it's a fantastic dish to showcase summer vegetables like shredded zucchini, cherry tomatoes, peas or fava beans.
Here's my recipe, but feel free to adapt it to suit your tastes as you pile in the vegetables or substitute whole wheat pasta. Don't forget to toss in plenty of fresh herbs such a thyme, basil or sage.
Do-Ahead Dessert Idea
Don't leave out dessert! Having several jars of toppings for fresh fruit crisps in the freezer is like having dessert in your back pocket. All you need to do is place your favorite luscious summer fruit, washed and cut, into a baking dish and cover it with your pre-made crisp topping. Then bake it into that classic, comforting dessert and serve warm with vanilla ice cream.
Recipe: Topping for Fresh Fruit Crisps
2 + 3/4 cups flour
1 cup quick oats
1 cup old fashioned oats (what is the difference?)
1 cup turbinado sugar (or 1 cup brown sugar)
1 cup demerara sugar (or 1 cup white sugar)
1 + 1/2 cups unsalted butter, softened
Combine the sugars with the softened butter and mix until well blended. Stir in the flour. Add the oats and mix until the topping resembles coarse crumbs.
Using a funnel, fill four pint jars with the crisp topping, top with a lid, label and freeze. Makes 4 pints. Each pint makes approximately eight individual fruit crisps or one 9×13 pan.
[print_link]
With these recipes, you can stock your freezer and head outside with confidence, knowing that dinner will be more substantial than bread and butter.
What sort of batch cooking to you do in the heat? Does your menu vary from season to season?