Desserts while my parents have been in town have been a delightful parade of local colour and flavour, all featuring summer fruit as their main ingredient, as they should, seeing as it's July and all.
Let's see, there was a rhubarb-pear crisp, one of my favorite tangy/sweet combinations, made with freshly-picked rhubarb that my neighbor graciously let me harvest from his garden, and this crisp topping.
A sour cream strawberry ice cream helped us keep cool, inspired by a recipe from The Perfect Scoop
by David Lebovitz. I've since made the ice cream again, as it is that good.
I had kicked off strawberry season with two full trays of roasted strawberries, and frozen them in jars. Last week I thawed them for a roasted strawberry 'Eton Mess' with crumbled meringue and whipped cream, served in jars. It's about the perfect dessert, but you can't attempt the meringues on a humid day as they just won't crisp well.
Quebec blueberries and raspberries hit the markets this week, however, and they were the inspiration behind today's fruit-filled dessert. Julie's recipe was my inspiration for this Rustic Blueberry-Raspberry Galette and it did not disappoint.
In case you were wondering how much fun visiting a U-Pick for berries can be for a solo parent with three kids under 6, let me tell you: hectic, humorous, and more than a tad unproductive.
Somehow the only morning I had available last week for visiting the u-pick was also the only day my parents were otherwise occupied. It was also the hottest day of the summer so far. Ick. Still I prevailed; such is the determination of a food blogger.
With promises of orange-creamsicle popsicles upon our return, I propelled my already-flushed boys into the scorching raspberry field. With one hand I pushed the stroller which accommodated a drowsy Clara, and in the other I carried two baskets for berries. When we reached our designated row, I was disappointed to find very few ripe berries and, with Clara's cooing changing to fussing, made the executive decision that we'd only fill one basket instead of two.
While Mateo and I traveled the row of prickly bushes, Noah gallantly entertained his little sister, who was not impressed with the blue skies, country air, or any of it. We soon left with our basket of raspberries, picked up another one of blueberries at the cash, and escaped to the air-conditioned car.
Despite it the heat and hassle, this galette was still completely worth the effort. It's an absolutely simple and gorgeous way to highlight summer berries, whether they are hand-picked or not.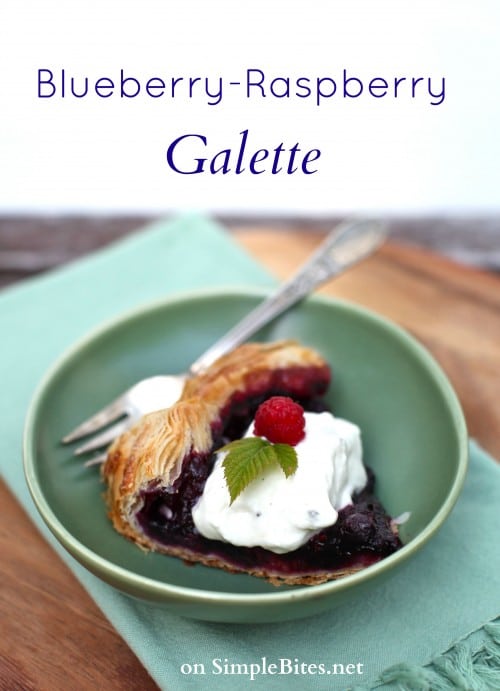 Blueberry-Raspberry Galette
Fresh, local berries, lemon zest, and a perfectly flaky crust make this rustic tart the best (and easiest) dessert of the season. I like lots of pastry in a serving, so I choose to make two smaller tarts instead of one big one. Plus, a smaller tart cooks faster.
Print
Pin
Rate
Ingredients
1

package

puff pastry

thawed, or pastry for a single-crust pie

1/3

cup

sugar

2

Tablespoons

cornstarch

3

cups

fresh blueberries

1

cup

fresh raspberries

1

Tablespoon

lemon juice

1

Zest of 1 lemon

1/4

teaspoon

salt

1

Tablespoon

butter

cut into bits

1

egg

lightly beaten

Coarse sugar

for sprinkling
Instructions
Put oven rack in the middle position and preheat to 400°F. Line a large baking sheet with parchment paper, foil, or a silpat mat.

Divide pastry into two pieces. Roll puff pastry into two circles, about 8-inches each. Place on baking tray (it's okay if they are touching) and place tray in the fridge to chill the crust while the oven preheats.

In a small bowl, stir together the sugar and cornstarch and get rid of any lumps. In a large bowl, stir together the berries, sugar-cornstarch mixture, lemon zest and salt. Juice lemon over the mixture and stir to combine.

Once oven has preheated, remove puff pastry from the fridge and divide the filling between the two crusts. Mound the blueberries into the middle of the dough, leaving an inch or two around the edge. Fold the edges over the filling, just enough to keep the berries from sliding out. It should overlap and will look rustic, don't worry about evenness or neatness.

Brush the pastry with egg and sprinkle with sugar. Dot the fruit with the butter cubes. Bake two galettes until golden, 25-30 minutes. If the middle of the galette puffs up in the oven, just pierce it with a fork.

Remove tarts from the oven and cool for a few minutes before sliding out onto a cutting board or serving plate to cut and serve.

Serve warm, preferably with whipped cream sweetened with vanilla sugar.
Notes
If you want to leave the raspberries out of the tart, just swap them in for blueberries. No need to adjust any other ingredients.
Nutrition
Calories:
438
kcal
|
Carbohydrates:
48
g
|
Protein:
6
g
|
Fat:
26
g
|
Saturated Fat:
7
g
|
Cholesterol:
24
mg
|
Sodium:
247
mg
|
Potassium:
110
mg
|
Fiber:
3
g
|
Sugar:
15
g
|
Vitamin A:
105
IU
|
Vitamin C:
11
mg
|
Calcium:
16
mg
|
Iron:
1.9
mg
What is your favorite summer tart?