Join us as we Salute Spring with a week-long series featuring the finest fruits and vegetables of the season.
Rhubarb is my favorite early summer vegetable. As a child I dipped the pale pink stalks in sugar and munched them raw. As a teen I paired rhubarb with strawberries, baked the pair into pies and sold them at my local farmers market for 5 dollars.
Now, I usually run out of rhubarb long before I finish experimenting with new recipes and the stalks are baked into cakes, juiced for drinks, and jarred for jam all summer long.
However, with all of my recipe testing, I've learned to appreciate rhubarb in perhaps it's simplest form: cooked stove-top into a compote. If that sounds boring, I can assure you it is not, as the compote is a springboard to many delightful desserts.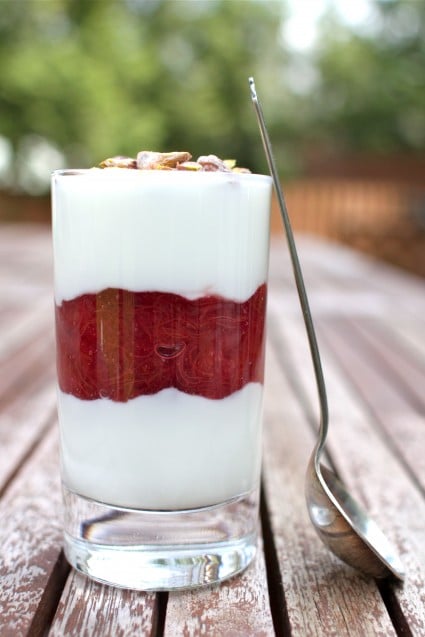 Ten Ways to Enjoy Rhubarb Compote
Yes, compote is just a fancy name for stewed fruit. Here's how I like to serve it up.
1. Over Ice Cream or Frozen Yogourt. Literally dessert in sixty seconds. Serve while the compote is still warm for a delightful contrast of temperatures.
2. Layered with Custard, Yogourt, or Creme Anglaise.  Spoon compote into a glass or bowl and top with warm custard – totally Jamie Oliver-style. Or for a special breakfast, layer yogourt and compote in a glass and top with chopped nuts.
3. Over Pavlova. Berries aren't in season yet? Not to worry. Prepare Nigella's Pavlova and replace the fresh berries with 1 ½ cups of rhubarb compote as a topping.
4. Rhubarb Fool. Chill compote thoroughly. Whip whole cream until stiff and sweeten slightly with honey. Fold compote and cream together ever so slightly. Spoon into a tall glass and serve at once.
5. Eton Mess with Rhubarb. Shattered meringues, a mound of whipped cream and rhubarb compote – layer all three in a tall glass or dessert dish and serve immediately, before the meringues have a chance to get soft.
6. Over Baked Oatmeal. Top of the morning to you! This Baked Strawberry Cream and Rhubarb Oatmeal from Diana looks like the perfect compliment to our rhubarb compote. Don't forget to drown it all in cream.
7. Rhubarb Bellini. Purée compote until smooth. Spoon several tablespoons into a tall glass and top up with chilled Prosecco or Champagne. Stir with a long spoon and serve.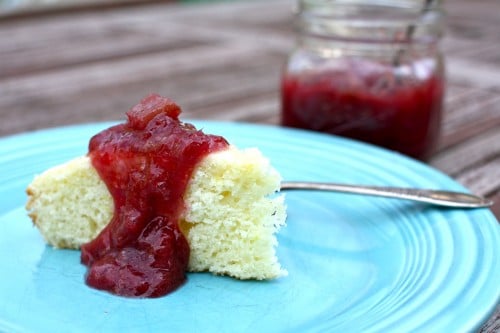 8. Over Cake. Slices of pound cake or olive oil yogurt cake are elevated with a spoonful of rhubarb compote and a dollop of whipped cream. First toast the cake slices in a 350 degree oven until crispy for a wonderful contrast of textures.
9. Rhubarb Trifle. Layer Ladies Fingers or pound cake with custard and rhubarb compote in a glass bowl. Finish with whipped cream. Chill.
10. Rhubarb Shortcake. My Honey Whole Wheat Scones are the perfect base for a rhubarb shortcake. Follow directions in the post for strawberry shortcake, but replace berries with warm rhubarb compote.
Recipe 1: Basic Rhubarb Compote
6 cups fresh chopped rhubarb, washed
1/2 cup fresh orange juice
1/2 cup maple sugar or brown sugar
Combine all ingredients in a medium heavy-bottomed saucepan.
Bring to a boil over medium heat, stirring occasionally. Cover and simmer gently for about five minutes. Rhubarb will begin to soften.
Uncover and continue to cook another five minutes.
Remove from heat, cool.
Makes about three cups.
Recipe 2: Honey Rhubarb Compote
6 cups fresh or frozen rhubarb
1/2 cup apple juice
1/4 cup honey
(2 small beets – optional, for extra color)
In a saucepan, bring apple juice to a boil. Peel and slice beets into halves and add to juice. Simmer for a minute or so until beets begin to release their juices and color.
Add rhubarb and honey and stir until honey is melted and mixture is combined.
Cook mixture slowly for about 8 minutes. Turn off heat and remove beet slices from the compote. Taste for sweetness and add more honey if desired.
Cool compote completely; mixture will thicken as it cools. Store in a jar in the refrigerator for up to a week.
Yields: about three cups
Got a spring vegetable you're crazy about?