Last year I confessed that my Mother's Day indulgence of breakfast in bed was rigged – and then I gave all my readers who are also mothers instructions on how to have peace, serenity and breakfast in bed on that second Sunday in May. Based on my own plan of action, the post demonstrated simple steps for mom to do in advance, a to-do list for dad, and pointers to putting little helpers to work.
Goodness. I had hoped to enable a few husbands to step it up and encourage a few mums to relinquish their kitchen without fear of fire, flood or other natural disasters, but I didn't quite expect the enthusiastic response from moms eager for a little pampering…
"This is the only way I'd let breakfast in bed happen." ~ Shaina

"My husband once sprinkled sanding sugar on cheddar dill scones, so he definitely needs a list!" ~ Melissa

"I had never even considered breakfast in bed as a relaxing treat until I read this post! Thanks for this, am forwarding now to husband." ~ Theresa
Even better was when moms emailed back reports of their special Mother's Day. It was touching. A few emails rolled in that made me smile from ear to ear, (one mom even emailed me from her bed on the morning of Mother's Day to say thanks) and the comments were amazing.
"My breakfast this morning was warm, delicious, and created entirely by my husband and kiddos – I didn't have to do anything but print out this post. THANK YOU!" ~ Kara

"I made the scones and put them in the freezer with the instructions for baking. Hubby and The Kid bustled around making them Sunday morning …and brought it all in on a tray. Best Mother's Day breakfast ever!" ~ Paula
"I love this post. It worked beautifully for me. My five year old was asking me the whole week about Mother's day. So I made gluten free waffle mix, set out the waffle maker and set the coffee maker to just be turned on. Told my husband lovingly that the kids wanted to do something for me and that I had prepped everything so that he did not have to worry. I know he works so hard all week so I wanted to make it easy for him too. He took the kids and made cards for me and got breakfast ready. Thanks for the ideas!" ~ Keilah
Mums, it's not that we're control freaks, but by simply planning ahead and offering a few instructions for the well-wishers, we increase our chances of getting a speedy and tasty breakfast in bed, minimize kitchen disasters, and ensure a relaxed start to the day for all. Sound good?
Today, I've got a new recipe, an improved scone, dressed up with berries and cream. It's a classic Strawberry Shortcake, but with a healthy twist, and perfect for breakfast on Mother's Day.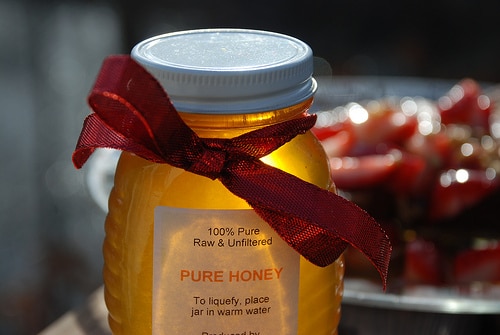 Photo by kthread
The recipe is adapted from a new cookbook I can't put down, Green Market Baking Book: 100 Delicious Recipes for Naturally Sweet & Savory Treats
, and features honey, one of my favorite natural sweeteners. At home we stir honey into our morning oatmeal, spread it on peanut butter toast for lunch, and turn it into homemade pancake syrup.
Besides being a versatile and flavorful sweetener, honey is also an excellent choice for the locavore, as there's a beekeeper in most communities. Perhaps we'll eventually have a hive or two on our little urban homestead. We've already got the chickens and plans for a garden, why not bees?
Did you know? Always store honey at room temperature, as refrigeration causes it to crystallize faster.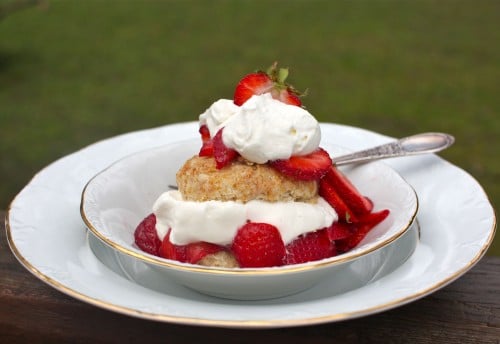 Honey-Strawberry Shortcakes with Honey-Sweetened Whipped Cream
Featuring fresh spring berries, whole-wheat flour, and no sugar to speak of, these extraordinary shortcakes could almost be a guilt-free treat on Mother's Day morning. They are just as tasty on the second day or thawed from the freezer and reheated, so go on and plan ahead for your breakfast in bed. You can thank me later.
Ingredients:
Strawberry topping:
3 cups local organic strawberries (rinsed and sliced)
3 Tbsp honey
Shortcakes:
3/4 cup all-purpose flour
3/4 cup whole wheat pastry flour
1/2 tsp baking soda
1/4 tsp salt
6 Tbsp cold butter
1/2 cup + 2 Tbsp buttermilk
3 Tbsp honey
Whipped cream:
1 cup heavy whipping cream
2 Tbsp honey
Serves 6
Method:
Strawberry Topping.
Pour the honey over the sliced berries and mix gently to combine. Let stand until ready to serve – up to 1 hour.
Shortcakes:
Preheat oven to 400°F and line a baking sheet with parchment paper. Combine the dry ingredients in a mixing bowl.
Using a box grater, grate in the cold butter. Mix quickly with a fork or your fingers until the butter is evenly distributed.
Whisk the buttermilk and the honey together in a measuring cup. Gradually add the wet ingredients to the dry ingredients, mixing gently to combine.
Dust a clean surface with flour and empty the dough from the bowl onto the counter. With floured hands, pat dough to about 1/4 inch thick. Using your favourite biscuit cutter, cut into rounds or fancy shapes.
Place on baking sheet and bake for about 10-12 minutes or until lightly browned (mine took no more than 9 minutes). Set aside and cool until ready to assemble into cakes and serve.
Whipped Cream:
Using a chilled bowl and whisk, whip the cream until soft peaks begin to form.
Add the honey to the cream and whisk it in. Finish whipping the cream to its desired thickness.
Assembly:
Cut each piece of shortcake into half horizontally.
Place the bottom half on a plate or shallow bowl.
Top with a spoonful of berries and a dollop of cream.
Add the top half of the shortcake and spoon more strawberries over it.
Finish with another spoonful of honey-sweetened whipped cream.
Repeat with the other pieces of shortcake and serve.
Variations:
Use this recipe all year long by substituting the strawberries with your favorite in-season fruit. I recommend sliced peaches, cherries or seasonal berries.
Strong coffee and the bowl above is enough to make my day. Moms, what would you love to see on your breakfast tray?