If I could sum this post up in five words, I would say, in true Joy the Baker fashion,
"October Unprocessed. Get into it."
However I feel I owe you at least a little background, followed by a look at how I'm gearing up for the annual whole foods challenge. The motivation? That has to come from you, but if you are already a regular reader of this blog, I'm guessing that you would be totally down with this challenge. (There I go again with the Joy-isms.)
What is the Unprocessed Challenge?
Andrew of Eating Rules is a terrific guy with a fantastic message about healthy food. His goal behind the October Unprocessed challenge is to try to get as many people as possible off of processed foods and eating whole, healthier foods during the month of October. The thought behind this goal is to show people that they will ultimately feel better after the challenge – and hopefully be inspired to improve their long term eating habits.
What are the 'rules'?
"Unprocessed food is any food that could be made by a person with reasonable skill in a home kitchen with readily available, whole-food ingredients." – Andrew Wilder.
Sounds do-able, right? After all, we're already on the whole food track here at Simple Bites.
You may remember that we cut our teeth on October Unprocessed for a week last year. There was the menu plan, and the follow-up recap of the week, highlighting a few of our favorite recipes. I also wrote a guest posted for Andrew and shared Seven Ways to Survive October Unprocessed with Kids, which I'll be putting to practice again this year.
This time around I'm feeling better equipped for taking on the whole month. We're feeding a baby real food, after all; that is even more incentive to keep our diet unprocessed. Sure, Canadian Thanksgiving is coming up in October, but both this naturally sweetened apple pie and this rustic maple pecan pie are unprocessed, and as long as we have pie, we're all set.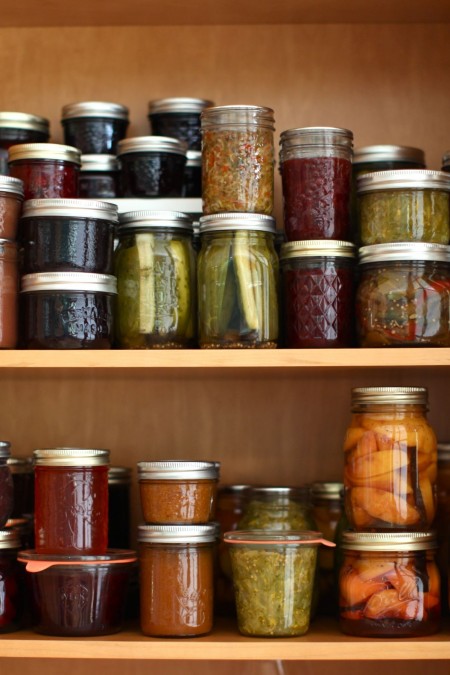 Gearing up for October Unprocessed
Since I've already used blockquotes twice in this post, I may as well add one more. It's a good one.
"By failing to prepare, you are preparing to fail."
― Benjamin Franklin
I believe that quote is 100% applicable for this challenge. By taking a few steps now to plan for the month, we are further ensuring our chances of lasting the full 31 days. Here's what I've got down for the next few weeks:
Stocking the pantry with wholesome ingredients
We're definitely proponents of stocking the pantry for success and this can't be more essential than during October Unprocessed (okay, maybe during holiday baking). I'm already set with quite a few canned goods, but I plan to investigate and update my dry goods.
That also includes clearing it out of current 'processed' foods that we may be tempted to eat!
Making a menu plan (or four)
A proper menu plan is a live saver on an average week, and completely essential for a busy family of 4 1/2 during the Unprocessed challenge. A menu plan will help you stock your pantry, figure out your meal options, facilitate a one-stop shop, and finalize your October unprocessed challenge. It's a vital step in succeeding with this project.
Go ahead and plan for the month if you are feeling ambitious. Be sure to check out Andrew's blog, Eating Rules for daily posts with plenty of recipes and DIY inspiration throughout the challenge. Psst! I'll have one in there, too.
Cooking/Baking Up a Few Staples
Over the next few weeks, I'll try to work in a few extra whole foods projects such as whole wheat buns or salsa. I find that if I have all the ingredients on hand, I can usually bake/cook up something extra while I'm preparing dinner.
Alaina's book, The Homemade Pantry, will be very helpful in this area. She's got some great recipes for crackers, hamburger buns, and breads that I can't wait to try. Here are a few staples I'm hoping to make from scratch:
Whole wheat flour tortillas
Meusli
Salsa
Crackers
Granola is already made and stashed and I'm sharing the recipe below. If you've never made your own, then this simple Pumpkin Spice Granola with Pepitas (pumpkin seeds), is a good start.
What You Can Do
Enthused? Excited? Here are seven steps you can take to join October #Unprocessed.
Sign the pledge. And join 800 others as you do so.
Discuss the challenge as a family.
Set a goal. Three days? A week? The whole month?
Make a menu plan.
Blog about it and add a badge to your site.
Follow the #Unprocessed hashtag on Twitter.
Read Eating Rules for daily updates and tips in October. (Look for my guest post coming soon.)
Pumpkin Spice Granola – simple and unprocessed.
This recipe hails from the lovely new cookbook The Sprouted Kitchen: A Tastier Take on Whole Foods
,and is so simple and delicious. I hope you give it a try.
I will be featuring the Sprouted Kitchen cookbook in a new Bite this Book post and giveaway on Friday, so stay tuned!
Photo credit: Hugh Forte © 2012
Pumpkin Spice Granola with Toasted Pepitas
This recipe was adapted from Sara Forte's The Sprouted Kitchen cookbook, which rounds out the granola with pecans and raisins. However, it's pumpkin season and I love adding nutty green pepitas to my breakfast. They toast up beautifully in the oven and complement the mild pumpkin flavour of the granola.
Print
Pin
Rate
Ingredients
2

tablespoons

extra-virgin olive oil

sea salt

1

teaspoon

pumpkin pie spice

1/3

cup

pure maple syrup

I used Grade B

1/3

cup

pumpkin puree

2

cups

old-fashioned rolled oats

1/2

cup

pepitas

pumpkin seeds

3

Tablespoons

sesame seeds
Instructions
Preheat the oven to 325°F.

In a large mixing bowl, combine the olive oil, 1/2 teaspoon salt, the pumpkin pie spice, maple syrup, and pumpkin puree and whisk to combine.

Add the oats, pipetas, and sesame seeds and stir until evenly coated.

Spread the mixture on the baking sheet, keeping some of the clusters of oats and seeds intact so that the finished granola will have some chunks. Bake the granola, stirring every so often by scooping the mixture from the edges of the pan toward the middle and spreading it evenly again, until dry and light brown in colour, 35 to 45 minutes.

Remove from the oven and allow the granola to cool a few minutes. Cool completely before storing. Store in an airtight container for up to 2 weeks.
Nutrition
Calories:
500
kcal
|
Carbohydrates:
66
g
|
Protein:
12
g
|
Fat:
22
g
|
Saturated Fat:
3
g
|
Sodium:
9
mg
|
Potassium:
455
mg
|
Fiber:
7
g
|
Sugar:
23
g
|
Vitamin A:
4235
IU
|
Vitamin C:
1.2
mg
|
Calcium:
162
mg
|
Iron:
4.9
mg
Resources for a month of whole foods and unprocessed menu plans
Food in Jars: Preserving in Small Batches Year-Round

The Homemade Pantry: 101 Foods You Can Stop Buying and Start Making

The Sprouted Kitchen: A Tastier Take on Whole Foods

Super Natural Every Day: Well-Loved Recipes from My Natural Foods Kitchen
Do you currently eat 'unprocessed'? Will you take the challenge?