To say that our week of eating only unprocessed foods went by without much ruffling of feathers would be a fair statement. If you remember, we had pledged to one week of 'hard core' unprocessed eating and the entire month of October as 'soft core', meaning we might indulge in chocolate chip cookies or hot cocoa once in a while.
Saturday wrapped our week of serious wholesome eating, and today I've brought you the highlights from that week, with a few recipes and tips for beating the cravings.
If you are smack in the middle of October Unprocessed and need a little inspiration for the week ahead, or just want to improve your diet in general, then hit the jump.
Monday
The morning started with a fridge clean, as it often does, then a trip to the market for our fresh produce.
I'm always playing catch-up on Mondays, so I had made dinner a few weeks before and frozen it. We feasted on Bean Burritos made with homemade whole-wheat flour tortillas and 'frijoles rancheros', re-fried in bacon fat. Also wrapped up in our burritos was avocado, tomato, lettuce and Greek yogurt. A completely satisfying, unprocessed dinner.
TIP: Both beans and tortillas freeze fabulously, making this a perfect do-ahead meal. Oh and homemade tortillas? No biggie. One batch takes about 30 minutes to make and gives us 12 large tortillas, enough for three meals.
Snack attack! In the afternoon I threw banana, yogurt, pumpkin puree and cinnamon in a blender with a little agave syrup. We loved these Banana Pumpkin Spice Smoothies for our after school snack.
Tuesday
Can you say Breakfast Burritos? Scrambled eggs, re-fried beans, and diced tomato, all wrapped up in a leftover homemade flour tortilla. What a way to start the day off right.
For dinner, an unprocessed version of my Lentil Shepherd's Pie turned out even better than I expected and was gobbled up by the kids. I think I'll have to update the recipe with my alterations, because they really worked.
Here's what I did: ketchup was subbed for one small tomato, diced. Tabasco was omitted. Oil was replace with bacon fat, and homemade pumpkin puree was used instead of sweet potatoes for the mash because I had some on hand. I did leave in the apple cider vinegar, as the shepherd's pie really needs that tang.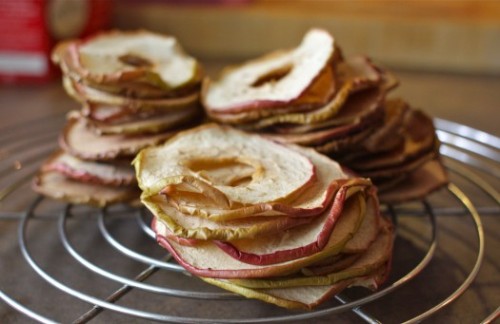 Wednesday
Since it was a cold, wet day, I jumped into the kitchen and had a simple Cream of Potato-Leek Soup simmering in minutes. It turned out so well that I'm sharing the recipe below.
We spent the entire afternoon at a routine doctor's appointment for the kids, so it was incredibly lovely to come home and just have to heat soup for dinner. A big bowl of homemade garlic croutons fulfilled our cravings for accompanying crackers. They're also a great way to use up bread with no preservatives.
Sweets: Speaking of cravings, my sweet tooth was aching in a major way on this day. I satisfied it with with maple-glazed apple chips as well as a bowl of Greek yogurt with plenty of honey and toasted coconut. 
Thursday
A batch of homemade ricotta and some roasted beets paved the way for lunch. Crisp apple accompanied the beets; fresh pepper, lemon juice and parsley garnished them, and soft ricotta topped the whole thing off. I just might be eating this all winter.
All the vegetarian meals had us craving something succulent, so I roasted a whole chicken for dinner, packed with herbs and lemon and perfectly cooked, in my usual method.
Friday
On Thursday I turned the leftover whey from the ricotta into crêpe batter, with a simple recipe that goes like this:
Combine 6 eggs in a blender with 1.5 cups whole wheat flour, 1 cup organic white flour, and 3 cups of slightly warmed whey. Blend until smooth.
Chill overnight. In the morning, beat crêpe batter again. It will be very runny.
Brush a non-stick skillet with melted butter and cook crêpes, one at a time, brushing the pan with butter with each new crêpe.
For breakfast we feasted on ricotta-filled crêpes with strawberry-honey jam and sliced oranges. Dreamy.
Dinner: There was plenty of chicken leftover from the previous dinner, so I cooked a pot of brown Basmati rice and stir-fried them up together. Shredded cabbage and carrots added color and kid-approved vegetables, while sliced green onions provided the garnish to our dinner of chicken fried rice.
Weekend
We celebrated Thanksgiving on the weekend with various meals here and there, some of it processed, which I didn't sweat. However, my contribution to the family dinner were two all-natural, unprocessed pies: a double-crust apple pie and a maple pecan pie. Look for the maple pecan pie recipe coming soon!
Cream of Potato-Leek Soup with Bacon
Five minutes and five ingredients are all you need to get this soup simmering. Then puree it until it is silky smooth and add fresh cream for richness. You'll want to eat several bowls - especially if you have some garlic croutons to top it with.
This soup also freezes well. Just omit the cream and instead add it in when you re-heat the soup.
Print
Pin
Rate
Ingredients
2

rashers

double smoked bacon

thick-cut and chopped

3/4

lb

chopped leek

mostly white with some green, about one large leek

1.1

lb

new potatoes

peeled and quartered

1

teaspoon

salt

1/2

cup

whole cream
Instructions
Heat a medium heavy-bottomed pot over medium heat and add the bacon. Saute for about five minutes until the fat is rendered and bacon begins to crisp.

Add chopped leek and saute until leek is wilted, about two minutes.

Add chopped potatoes and 4 cups of filtered water.

Simmer, partially covered for 25 minutes, or until potatoes are soft. Stir occasionally.

In two batches, puree soup in a blender until velvety. Add salt and cream, blend again and taste for seasoning. Serve hot.
Nutrition
Calories:
148
kcal
|
Carbohydrates:
17
g
|
Protein:
3
g
|
Fat:
8
g
|
Saturated Fat:
4
g
|
Cholesterol:
24
mg
|
Sodium:
345
mg
|
Potassium:
361
mg
|
Fiber:
2
g
|
Sugar:
2
g
|
Vitamin A:
930
IU
|
Vitamin C:
17.4
mg
|
Calcium:
42
mg
|
Iron:
1.4
mg
For more menu plans visit Org Junkie.
What was the best thing you ate all week?