A few weeks ago, bits and pieces about a project called #Unprocessed filtered through my Twitter stream – my main source for all things hot and newsworthy – and seeing that they were mainly initiated by @eatingrules, or Andrew Wilder, I just had to follow up and see what the buzz was about.
I was glad I did. I came across Andrew's challenge to his readers – to go a whole month without eating processed foods – and I was instantly motivated to take part. After signing my name to the pledge, I started clicking around some of the posts from October Unprocessed 2010 (yes, this is an annual event) and was fascinated by the guest posts, testimonials and stories that arose from the challenge.
I knew I had to share the #Unprocessed challenge with my readers. After all, I can't have all the fun in October by myself now, can I?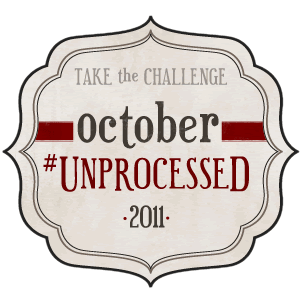 What is the Unprocessed Challenge?
Andrew of Eating Rules is a terrific guy with a fantastic message about healthy food. We met briefly at BlogHer Food in the spring and I am is constant awe of his drive and super impressed with his story.
His goal behind the October Unprocessed challenge is to try and get as many people as possible off of processed foods and eating whole, healthier foods on the month of October. The thought behind this goal is to show people that they will ultimately feel better after the challenge – and hopefully be inspired to improve their long term eating habits.
What are the 'rules'?
"Unprocessed food is any food that could be made by a person with reasonable skill in a home kitchen with readily available, whole-food ingredients." – Andrew Wilder.
Sounds do-able, right? After all, we're already on the whole food track here at Simple Bites. This just means no cheating. Like, none.
My October Unprocessed
I'm showing my support of Andrew's cause with a one-week unprocessed challenge for my whole family. Perhaps we'll continue for the rest of the month, year, that remains to be seen, but we are starting with one week because I'm confident we can do at least that.
October holds travel (I'm speaking at Blissdom Canada), a holiday (Canadian Thanksgiving), and lots of other situations where a no-cheating, strictly-unprocessed diet might not be feasible.
Plus there is the small matter of my pregnancy to think of. Since my last update, I still have not gained a pound (or an ounce, for that matter) and my doctor is becoming quite stern about the whole situation. As I'm in my fifth month, she wants to see at least a pound a week of weight gain. For me that is going to require plenty of cheese, ice cream, Montreal bagels, and more of those decidedly 'processed' foods.
What You Can Do
Enthused? Excited? Here are seven steps you can take to join October #Unprocessed.
Sign the petition. And join 450 1294  2100 others as you do so.
Discuss the challenge as a family.
Set a goal. Three days? A week? The whole month?
Make a menu plan.
Blog about it and add a badge to your site.
Follow the #Unprocessed hashtag on Twitter.
Read Eating Rules for daily updates and tips in October. (Look for my guest post on October 7!)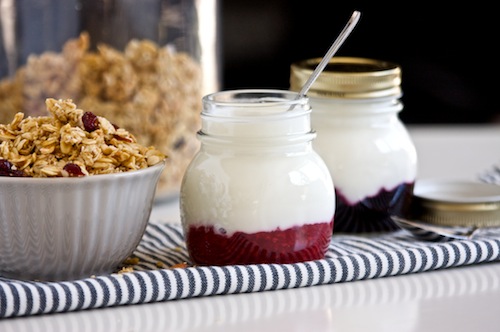 Homemade granola & fruit-bottom yogurt. Photo by Cheri
#Unprocessed Menu Plan
Being the organizer that I am, of course I've been working on a menu plan for #Unprocessed week. A proper menu plan is a live saver on an average week, and completely essential for a busy family of 4 1/2 during the Unprocessed challenge.
A menu plan will help you stock your pantry, figure out your meal options, facilitate a one-stop shop, and finalize your October unprocessed challenge. It's a vital step in succeeding with this project.
I'm posting my menu a week early (we start next Monday) in hopes that it might inspire you in your unprocessed challenge. Perhaps once you see that it's not such a scary, 'out there' project, you'll draft up a shopping list of your own and join in on the fun.
Here is my October Unprocessed Dinner Menu Plan and below it, I'll give my breakfast, snack and lunch ideas. This is a realistic menu plan for us, perhaps not as hard core as a Andrew would be, but it is only marginally different form how we normally eat, and this, I believe, will be the secret to our successful October Unprocessed.
Monday
Homemade tortillas. The boys and I made and froze these already. I adapt Amber's recipe with whole-grain flours.
Refried beans. Diana's delicious Frijoles Rancheros are the base for my refried beans.
Garnish: tomatoes, lettuce, cilantro, limes. Also, crème fraîche, which I've been making on my own. Marisa has some tips on making it from scratch.
Tuesday
Sausages, grilled, locally-made, high-quality, nitrate and preservative free.
Perfect mashed potatoes, with crème fraîche and chopped chives.
Wednesday
Lentil Shepherd's Pie with Sweet Potato Mash, slightly adapted for October Unprocessed (no ketchup, etc)
Green salad
Thursday
Shrimp Fried Rice (brown rice) with egg, grated carrot and peas, possibly shredded napa cabbage. Adapting this recipe for the challenge.
Garnish: green onion, crushed chillies, chopped peanuts
Friday
Saturday
Breakfast
Oatmeal, steel cut oats, fresh fruit, wholegrain toast & apple butter, homemade fruit bottom yogurt, granola, most of our usual breakfast items.
Lunch
Snacks
Dried fruit, homemade apple chips, granola bars, fresh vegetable crudite, nuts, cherry tomatoes, apples & other seasonal fruit, popcorn.
~ For more weekly menu plans, visit Menu Plan Monday. ~
Will you take the October Unprocessed pledge?