Last week we had the opportunity to welcome six young laying hens to our little homestead and, as a consequence, we 'harvested' our older, non-laying hens. Conveniently, this week's recipe in the Julie Child 100 club was Coq au Vin, a a classic French recipe that turns tougher, less-desirable cuts of chicken into a delectable dish.
Boy, did I have the chicken for that dish. I froze the breasts from the hens in a buttermilk & dijon marinade, turned the carcasses into stock, and that left just the legs for braising.
I simply couldn't pass up the opportunity to prepare Coq au Vin for the 100 club, especially with our own homegrown chicken. Read on to find out more about the JC100…and how it all turned out for me.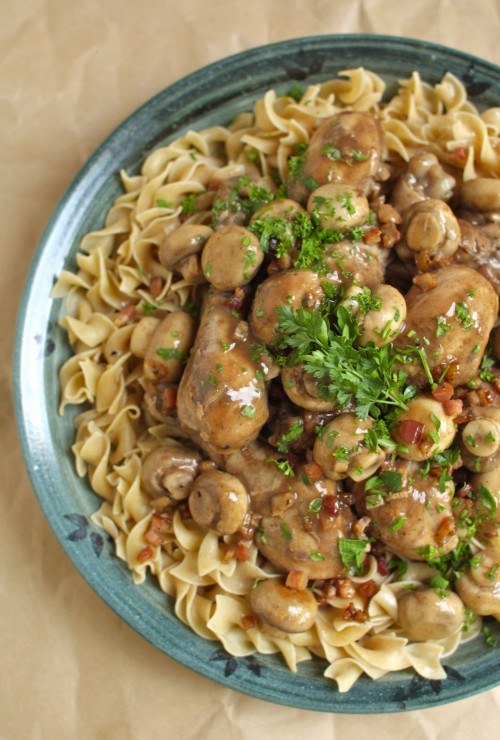 The Beauty of Coq au Vin
It's hard to say no to a beautiful family-style dish of Coq au Vin or chicken braised in red wine. The flavors build upon each other, beginning with bacon (rightfully so) and continuing with an entire bottle of red wine. A sprinkling of parsley garnishes the chicken pieces and plump button mushrooms and the whole dish is served over hot buttered egg noodles
, stroganoff-style.
You could also serve the braise with small boiled new potatoes, however, we love Ronzoni Healthy Harvest Whole Wheat Blend Wide Noodles
. These egg-white only noodles cook up quickly and contain a blend of Durum whole wheat flour & semolina that gives them a lovely tender texture. Be sure to cook them slightly al dente, as they will absorb the sauce and continue cooking slightly as they come to the table.
Julia Child's recipe for Coq au Vin is considerably longer and more complicated than my version below. I've simplified it somewhat and made some changes, such as leaving out the onion garnish.
In the original recipe, Julia (rightfully, traditionally,) includes brown-braised onions, however I omitted them as I am really watching my consumption of vegetables from the onion family because I am nursing Clara. I do use onions in the making of the stock though.
Instead of baby onions in the recipe, I doubled up on the mushrooms, which are lovely and meaty, and help to stretch the dish a little further.
What is the JC 100?
Culinary icon Julia Child would have turned 100 years old on August 15th of this year. To honor her, our friends at Julia Child's publisher, Alfred A. Knopf launched a campaign involving restaurants, chefs, bookstores, and bloggers, all celebrating Julia and her legacy.
I am one of 100 (I'm guessing a lot more than that, actually) food bloggers posting a version of a Julia Child recipe between now and August. Join this tribute to the First Lady of French cooking by following @JC100 and the hashtag #JC100 on Twitter and liking the Julia Child Facebook page.
How it ended
As it turned out, we never ate the old layer's legs. I braised them low and slow for over four hours, and, upon tasting, decided that they would never be tender. No matter. I strained the beautiful sauce and used it for the batch of plump chicken legs that you see in the photos.
I got 10 quarts of incredible stock from those birds, but the meat was inedible. Sufficient to say, if someone offers you old laying hens, don't envision preparing a succulent roast chicken dinner with them, or you'll be setting yourself up for disappointment.
This dish was a massive hit with the kids (served with a side of steamed broccoli to round it out) thanks to the tender chicken, the bacon bits, and gravy-coated noodles. It was an unusually quiet dinner!
I'm guessing this could also be made in the slowcooker. I aim to try that out next.
Simple Coq au Vin (Chicken with Mushrooms in Red Wine Sauce)
A simplified version of a classic French 'Coq au Vin', this elegant dish extravagantly uses a whole bottle of wine and irresponsibly tosses the vegetables once the sauce has been made. Shocking? Perhaps. Utterly worth it? Absolutely.
Print
Pin
Rate
Ingredients
3

lbs

chicken pieces

bone-in

salt & fresh ground pepper

1/3

lb

bacon

ideally slab bacon, diced

1/2

lb

carrots

peeled

2

small

onions

peeled

3

stalks

celery

washed

1

bottle

red wine

2

cups

chicken stock

1

bay leaf

1

teaspoon

fresh thyme leaves

3

Tablespoons

butter

room temperature

2

Tablespoons

all-purpose flour
Garnish:
1

lb

button mushrooms

stems trimmed

fresh parsley

chopped
Instructions
Rinse chicken pieces and pat dry. Season all over with salt and pepper.

In a large oven-proof skillet (I use a French Oven), cook diced bacon over medium heat until most of the fat is rendered and pieces are browned.

Remove bacon with a slotted spoon, leaving the fat in the pot, and drain on a paper towel.

Add the chicken pieces to the pot and brown the skin in the bacon fat over medium-high heat. Meanwhile, roughly chop carrots, onions and celery into 1/2 inch pieces.

Remove chicken from pot and set aside. Add vegetables to the pot, using a little olive oil as needed to cook the vegetables. Saute vegetables for about 5 minutes until they begin to soften.

Add a cup of wine to deglaze the pan, that is, to loosen all the brown bits on the bottom. Scrape the bottom of the pan to get all those flavorful bits up.

Add the chicken pieces, the remaining wine, the stock, bay leaf, and the thyme leaves to the vegetables. Stir to combine, then cover with a lid.

Simmer coq au vin gently, over low heat, for about 40 minutes or until the chicken is tender and falling off the bone. (cooking time will vary with size and quality of chicken.)

Remove the pot from the heat and, using a sturdy pair of tongs, take out chicken pieces and set aside once again. Strain the sauce through a fine mesh strainer and discard the vegetables.

Return the sauce to the pot and bring to a simmer. Cook for 10 minutes at a low boil until it is reduced by half.

In a small bowl, mix together just 2 Tablespoons soft butter and flour. Using a whisk, incorporate the paste, called a 'Beurre manié', into the sauce. Mix well until all the lumps are gone. Cook the sauce another five minutes, whisking occasionally, until it is glossy and coats the back of a spoon. Taste for seasoning and add salt and pepper as needed.

In a separate saute pan, heat the remaining tablespoon of butter, and add mushrooms. Stir for a minute, then add a few tablespoons of water. This helps the mushrooms to release their juices. Cook over medium-high heat for another 5 minutes until the liquid is evaporated and mushrooms begin to brown.

Return the chicken to the sauce in the pot, and add the bacon and sauteed mushrooms. Stir together and heat gently. Serve over hot buttered egg noodles or atop boiled, smashed potatoes. Garnish with chopped fresh parsley.
Nutrition
Calories:
507
kcal
|
Carbohydrates:
13
g
|
Protein:
28
g
|
Fat:
30
g
|
Saturated Fat:
10
g
|
Cholesterol:
112
mg
|
Sodium:
368
mg
|
Potassium:
774
mg
|
Fiber:
2
g
|
Sugar:
5
g
|
Vitamin A:
5115
IU
|
Vitamin C:
7
mg
|
Calcium:
44
mg
|
Iron:
2.3
mg
Has Julia Child (or another culinary icon) influenced your cooking in any way?