A bout of gray, rainy and downright bone-chilling cold weather recently sent me scurrying into the kitchen faster than a coiffured damsel seeking shelter. With each day looking bleaker than the last, it was obvious that if I was to get truly warmed, it would require spearheading a kitchen project that involved plenty of soul food.
Fortunately, my quest to find the BEST zucchini bread was under way that week, with many batches being tested to ultimately declare a winner and a runner-up. That project kept the kitchen toasty, but it wasn't quite the satisfying, nourishing meal that I was looking for. Imagine my surprise when I realized I was craving soup. Hot, wholesome SOUP! In August, no less.
Wasn't it just a few weeks ago that I was singing the praises of cold soups? Had the summer really slipped away that quickly? Apparently it had, so I made a massive batch of this late-harvest minestrone using up all the gorgeous late-summer vegetables I had on hand.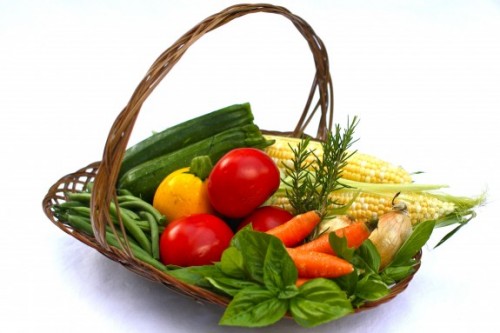 What's all the fuss over minestrone? For one thing, it uses up all those summer vegetables that are cheap and prolific right now. It can also easily adapt to suit your families' tastes since its rustic style lends itself easily to accommodating your favorite vegetables.
There is no 'standard' minestrone recipe; it changes from family to family and season to season. Some add pasta, others pile in the cabbage, and I've occasionally added a can of black-eyed beans. I always add a handful or two of whole-wheat spaghetti to increase the appeal of the soup to little palates, plus it makes for a heartier meal.
Take this recipe, try it out, but feel free to adapt it to suit your tastes — and feature the best produce that you have around.
Helpful tips for the best minestrone
Use the best produce you can get your hands on, it is August after all! It's tempting to clean out the crisper drawer of the refrigerator and throw in all the shrived bits, but if you choose the sweetest carrots, young zucchini and fresh-picked basil, your soup will surpass any you've ever had before!
Sure, ripe tomatoes are ideal, but in a pinch you could use good quality canned tomatoes.
Don't worry about perfect -or even tidy- cuts for your vegetables. This is minestrone, home cooking at its finest, and there's no one to impress.
To quickly break the spaghetti into smaller pieces, first roll it in a clean tea towel, then, holding both ends firmly, run it down the edge of the counter, bending it slightly as you go. It will shatter into many little pieces and the towel will contain the messy little pieces.
If made with vegetable stock, this minestrone can be a vegetarian option for dinner, however, a nice chunk of slab bacon can add a greater depth of flavor to the soup. Dice it and add it in step one below while sautéing the vegetables and remember that a little goes a long way.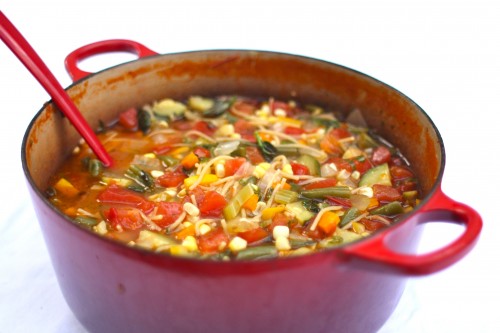 Aimée's Late-Summer Minestrone
1/4 cup extra virgin olive oil
1 medium onion, chopped
2 cloves garlic, chopped
2 young carrots, peeled, cut into 1/2-inch dice
1 cup celery, chopped thinly
2 small zucchini, green or yellow, cut into 1/2-inch dice
1 sprig fresh rosemary, chopped
2 ears fresh corn, shucked and cut off the cob
1 cup fresh green beans, trimmed and cut into 1-inch pieces
1 quart chicken or vegetable stock, plus 2 cups water
4 large, ripe tomatoes chopped (about 2 cups)
125 g. (1/4 regular package) whole-wheat spaghetti
1/4 cup chopped basil leaves, loosely packed plus more for garnish
Freshly grated Parmesan cheese for serving (optional)
1. Put 3 tablespoons oil in a large, heavy-bottomed pot over medium-high heat. When hot, add onion, garlic, carrots, celery, rosemary and zucchini. Cook, stirring, until vegetables soften somewhat, 5 minutes or so.
2. Add fresh corn and beans. Cook, stirring, for a minute or two, then add stock, water and chopped tomatoes; bring to a boil, then lower heat so mixture bubbles gently. Cook, stirring occasionally, until vegetables are quite soft and tomatoes broken up, about 10 minutes.
3. Add 1/2 cup basil and whole-wheat spaghetti. Cook another 5 to 7 minutes longer, stirring occasionally. Taste and season with salt and pepper.
To serve: ladle into bowls and drizzle with olive oil. Tear a few basil leaves and drop them in. Serve with fresh Parmesan, if desired.
Yield: 6 to 8 servings. Or about 1.5 liters of soup.
Freezing Directions
Make the soup through step two, but stop before step three where the pasta is added. Season the soup and set aside to cool. (Don't worry if the vegetables are still slightly al-dente.)
Portion the soup into freezer-friendly containers (I often use clean mason jars, leaving a good inch of head space), cover and label.
Freeze for up to three months.
To re-heat: Thaw soup overnight in the refrigerator, then reheat gently in a pot. Add a cup of broth or water (as some may have been absorbed over time) and bring to a boil. Add pasta and basil and cook until pasta is al-dente. Serve.
Tomato or cream, smooth or chunky; what makes up your favorite soup?