Written by Shaina of Food for My Family.
Burgers. Hamburgers. Cheeseburgers. Sliders. Patties. I'm sure you have an opinion. How they should be cooked. What sorts of toppings adorn them. The type of bun that the orb of meat sits upon.
Regardless of those opinions, these meat patty sandwiches are rather universal. There's a good chance that you have your own nostalgic feelings and memories associated with burgers, whether it's of your dad out on the deck flipping them when you were much younger or it's a special drive-in restaurant you would visit in the summer that served burgers right to your car window. Maybe your memory is recent, last week at a backyard barbecue shared with friends.
Nostalgia aside, chances are also good that you've had a bad burger moment as well. Too dry. Too greasy. The wrong bun. "I thought this was a burger, not a meatball." Here are a few helpful tips when getting those burgers ready for the grill that will help make burger night a memory-making success.



Photos by Shaina
Tips for Perfect Burgers
I asked my husband, Ole, for a few tips on the burger-flipping side. He is, after all, the one who mans our grill most often, and he's full of opinions. Here are his Perfect Burger Tips:
Keep the meat cold. Cold meat means cold fat, which will stay intact until grilled, offering a juicier burger.
Handle the meat as little as possible. Touching, mixing and smashing the ground meat will warm up the fat and compress it, which leads to a denser burger. Just enough pressure to get the shape is all you need.
Size matters. Be sure to pat your patties a good 1/2″ around larger than the bun it's intended for. The meat will shrink due to the fat dripping off, and you want it to fit after it's cooked, not before. Use 80/20 or 85/15 burger for the best results. Too little fat content will leave you with a dry burger.
Start high, end low and don't get flippy. Sear the burgers first over a medium high heat, and then move to a cooler (medium to medium-low) part of the grill to finish them off. Flip your burgers only once to seal in juices and keep them in place.
Don't squeeze, pat or squish. Never press your burgers on the grill with a spatula. This only causes the juices to run off and down through the grates, making for one dry hockey-puck-like burger.
Toast your buns. Before throwing your burgers on, butter the buns and then add them to the grill as your burgers are finishing up. A toasted bun goes a long way in making the perfect burger.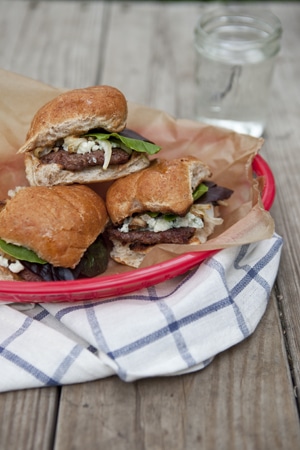 Bacon and Blue Cheese Sliders
I'm a sucker for sliders. These four-bite burgers – or two-bite if you please – are the perfect size for outdoor eating. You can easily grab one and walk around with it with no worries of a big, messy aftermath. Plus, who can resist a bit of bacon in the burger and the tangy blue cheese and sweet onions on top?
1/2 cup thinly sliced onion
2 tablespoons butter
1 pound 85/15 ground chuck
3 slices of cooked bacon, crumbled
5 ounces crumbled blue cheese
12 whole wheat dinner rolls or small burger buns
3 tablespoons butter
Preheat the grill to medium-high. Place thinly sliced onions and 2 tablespoons butter in a small foil boat about 6×4″. Set the foil boat on the grill to start cooking as the grill heats and you get started on the burgers.
Place cold ground chuck on a large cutting board. Sprinkle with crumbled bacon. Lay a sheet of parchment the same size as the cutting board over the meat and roll into a large rectangle with a rolling pin about 1/3″ thick. Cut into 12 squares that are just slightly larger than the buns using a pizza cutter or a sharp knife. Stir the onions on the grill.
Slice, if necessary, and butter all the buns on the inside cut. When the grill is hot, carry the burgers, buns and blue cheese out to the grill. Place the burgers on the grill using a spatula to get them off the cutting board. Close the lid and cook for 90 seconds. Flip the burgers and stir the onions. Add all the buns to the grill, buttered side down. Close the lid and allow to cook 60 seconds. Remove the buns and immediately top with a burger, a tablespoon or so of blue cheese and caramelized onions. Repeat until all burgers are assembled. Allow to sit for 2-5 minutes before serving.
Makes 12 mini burgers.
What are your favorite burger toppings?