We did a quick road trip over the Easter long weekend to the coast. Specifically, the East Coast. More specifically, Halifax.
What? That's faaaaar, you say? Too much driving for a weekend? Naw. We stretched the weekend to five days, and took our time getting there, visiting family in Quebec City and friends in Moncton. Besides, we're seasoned travellers – especially the kiddos.
We enjoyed a much-needed break in one of Canada's most charming cities, and spent most of our Easter Sunday beachcombing at Crystal Crescent Beach and scaling the bluffs at Herring Cove. Glorious. We spent a slow grey morning sipping lattes at our favourite café and ate lobster, fish and chips at a dive diner. It felt like a mini vacation.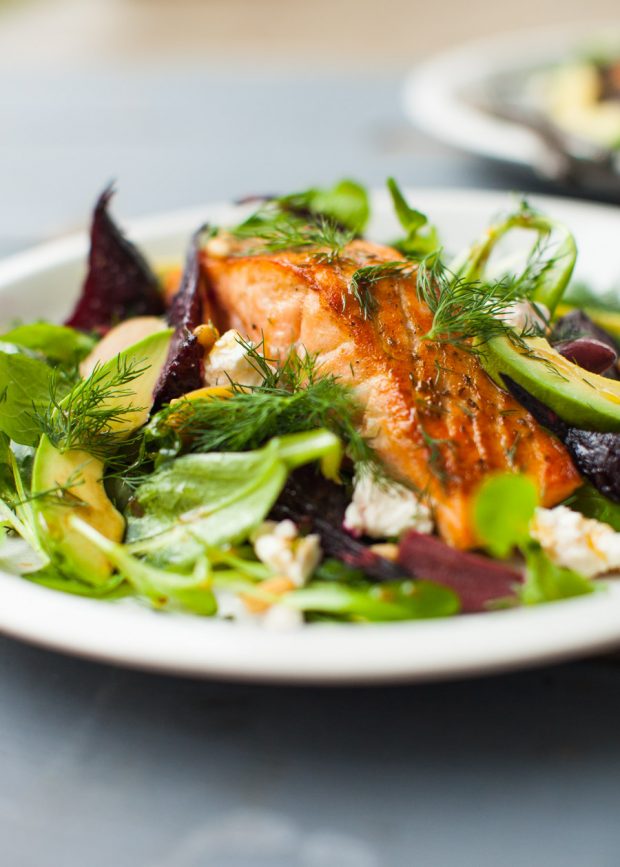 The ride home, however, was one. long. haul. with stops for only for coffee (The Black Duck is the last stop we've found for decent coffee until Quebec City, FYI) and convenience store raids. Altogether too many carbs were consumed and by time we rolled into our driveway, the floor of the minivan was covered in a carpet of crumbs from the rice cakes, goldfish crackers and granola bars. Such is the actuality of traveling with children.
The day after we returned home, I was craving a salad with bold flavours and a bit of protein. I ignored the pile of sandy laundry from the trip and instead made a market run for fresh salmon, greens and a bunch of dill. I turned on the oven and pitted olives while a tray of beets roasted. A short while later, this warm salmon and spinach salad with roasted beets, avocado, feta and olives was created and it hit the spot perfectly for a light dinner.
As wonderful as it is to explore a new city, it's hard to find really, really great salads. I feel like this one was a nod to our travels to the coast, with the pan-seared salmon and all. Perhaps I should have garnished it with crushed goldfish crackers to keep things real, but it was perfect as is.
If this salad looks too pretty or fancy for your tastes, ignore all that food styling and focus on the ingredients. This plate boasts an array of textures and flavours as enticing as anyone could wish for for a simple weeknight dinner. And I promise you it's easy.
If you can, roast the beets a day or so in advance to save time. You can shake together the vinaigrette a few days before assembly, too, as well as toast the pine nuts and pit the olives.
The salmon should be as fresh as possible, and go from the pan directly onto your plate. If you must cook it in advance, break it up when cold and scatter it around the salad, much like the tuna in a classic Niçoise.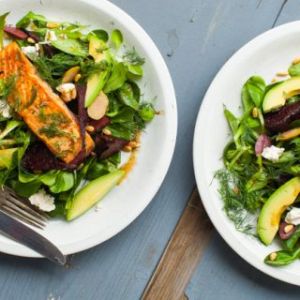 Warm salmon and spinach salad with roasted beets, avocado, feta and olives
Bright flavours, bold colours and crunch make up this craveworthy spring salad.
Print
Pin
Rate
Ingredients
2

medium beets

3

Tablespoons

olive oil

divided

salt and pepper

2

portions salmon

about 165g each

1

teaspoon

butter

1

Tablespoon

balsamic vinegar

1

clove

garlic

minced

1

teaspoon

Dijon mustard

4

generous handfuls

baby spinach

or other spring greens

1/2

avocado

2

Tablespoons

crumbled feta

2

Tablespoons

toasted pine nuts

8-12

Kalamata or green olives

pitted

3-4

sprigs fresh dill

roughly chopped
Instructions
Preheat oven to 425F. Peel the beets and cut into thin wedges. Toss with a tablespoon of olive oil and season with salt and pepper. Spread on a rimmed baking tray and roast until fork-tender, about 30 minutes.

Place a skillet over medium-high heat. Melt the butter together with a teaspoon of oil in the pan. Season the salmon generously with salt and pepper and place, skin side up, into the sizzling butter. Sear the salmon for 2 minutes, then flip so that the skin is down and send the pan to the oven.

Roast the salmon for 5 - 7 minutes or until it is cooked though but still slightly pink inside. Remove from the oven and cool slightly.

In a small bowl, whisk together balsamic, minced garlic and dijon with a pinch of salt and pepper. Drizzle in the remaining olive oil.

To assemble the salad, toss the greens with a bit of the salad dressing - just enough to coat them lightly. Divide the greens between two large plates and place a filet of salmon on each.

Arrange the roasted beets around the salmon. Thinly slice the avocado and add it as well.

Crumble the feta over top of the salad and sprinkle the pine nuts around the salmon. Drizzle the remaining vinaigrette over the salad and finish with a generous garnish of chopped dill. Serve at once.