It is my firm belief that many spring foods need to be just as hearty and filling as winter fare, at least for those of us with gardens to plant.
From turning the compost to prepping the ground for planting, hauling soil and rocks and clearing brambles, an afternoon of work on our homestead can leave me utterly famished. It's on those days when a meal featuring bacon, gnocci and sour cream makes complete sense. I love my spring salads and soups, I DO, but I won't say no to refuelling with fully loaded bowl of carbs.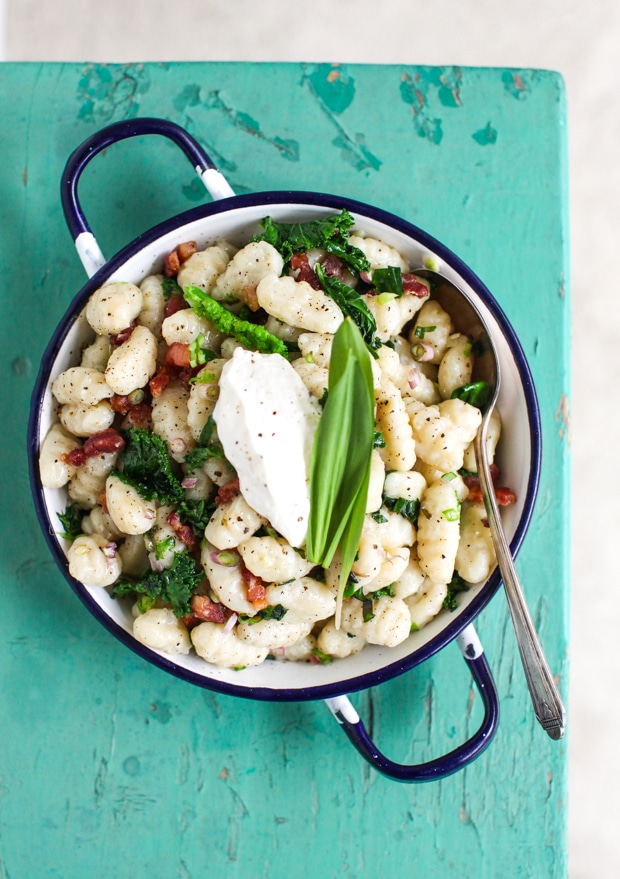 We're still a few weeks away from finishing our big spring push to get things both cleaned up and planted. Our Sunday was spent tucking zucchini seedlings into little hills, burying dried peas deep in the soil, clearing and burning the windfall that collects over the winter months, and much more.
It's rewarding work, but oh so physical. I have more gnocci and a slab of bacon in the freezer for another rich spring meal, and that's going to save us some evening in the near future, no doubt about it.
Today's recipe for Sour Cream & Ramp Gnocchi with Sautéed Kale and Crispy Bacon is a result of my Ukrainian half craving the flavours and textures of perogies (pierogi) but without any of the work. After a long day of gardening, a shortcut in the kitchen is a welcome relief, and that's where a package of frozen gnocci from my local Italian grocer comes into play.
Surprisingly, delicate potato gnocci make an exceedingly agreeable substitute to homemade perogies, especially paired with crispy bacon and loads of sour cream. A generous helping of ramps replaces the traditional onion topping, and a quick sauté of kale brings a little balance to a rich dish.
And if you're not a hungry gardener like me, this bowl of spring comfort food is a suitable way to drown your sorrows after the embarrassing loss of your hometown hockey team. Sheesh.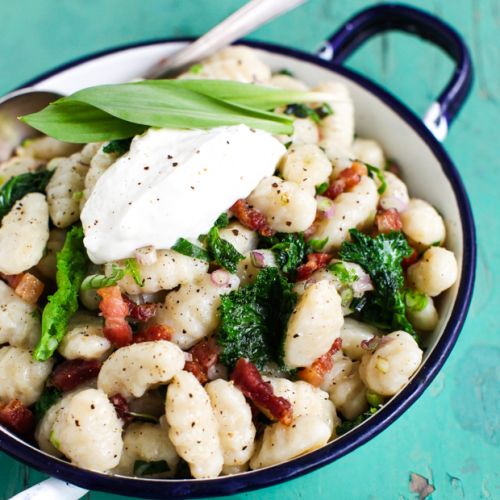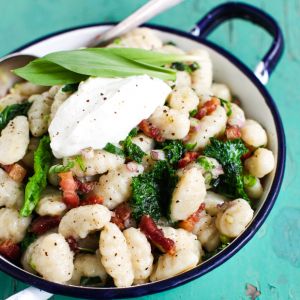 Sour Cream & Ramp Gnocchi with Sautéed Kale and Crispy Bacon
A bowl of stick-to-your-ribs spring fare that is reminiscent of all-dressed perogies. Good fuel for longs days of gardening or comfort food for when your hockey team loses the game.
Print
Pin
Rate
Ingredients
125

grams

slab bacon

diced

1 1/2

cups

torn kale

6-8

whole ramps

500

grams

gnocci

sour cream

to garnish

freshly ground black pepper

1

pinch

sea salt
Instructions
Bring a large pot of water to a a boil. Salt it generously (2-3 teaspoons) as it will help season the gnocci.

Heat a large skillet over medium high heat and tip the bacon into the pan. Cook, stirring often, until it is golden and crispy. Drain off excess fat and reserve for another use, but leave about 1 tablespoon in the pan.

Add the gnocci to the boiling water and cook according to package directions (usually about 5-7 minutes, from frozen).

Meanwhile, chop the white ends of the ramps and add them to the bacon. Add the kale and sauté quickly for about a minute.

Drain the ramps and add them to the pan with the bacon and kale. Toss gently to coat them in a little bacon fat.

Tip the gnocci and accompaniments into a serving bowl. Top generously with sour cream and fresh black pepper.

Lastly, finely chop the greens of the ramps and sprinkle them on top. Serve at once.
Notes
Depending on how salty the bacon is and how thoroughly you salt your gnocci boiling water, you may need a sprinkling of additional salt on the finished dish. It makes a world of difference.
Green onions may be substituted for the ramps in this recipe.
More ramps recipes:
I've always been about balance when it comes to food. Which is why last year I posted a healthy spring soup, and today I'm sharing a rich recipe. Both feature ramps, a fleeting seasonal ingredient, but that is where all similarities end!
You could serve my Spring Ramp, Radish & Spinach Soup as an appetizer for a weekend dinner party, and then round out the meal with today's gnocci. That's balance to me.
Here are a few more recipes featuring the delicious wild leek, should you be so fortunate as to get your hands on a bunch.
Eat Seasonal
It's May! And seasonal produce is getting very exciting. We've cooked up another batch of recipes for your enjoyment. I hope you're inspired.
What are you eating that is local and seasonal this week?