There's a sunny spot on my bedroom dresser on the second floor of my house and I'm growing two flats of seedlings in its warmth. If it wasn't for the perky tomato shoots and the sprouting chives growing there, it would be hard to find a single sign of spring anywhere around for miles.
We woke up to more snow and plummeting temperatures on Easter weekend. I wore fuzzy leg warmers under my flowered-print dress and the children ran their easter egg hunt in full snowsuits. There wasn't a crocus to be seen all holiday long, although the cold didn't stop us from having a string of lovely gatherings.
During this confused weather, my cooking has featured a melding of the seasons: the requisite hearty cold weather comfort foods enhanced by a few spring delicacies. Today's Tangy Quinoa Spring Salad Cups are a good example of such a marriage. A sturdy black bean and quinoa salad topped off with a crunchy mix of cucumber, mango, jalepeno, radish and avocado; good enough to forget all about the snow – for a few minutes.
We won't be seeing any local asparagus or spring spinach around here for quite some time, so I'm celebrating a few tropical fruits that happen to be in season. Although they can be found in stores all year round, both the Ataulfo mango and the Hass avocado come into season around this time, and combined with radishes, jalapeno, cucumbers from local greenhouse growers, they make a salad that delivers crunchiness, creaminess, sweetness and heat.
The quinoa-bean mixture can be prepared a day or so in advance, but the fruit and vegetable topping should be made and enjoyed right away. Leave out the jalapeno if you're serving the salad to small children, otherwise toss it in for a bit of heat to balance out the sweetness of the mango.
For a lighter version of this salad, toss a few spoonfuls with equal amounts of baby arugula and enjoy immediately.
Ingredients
2

Tablespoons

fresh squeezed orange juice

1

Tablespoon

red wine vinegar

+1 teaspoon

1

small clove

garlic

crushed

1/4

cup

extra virgin olive oil

1/4

teaspoon

sea salt

1/4

teaspoon

fresh ground pepper

1 1/2

cups

cooked red quinoa

1 1/2

cups

cooked black beans

3

Tablespoons

chopped fresh cilantro

1/2

English cucumber

washed

1

jalapeno

1

ripe Ataulfo mango

1

ripe Hass avocado

8-10

young radishes

6

red cabbage leaves

for presentation (optional
Instructions
For the vinaigrette: Whisk together orange juice, red wine vinegar and crushed garlic. Drizzle in the olive oil; season with salt and pepper.

In a medium bowl, combine quinoa, black beans and cilantro. Add 2 Tablespoons of the vinaigrette and mix well.

Cut the cucumber into small chunks. Thinly slice the jalapeno, discarding the seeds.

Peel the mango, slice on either side of the seed, then cut into 1 cm cubes. Cut the avocado in half, remove pit, peel, and cut into 1 cm cubes. Thinly slice the radishes.

In another medium bowl, combine cucumber, jalapeno, mango and radishes. Drizzle with 2 Tablespoons vinaigrette and mix well. Add in cubed avocado and toss gently.

Divide quinoa mixture among the red cabbage leaves. Top with a generous helping of the tangy spring mango-avocado salad. Finish with a little more orange vinaigrette. Enjoy at once.
Nutrition
Calories:
393
kcal
|
Carbohydrates:
51
g
|
Protein:
12
g
|
Fat:
17
g
|
Saturated Fat:
2
g
|
Sodium:
124
mg
|
Potassium:
831
mg
|
Fiber:
11
g
|
Sugar:
7
g
|
Vitamin A:
1205
IU
|
Vitamin C:
60.5
mg
|
Calcium:
74
mg
|
Iron:
3.8
mg
Of course, you can always jumble all the ingredients into a jar and enjoy the salad for lunch another day.
Eat Seasonal
I'm back in the loop with the Eat Seasonal bloggers and we've got another beautiful round-up of inspiration for your April eats.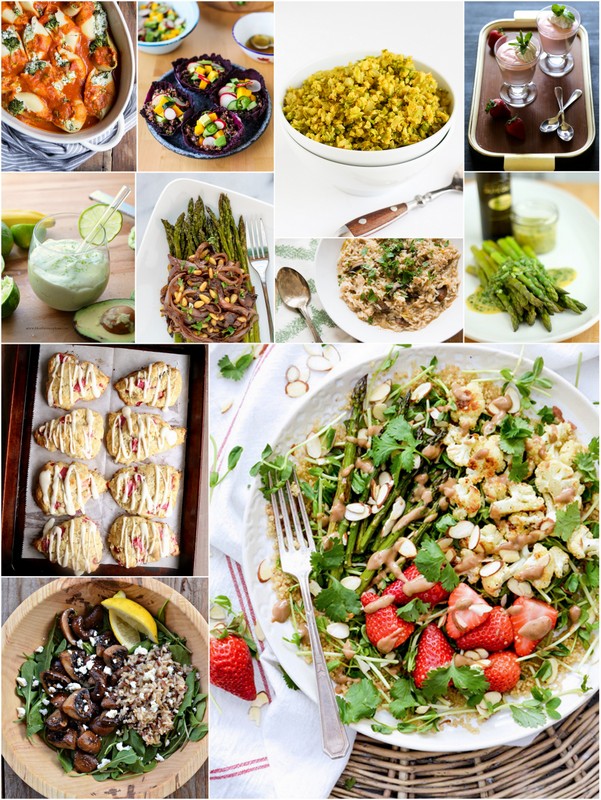 Thanks as always to Becky for organizing our little group; be sure to visit Vintage Mixer for the complete guide to seasonal produce in April!
What seasonal ingredients are on your plate this month?