This Yogurt-Chive Potato Salad is a creamy, mayo-free update on a classic. It's a make-ahead summertime side dish that travels well and is loved by all.
For most of my life, potato salads were simply not my thing. At gatherings, I'd skip the mayo-dressed dish, passed over for other, more desirable salads such as broccoli or spinach. If I ventured into the world of potato salad, it was usually this grilled sweet potato salad topped with goat cheese.
My appreciation for potato salads developed when I ditched the mayonnaise and started using Greek-style yogourt, instead. No sweet relish, either, but a fine dice of dill pickles and all the fresh garden herbs around. Now, I crave this side dish all summer long, especially for picnics or alongside barbecue.
I never really used a recipe, but friends started asking for one when I'd bring the salad to a pot-luck. Eventually I wrote down what became Yogurt-Chive Potato Salad and today I'm sharing it with you! Read on for the recipe, as well as a photo recap of my cookbook club on beautiful Cape Breton Island.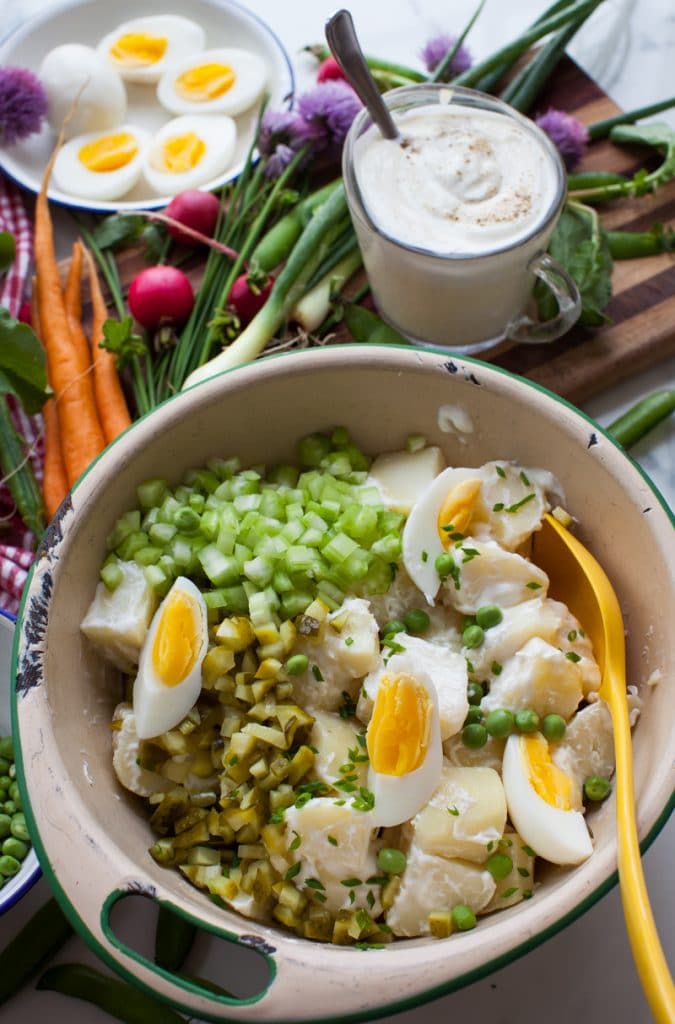 Yogurt-Chive Potato Salad Recipe
Crunchy celery, garlic dill pickles and fresh garden chives – those are my essentials for a perfect potato salad. Then there's a tangy dressing, flavoured with Dijon mustard and celery seed, that brings it all together.
Hard-boiled eggs are a must, and new potatoes put this salad at the TOP of the list of summertime sides. Are you hungry yet?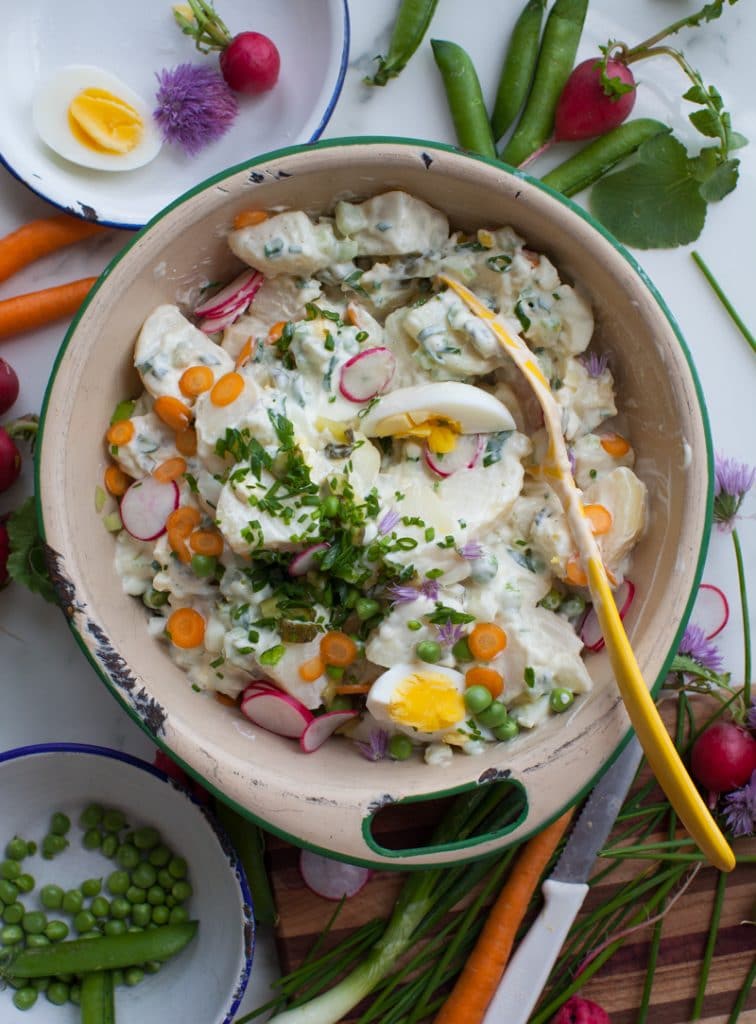 Finally, I love to top my potato salad with crunchy raw vegetables. This time of year it's baby radishes, sweet garden peas and tiny new carrots. I love the contrast of textures they bring to the dish, not to mention pop of colour!
Add another sprinkling of chives and their blossoms, and this Yogurt Chive Potato Salad is ready to be served. It's a great do-ahead side dish; absolutely delicious on the second day.
If you do prep it in advance, hold off on the salt and do the final seasoning just before serving. Then give it a good stir, and voila.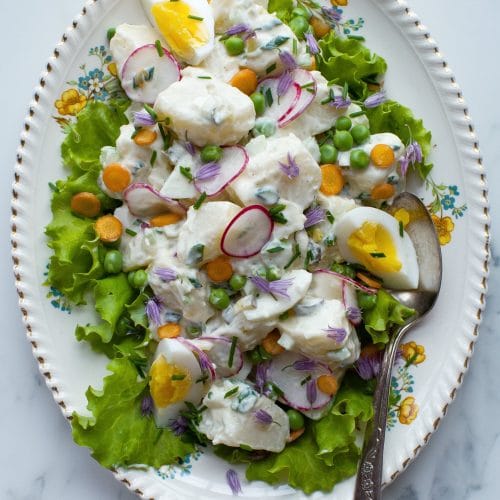 Yogurt-Chive Potato Salad
This Yogurt-Chive Potato Salad is a creamy, mayo-free update on a classic. It's a make-ahead summertime side dish that travels well and is loved by all.
Print
Pin
Rate
Ingredients
2

lbs

peeled and cut-up potatoes

about 5 cups

1/2

cup

diced celery

6

radishes

thinly sliced

1/2

cup

thinly sliced green onion

3

Tablespoons

finely chopped dill pickles

or relish

1/3

cup

sour cream

or mayonaise

1/3

cup

full-fat Greek yogourt

1

Tablespoon

Dijon mustard

1/2

teaspoon

freshly ground black pepper

1/2

tsp

celery salt

or to taste

4

hard-boiled eggs

coarsely chopped

2

tablespoons

chopped fresh chives or dill

to taste

fresh, crunchy vegetables

optional
Instructions
Place the potatoes in a large pot, and cover them with salted water by an inch. Bring to a boil over high heat. Reduce the heat to medium and simmer until fork-tender, about 15 to 20 minutes. Drain in a colander and cool completely. You can prep these a day in advance.

In a large bowl, combine the cold potatoes, celery, radishes, green onions and pickles.

In a small bowl, whisk together the sour cream, yogurt, mustard, celery salt and pepper. Gently fold this into the potato mixture until well mixed.

Lastly, mix in the eggs and chives (or dill). Taste and adjust seasoning; you may need to add a sprinkling of salt.

Cover and refrigerate several hours or overnight to allow flavours to marry. Sprinkle potato salad with fresh chives, parsley or dill just before serving for a little colour.

If desired, add seasonal raw vegetables for some crunch. I love baby carrots, tiny radishes and sweet garden peas. All raw!
Notes
There's no judgement if you love mayonnaise in your potato salad. In this recipe, replace the sour cream with mayo and proceed as usual. Use what you have and what you think tastes best!
Nutrition
Calories:
155
kcal
|
Carbohydrates:
22
g
|
Protein:
7
g
|
Fat:
5
g
|
Saturated Fat:
2
g
|
Polyunsaturated Fat:
1
g
|
Monounsaturated Fat:
2
g
|
Cholesterol:
99
mg
|
Sodium:
271
mg
|
Potassium:
585
mg
|
Fiber:
3
g
|
Sugar:
2
g
|
Vitamin A:
303
IU
|
Vitamin C:
24
mg
|
Calcium:
58
mg
|
Iron:
1
mg
Cookbook Club in Cape Breton
So how does a cookbook club tie into a post about potato salad? Let's rewind to last summer here in Nova Scotia, when our borders were shut tight and we enjoyed a season of relative normalcy.
After months of lockdown, it was a time when we were all craving connection. I rebooted my cookbook club with little effort – and we chose to cook from any cookbook that was currently inspiring us.
My pick was Jubilee, which I wrote about last June, coincidentally. I still cook from Toni's book constantly; it's endlessly inspiring for hot weather comfort food.
Jubilee inspired me to prepare the first potato salad of the season. But first allow met me set the scene, because we gathered in one of the most beautiful places in Nova Scotia…
Maritime Hospitality
Typically, our cookbook club rotates hosting duties, and for this particular summer event, we were invited to my friend Mia's oceanside acreage on beautiful Cape Breton Island. About eight of us made the drive, over the Canso Causeway, and up to the winding roads of Mabou.
I soon discovered that stepping into Mia's kitchen was to experience Maritime hospitality on a whole new level. Most people know and appreciate the Rankins for their music, but between Jimmy and Mia, they have a rich family food culture.
Their two families has been on the Island for a few generations and the connection to the land was palpable. Mia's sister delivered fresh oysters from her own farm, harvested mere moments earlier.
We opened a few bottles of chilled white wine, and kicked off the kitchen party. The oyster supply never dwindled and yet the pile of shells grew and grew.
Soon, fresh-caught lobsters were boiled in a huge pot out on the deck, with its wide views of the Northumberland Strait. Afterward they leisurely floated in a bath of ice, awaiting their moment on the gathering table. Mia pulled cornbread out of the oven and Jimmy cranked up the music.
Kelly showed up with baked beans and biscuits, Michelle supplied homemade crackers and dip. Michelle C arrived with both a pie and a layer cake. Yes, we take our recipe testing very seriously.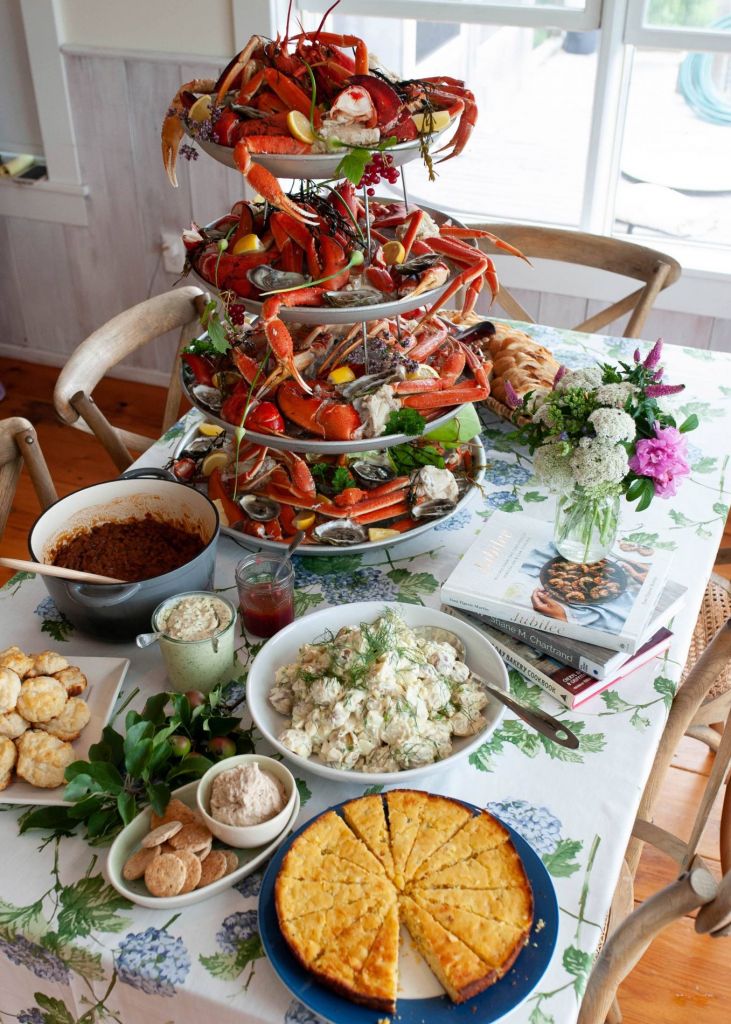 Mia assigned me the task of building the seafood tower and it remains one of my culinary fantasies come true. Four tiers of Cape Breton lobster, snow crab and oysters, served up on ice.
It was adorned with seaweed, wildflowers and fresh herbs and I still dream about its opulence and beauty.
The table was laid. What a feast. It was a line-up of comfort food, simple and elegant. Ice cold potato salad and warm baked beans, cold crab with remoulade…it was exactly what one wants to be eating on a hot day in July.
I have to point you in the direction of Kelly's Homemade Molasses Baked Beans because they are legendary in our cookbook club. And here is Jubilee's Country-Style Potato Salad from Toni Tipton-Martin, should you wish to prepare a traditional potato salad.
A walk on the beach after dinner ensured that we had room for dessert…Later my family pitched a tent on the sand and fell asleep to the sound of the surf. Huge thanks the Rankin family for having us, letting my kids run wild, and for showing us the highest tier of Maritime hospitality.
Definitely add Cape Breton Islands to your travel wish list. It's a place like no other and boasts a vibrant food culture that is truly unique in Canada.
*All cookbook club images courtesy of Michelle Doucette Photography. Thanks, Michelle!