As the Dowager Countess innocently inquired "What is a 'week-end'?" on Downton Abbey, I too have experienced my days merging together into one blur. However, I haven't been idly sipping tea and sacking servants, rather I am so immersed in the routine of feeding-burping-changing-bouncing Clara, that most days feel the same.
We've passed that six-week milestone together, Clara and I. She is more alert and smiling sweetly, stealing my heart every time her little mouth turns up at the corners. I have so enjoyed the early days, but truth be told, I've missed blogging, and I can't wait to get back into developing recipes and sharing them with you.
I have to extend a big "thank you" to the guest bloggers who helped fill my shoes while I took some time off. Annie, Kelsey, Andrew, Jan, Katie, and Jessica – thank you for sharing your expertise with my readers! You've enriched this space and lent a different perspective on everything from freezer cooking and finicky eaters, to fresh mozzarella and feeding tweens. So, thank you!
Now let's talk about spinach. It's one of the earliest spring vegetables, and as my son loves to remind me, is a super food. That alone is reason enough to make this pasta for dinner tonight.
Even in the frigid Yukon Territories where I grew up, spinach was the first of our crops to bravely raise its dark green leaves above the soil in the spring. They were a welcome sight after a long winter, and those delicate spinach salads we tossed together were a promise of the bounty we were to enjoy in the coming months while the rest of the garden greens caught up to the front-running spinach.
Aside from being an early bird, spinach is incredibly easy to grow. You can literally throw the seeds in the ground as early as mid-April (that's now!) and enjoy baby spinach by Mother's Day.
Spinach is popular in my kitchen because it can be enjoyed both raw and cooked, and its mild flavor makes it an easy sell to my children, especially since they know it is a super food!

Both prep and cooking time is short for spinach, making it an easy accompaniment to many dishes such as soups, sandwiches and pastas, like the one below.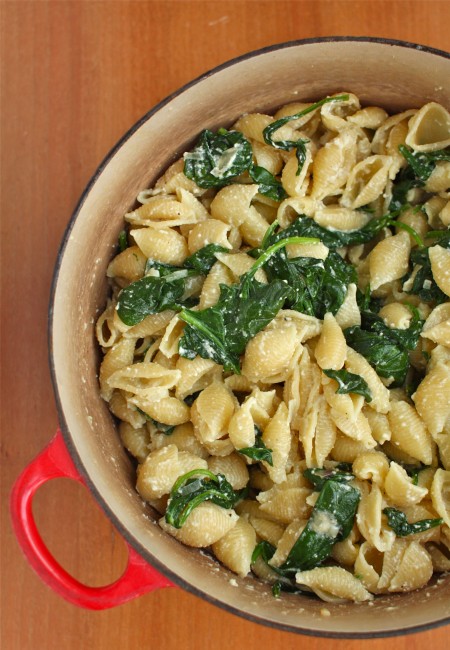 Spinach Ricotta Shells
This simple pasta recipe is typical of how were eating now – easy, one-pot meals that can be adapted to selective palates (see variations below), and that make terrific leftovers.
If I can, I do some dinner prep in the afternoon, but more often than not, my window to cook the evening meal is only open for about 15 minutes. The instant Danny steps in the door, I hand the baby off to him and attack the kitchen, preparing a meal that can be stirred together and on the table in a jiffy.
If you happen to have a little more time on your hands, this recipe would be just incredible made with homemade linguine noodles, fresh creamy ricotta, and slow-roasted cherry tomatoes, as well as the essential fresh spinach. Do you get what I'm saying here? Someday, I'm going to go all out and put it together…
Spinach Ricotta Shells
This fast and easy vegetarian dinner showcases fresh spinach, and creamy ricotta brings it all together.
Print
Pin
Rate
Ingredients
4

Tablespoons

salted butter

2

shallots

chopped

5

cups

packed fresh baby spinach

1

large

egg

1/2

cup

ricotta cheese

500

grams

conchiglie

or large pasta shells

salt and pepper
Instructions
Bring a large pot of salted water to a boil.

Melt butter in a large frying pan and add shallots. Cook over medium-low heat, stirring occasionally, for 3-4 minutes or until shallots are soft.

Add all the spinach to the pan, salt lightly, and cover with a lid for 2-3 minutes.

Meanwhile, boil pasta in salted water for 8-9 minutes or recommended cooking time.

In a large serving bowl, whisk together egg and ricotta. Set aside.

Using a pair of cooking tongs, turn spinach in the pan until it is wilted, but not completely cooked. Remove from heat.

Drain pasta and add to ricotta mixture. Toss well to coat. Add spinach to the pasta and combine well.

Season with salt and freshly ground pepper as needed and serve at once.
Notes
If you are concerned about consuming raw egg, you may substitute 1/2 cup of whole cream in its place.
This recipe lends itself well to add-ins. Here's what I've been known to toss in with the pasta:
Chopped ham
Cooked, crumbled bacon
Grilled chicken breast
Sauteed mushrooms
Slow-roasted cherry tomatoes
Nutrition
Calories:
437
kcal
|
Carbohydrates:
65
g
|
Protein:
15
g
|
Fat:
12
g
|
Saturated Fat:
7
g
|
Cholesterol:
66
mg
|
Sodium:
123
mg
|
Potassium:
388
mg
|
Fiber:
3
g
|
Sugar:
3
g
|
Vitamin A:
2720
IU
|
Vitamin C:
7.7
mg
|
Calcium:
95
mg
|
Iron:
2.1
mg
What is your favorite way to serve up spinach?