With late summer produce so plentiful and affordable at the markets, it makes sense to stock up while the "going" is good. A recent chat with my mother about preserving garden vegetables turned me on to this idea for freezing blanched (lightly cooked) stir-fry vegetables in meal-sized portions.
The concept is simple – prepare and cook vegetables separately, then combine them and package in resealable freezer bags for use all winter long. (We covered this last summer when we preserved broccoli for the freezer.) While the texture of the reconstituted-from-frozen vegetables is missing the firm, toothsome quality of fresh, they still retain their flavor and color, and are by no means mushy.
Blanching Benefits
You may ask: why bother blanch the vegetables at all, as I'm just going to have to cook them later?  Here's why:
Slows down enzymes. And I quote from the NCHFP: "Blanching slows or stops the action of enzymes which cause loss of flavor, color and texture."
Preserve the color: If you just chop and freeze your vegetables without blanching first, they loose much of their vibrant color – something you want to preserve when you pull them out of your freezer in mid-February.
Wilts: Although they don't completely lose their "crunch", the blanching process does make the vegetables a little more "floppy", which helps them to pack closer and thus take up less space in your freezer.
Time: By blanching your veggies now, you will save that extra time later when you need something quick to throw together.  And of course, the benefit of cooking them now is because they're market fresh, and probably cheapest of the year.  It just plain-old makes sense to do it now.

Uses for Homemade Stir-fry Vegetable Packages
Stir-fry packages should not be thawed before using. Instead, add them directly to a hot wok and cook quickly, moving them around until they thaw and finish cooking.
Here are some ideas for your homemade stir-fry freezer packages:
Add to sauteed shrimp and serve over rice noodles.
Add to marinaded chicken strips and serve over rice.
Add to sauteed beef or pork strips and wrap into a tortilla for a quick veggie-lovers fajita.
Toss with pasta, top with cheese and bake for a vegetarian casserole.
Toss with lemon zest and melted butter and serve as a side dish to supper.
Stir-fry with tofu and serve up with rice.

Recommended stir-fry vegetables and blanching times:
bell peppers – all colors :: 1 minute
fresh green peas, sugar snap peas (plump pods), snow peas (flat pods) :: 1 minute
zucchini (yellow/green) :: 1 minute
broccoli, Chinese broccoli :: 2 minutes
cauliflower, romanesco :: 90 seconds
carrots, all colors :: 2 minutes
fennel :: 2 minutes
green/yellow wax beans :: 90 seconds
parsnips :: 2 minutes
baby bok choy :: 90 seconds
asparagus :: 1 minute
celery :: 2 minutes
brussels sprouts :: 2 minutes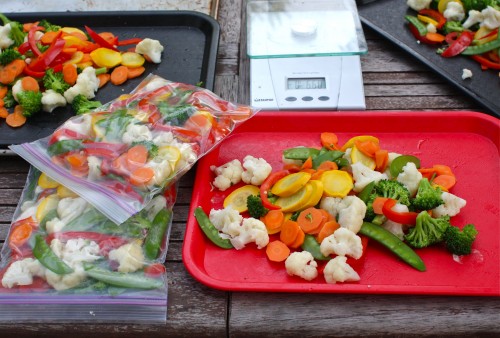 Freezer Stir-fry Packages: The Method
2 red bell peppers, washed and sliced
1 head broccoli, cut into florets
1 head cauliflower, cut into florets
8 young carrots, peeled and thinly sliced
3 young yellow zucchini, washed and sliced
1 lb snow peas
Bring a large pot of water to a boil. Salt the water thoroughly.
With the water rapidly boiling, blanch the vegetables, one variety at a time, for the recommended time suggested above.
Remove vegetables from water with a large spider and spread out on a tray or baking sheet to cool.
Once vegetables are completely cool and well drained, toss together gently with your hands.
Divide into meal-sized portions suitable for your family (I weighed mine into 1 lb portions) and pack into heavy-duty freezer bags. Press as much air out as possible and seal.
Place as flat as possible in the freezer, spreading the bags over lots of surface area so that they freeze as quickly as possible.
Yields: 5 – 1lb bags.
What would you use these stir-fry veggie packages for in January?