Join us as we Salute Spring with a week-long series featuring the finest fruits and vegetables of the season. Written by Shaina of Food for my Family.
A few years ago I got a bee in my bonnet and decided that the jars of artichokes I was purchasing at the store just weren't fulfilling my true love and desire for them. I loaded up our cart with the round globes and headed home, completely unsure of what to do and with my husband doubting every step I took towards my artichoke creation.
The man who grew up on a meat-and-potatoes diet in a small Midwestern town had unpleasant experiences with so-called "odd" foods in his childhood and was not opposed to eating them, but wholly opposed to having someone unskilled preparing them for fear of ruining the meal.
However, I did not let his nay-saying stop me. I pressed forward, blanching and then grilling my precious green flowers and serving them up alongside a homemade aioli. I showed the kids how to peel off the petals and scrape them with your teeth and then waited, saying nothing more.



All photos by Shaina
Artichokes are now a family favorite, and we can nary walk past the display with the green beauties piled high without one of the children begging for them. Some kids beg for candy. Mine beg for artichokes. I don't see this as a problem.
(Disclaimer: That's not to say my children would not also beg for candy. I just avoid that aisle in the store.)

Did You Know?
An artichoke is actually a thistle. The leaves or petals have thorns on the end. You can slice them off or leave them on, as they will become soft once they are cooked.
The lower portions of the petals and the base, known as the heart, of larger artichokes are edible. The "choke" refers to the fuzzy center of an artichoke and is inedible in larger artichokes. It is also called the "beard."
Artichokes are thought to have originated in the northern part of Africa and are mainly cultivated in Italy, Greece and Spain in Europe and in California in the U.S.
Artichokes are great for aiding in digestion, and they're high in antioxidants.
Once cut, these vegetables oxidize and discolor. To prevent this, rub with lemon juice and bathe in citrus-infused water while prepping the others.
Whole artichokes, no matter how they're prepared, are often dipped into different sauces. Popular ones include aioli, hollandaise and lemon-butter sauce.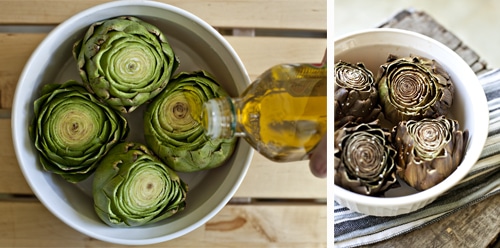 Ways to Eat Artichokes:
Steamed: Great for retaining nutrients, as they don't boil out in the water. Great way to prep for recipes.
Boiled: Easy and effective.
Grilled: Perfect for warm summer nights and barbecues.
Roasted: Roasting brings out a nuttiness in the artichoke. Great with dips.
Marinated: Perfect for long-term storage and convenient for salads, chopping into dips and pastas.
Mediterranean Quinoa-Stuffed Artichokes
4 artichokes (3-4″ diameter)
1 lemon
2-3 tablespoons olive oil
1 cup quinoa
1/2 teaspoon sea salt
3 tablespoons extra virgin olive oil
1 shallot, minced
1/4 cup sun-dried tomatoes
3 tablespoons fresh basil, chopped
1 lemon, juiced
1/3 cup feta, crumbled
sea salt and cracked black pepper to taste
small basil leaves for garnish
Preheat oven to 375° F.
Prep:
Rinse off the artichokes and peel off the outer petals. Cut off the stem to just below the base of the bulb. Fill a large bowl with water and squeeze the lemon into the water, retaining the halves.
Cut the tip of the artichoke off about 1″ down. Immediately rub the cut pieces with the lemon halves. Submerge the artichokes in the lemon water to clean.
Roast:
Drain artichokes and place in a baking dish, cut side up. Pour 1/4 cup of water into the dish. Drizzle with olive oil. Roast uncovered at 375° F for 50-55 minutes.
Turn the oven off, remove baking dish from oven and drain off the water and artichoke juice into a measuring cup. Cover artichokes loosely and return to the oven to keep warm.
Quinoa:
Using the measuring cup with the artichoke water in it, continue to fill with water until it reaches 1 1/2 cups total volume. Add this and the quinoa to a medium saucepan along with the 1/2 teaspoon sea salt. Bring to a boil over medium-high heat. Cover, reduce heat to low and simmer for 15 minutes until quinoa is cooked through.
Heat the extra virgin olive oil in a small skillet. Add in shallots and saute until light brown in color. Stir in sun-dried tomatoes and basil. Squeeze in the juice of one lemon and stir to combine. Remove from heat and mix into cooked quinoa. Stir in feta cheese. Season with salt and pepper as desired.
Assemble:
Remove artichokes from the oven. Using your fingers, pull the petals apart to open them up until you reach the center. Pull until a small bowl forms. Fill the center with quinoa mixture. Garnish with basil leaves and serve.
Enjoy:
Pull off the first layer of petals and discard. Use petals to scoop quinoa as a spoon. Drag your teeth across the bottom inside of the artichoke petals to remove the edible portion. Continue until all petals and quinoa are gone. Using a spoon or knife, remove the fuzzy "choke" or beard and discard. Cut the artichoke heart into pieces and eat with extra quinoa.
Makes 4 Servings

Do you enjoy spring artichokes? What is your favorite way to eat them?