Whether you're planning on roasting a turkey for Thanksgiving, Christmas or New Year's Day, you can always use a few helpful tips to make it the best it can be. Since roasting a gargantuan bird is not on the usual M-F menu plan, it can cause even the most experienced cook to hesitate before proceeding. Fortunately, I think I can help you relax and boost your confidence in preparing your event's main attraction.
My Crash-Course on Turkey
You may be wondering what a relatively young lady such as myself could have to add to everything that has already been said about turkey, and you would be right to wonder. After all, how many Thanksgivings have I been cooking? Not nearly as many as some experts out there…right?
But here's the thing: I've been to Turkey Boot Camp.
When I was nineteen, I had the privilege (?) misfortune (?)  – honestly, it was a mix of both –  of working a summer at a remote fly-in fishing resort on the Pacific Ocean. Another fellow and I were the chefs for the camp, cranking out three square meals for over forty people, seven days a week, eleven weeks straight. Every three days, a couple of float planes would fly in carrying a new group of clients – and a frozen turkey. Along with the requisite pancake breakfast, shrimp bisque lunch, and other culinary highlights, we were obliged to prepare a well-rounded turkey dinner for each group of guests.
Two groups per week, eleven weeks of work. Yes, that's right, in the span of one summer, we cooked twenty-two turkeys!
If that doesn't make me qualified to talk turkey, then I don't know what does!
How to Roast a Turkey
My roast turkey is one thing: simple.
It is un-stuffed and un-trussed; I don't brine or baste. I keep my cooking time shorter than most, but lengthen the resting period. The result is a perfectly golden, moist turkey that is relatively hassle-free.
Directions are for a fresh, grain fed turkey.
One Day Ahead: Prep the Turkey
Remove fresh turkey from any packaging and snip free of any string or trussing.
Remove neck and giblets from the body cavity, reserving for stock, if desired.
Rinse turkey well under cold water and pat dry with paper towel.
With a sharp knife, remove the wing tips (up to the first joint) and add those to the stock pot, too.
Place turkey on a tray or pan and lightly salt all over. Leave uncovered in the fridge overnight. This will allow the bird's skin to dry out, making it crispier, plus the salt will add flavor to the meat without the hassle of a wet brine.
Optional: Turkey Stock for Turkey Gravy
Combine in a saucepan:
turkey neck, wing-tips & giblets
1 quart water
1/2 teaspoon black peppercorn
1 bay leaf
1 stick of celery, well washed
2 medium carrots, peeled and halved
1 onion, halved and unpeeled
Bring everything to a boil, then cover the pot and simmer on low for two to four hours.
Strain through a sieve and reserve for making your gravy.
This can be done a day or two in advance.
Two hours before roasting
Bring to room temperature
Remove turkey from the fridge. Rub a softened stick of butter ALL over the bird. Coating the skin with butter will help to keep the meat moist, add flavor, and ensure the skin turns a perfect golden brown color.
Place the turkey on a wire rack in a large, shallow roasting pan. Elevating the turkey allows for the heat to get all around and also for the skin to crisp properly. Try to avoid cramming the bird into an overly small pan; you'll only end up with over-browning on top and more braising than roasting, as the turkey stews in it's own juices.
Leave the turkey on the counter and allow it to come to room temperature. Bringing the meat up to room temperature (about 70°F) will both cut down on the cooking time and ensure the fowl cooks evenly. Thanksgiving is a particularly busy time for the oven, with stuffing, pies and side dishes all jostling for space, so if you can shave half an hour or more off the turkey's cooking time – bonus!
A word on stuffing
Next Monday I'll be sharing my favorite stuffing recipe, plus explain why I choose not to stuff my turkey. Stay tuned.
Roasting the Perfect Turkey
Temperature
I find it is best to start the turkey at a fairly high temperature (400°F), roast for about twenty minutes and then lower the heat to 350°F for the remainder of the cooking time. Sometimes I forget to lower the oven, though, and the turkey still comes out fine, just perhaps a little darker than I would like!
How Long to Cook a Turkey
If you cook your turkey from room temperature, untrussed and unstuffed, it will cook significantly faster than a chilly bird stuffed full of bread and trussed tightly.  Air will circulate much better around the bird and roasting times will be shorter.
These are the approximate roasting times using this method:
5 lbs – 1 – 1/2 hrs
8 lbs –  1- 3/4 hrs
10 lbs – 2 hrs
12 lbs – 2 – 1/2 hrs
15 1bs – 2 – 3/4 hours
17 lbs – 3 hours
20 lbs – 3 – 1/2 hours
Tip: Loosely cover the turkey with aluminum foil if it looks like the top is browning too quickly. I also have to rotate the pan 180° every hour or so for even browning in my old oven.
Remember, oven temperatures can vary drastically, so even if the turkey has been in the oven for appropriate time, it is still necessary to double-check for doneness. A meat thermometer should register 170°F  when inserted into the thickest part of the thigh (but not touching the bone). You can also follow the directions from this post on Roasting Chicken 101 on how to tell when your roast poultry is finished.
If you're worried that the bird is slightly underdone, remember that it will keep cooking a tad during the resting period.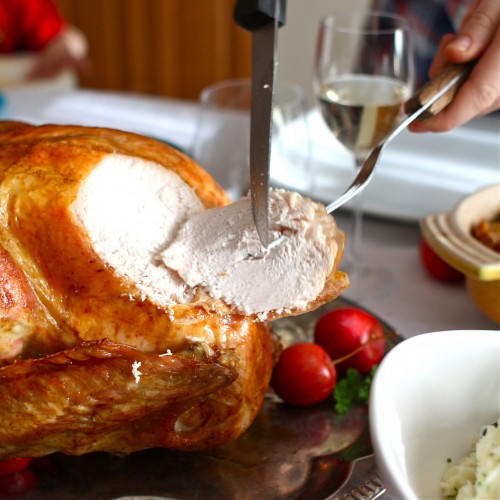 The All-Important Step: Resting
After pulling it from the oven, do not transfer the turkey to its place of honor at the center of the table… just yet. Instead, tent it with foil and let it rest for at least thirty minutes (and up to an hour). Place the turkey directly on a tray (not on a rack), as this will allow the cooking juices to be re-absorbed by the meat instead of losing the moisture as soon as the turkey is sliced into.
A well-rested roast turkey is a moist roast turkey, so this step is crucial.
Now that the turkey has relinquished its space in the oven, this is when I crank the heat back up and tuck the butternut squash gratin and the buttermilk rolls in to warm while I make the gravy and mash the potatoes.
The turkey is now ready to take its place at the festive table and the only thing left to decide is: Who's carving?
Are you on turkey duty for US Thanksgiving? Is a Christmas turkey in the plans?