Temperatures have dropped around here, sending us scampering to dig out warm sweaters, matching socks and windbreakers. Fall is indeed in the air; invigorating me in a way the warm summer winds never can.
I've taken refuge from the cooler weather in the kitchen, which is no surprise, I am sure. A quick trip to market on the first day of October was all I needed to get in the spirit of fall cooking and baking. I filled my basket with pears, leeks, winter squash, fresh cranberries, beets and sweet potatoes  – all locally grown – and rounded out the haul with herbs from my garden.
Then, I fell to menu planning: weeknight meals, recipe development, and the upcoming Thanksgiving dinner. We're hosting a small gathering for eleven people this weekend, with turkey and all the usual trimmings.
Today I've rounded up my favourite recipes for Thanksgiving — and fall cooking in general. Whether you are setting a holiday table for for family, or serving up Sunday dinner to friends, you'll want these recipes within reach.
Drinks
This holiday, guests in my home will have a choice between red or white wine. No really, I'm keeping things very simple. I'm not mixing cocktails or even stirring together a punch this time.
But should you wish to liven things up in the drink department, consider serving my Winter Sangria with Citrus and Pomegranate with a splash of cranberry juice. Or visit my Drinks Pinterest board for loads of seasonal cocktails.
I will be offering a post-dinner tisane, however, for an all-natural, non-alcoholic, non-caffeinated finish to the big meal. Every fall, I'm obsessed with a slow roasted apple infusion, and I change up the flavours by adding herbs, vanilla bean or spices. For Thanksgiving I'm going to use Cortland apples and fresh ginger root for a tummy-soothing sip.
Roasted Apple & Rosemary Tisane
Starters
At Thanksgiving, I like to keep the focus on the main meal, so I don't serve much in the way of appetizers.  I do set out a few light pre-dinner nibbles to whet the appetite, though.
An assortment of homemade pickles, a wedge of cheese, and a few crackers are all you really need.
Soups & Salads
A velvety squash soup feels like the perfect start to an autumn feast, especially when it is served in a real squash tureen.
Apple-Fennel Salad with Pecans & Pomegranate
Vegetable Sides
My favourite part of Thanksgiving dinner, by far. Roasted squash. Brussels Sprouts. Sweet potatoes. Everything is right out of the earth and at its peak of flavour.
Sauteed Cabbage & Leeks with Apples
Honey Pomegranate Glazed Brussels Sprouts
Starchy Sides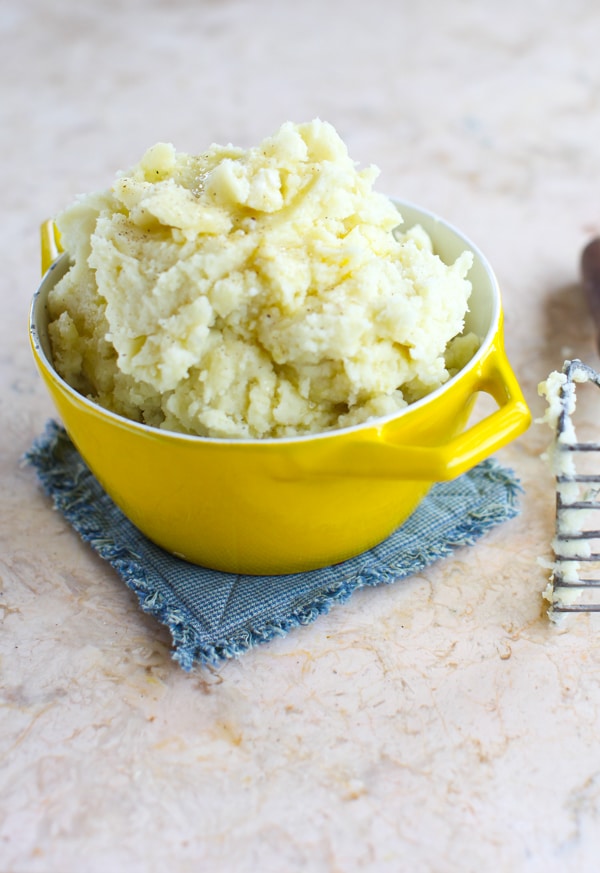 These dishes are the comfort food of the menu. They are as essential as the turkey – just ask the kids around the table.
Bread Stuffing with Seasonal Fruits & Herbs
Whole-Wheat Buttermilk Dinner Rolls
Main Dish
I've got the only turkey tutorial you'll need. It's a no-fuss, utterly simple method that is fool proof to boot. Just read a few of the testaments in the comments that have come in over the years. It's a go-to method for many of my readers – because it's the best!
If you're cooking for a smaller crowd, consider preparing just the turkey breast. How about stuffing it with dried cranberries, wrapping it in bacon and roasting it in half a spaghetti squash. It's almost a meal-in-one – just add cider gravy.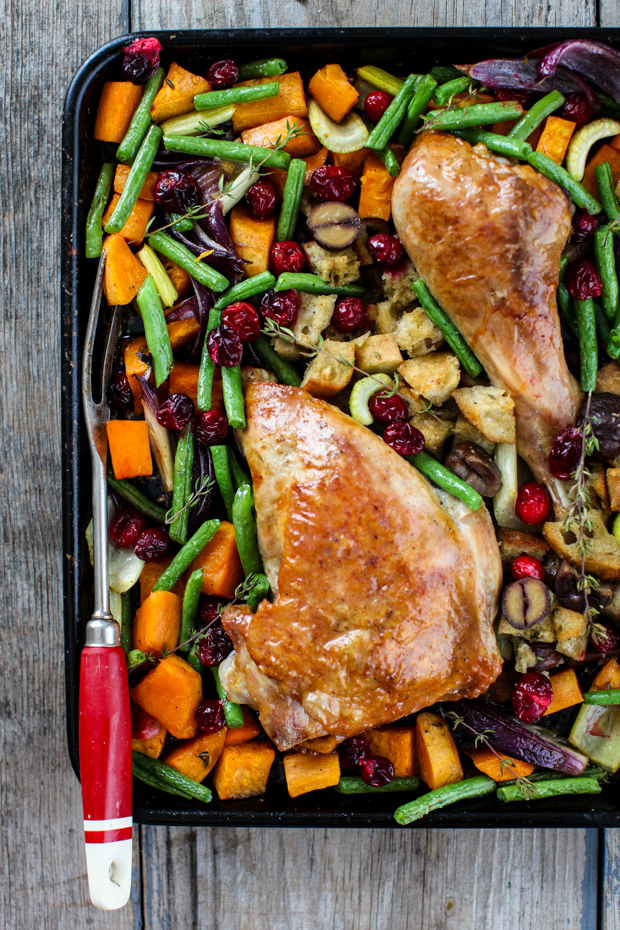 Cooking for two or a few. You've got all the flavours of Thanksgiving dinner in this oven roasted sheet pan supper: chestnuts, cranberries, sweet potato, stuffing and turkey.
Dessert
Of course there must be pie, and no, we're not sick of it after our recent pie social. In fact, we're just warming up!
Simple Chilled Pumpkin Cheesecake
Oatmeal Pumpkin Bundt Cake with Maple Caramel
Extra-Crispy Pear Lavender Crisp
Leftovers
Friends of ours are due to have a baby on Thanksgiving Monday, so I'll be bringing my leftover to them. It's really my best suggestion for Thanksgiving leftovers.
How to reheat turkey leftovers and keep them moist
Lemon Pepper Turkey Sandwiches
As always, visit my Thanksgiving Pinterest board for many more dinner ideas. And here's a board just for leftovers ideas.
Whew! I'm stuffed just writing this! Good thing this is my absolute favourite weather for long walks in the woods. Time to hit the trails and decide what I'm cooking on Saturday.
What's on your Thanksgiving menu?