It feels like Thanksgiving crept up on me this year, and as fate would have it, my kitchen is going to be swirling in a chaos of renovations on the upcoming long weekend.
I won't have a functioning cooktop, but I will have an oven, so Maple Pecan Pie is still on the menu. Whew. Actually we are dining with family both Saturday and Sunday, so I won't have to wrangle any sort of mid-construction holiday dinner in my own kitchen. (PS. Stay tuned for a full kitchen tour coming soon when everything is back in place.)
If you're welcoming guests on Thanksgiving weekend – or any day, for that matter – then today's simple entertaining tips are for you. I'm a big believer in details, and know that even small gestures can make a big difference when receiving guests.
12 hosting tips for putting your best plate forward
This fall, in a special Cook for the Cure event, KitchenAid is challenging home cooks across Canada to put their best plate forward by doing what they love for the cure: cook! You can learn more about the Culinary Showdown below, but for now, here are my best tips for entertaining as you strive to put your best plate forward:
1. To kick things off, stocking your pantry for success is crucial for surviving the holidays, especially if you entertain frequently.
2. Love to bake?  The Ultimate Holiday Baking Pantry Checklist is a digital list that you can print and bring when on your shopping rounds and you'll be sure to stay organized for Holiday baking.
3. Plan a do-ahead menu; you can stay on top of things and the food almost always tastes better the next day when the flavors have really had the chance to meld together.
4. Greet guests at the door. No, don't send your six-year-old while you scramble around the kitchen. Your guests should feel warmly welcomed.
5. Start by offering a drink. Be it hot spiced cider, a pomegranate sparkler, or a glass of wine, this is a great way to help guests feel at ease.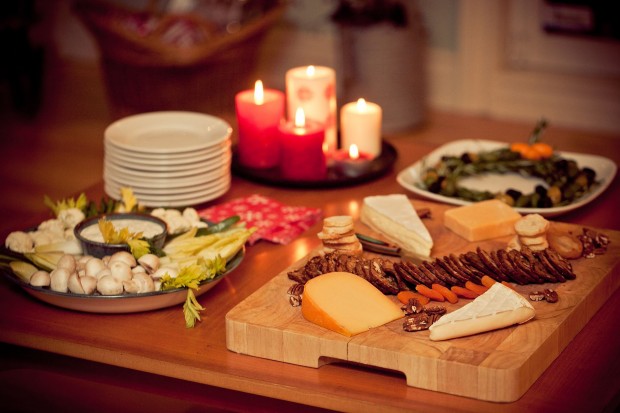 6. Set out a few platters of appetizers for guests to nibble on. A generous cheese board, a baked Brie with cranberries and walnuts, or a vegetable crudité and dip are a few of my favorites. Crackers are nice, but don't overdo the bread, as people can fill up quickly on starches.
7. Add a seasonal decoration on the table. Keep it simple with a bowl of pears or autumnal squash. Don't fuss over it too much; nature needs little embellishment.
8. Light a few candles. Want an easy way to make it fancier? Make a simple centerpiece of tea lights in jam jars.
9. Assign seating. Verbal place assignments is fine, just before the meal begins. Instructing guests where to sit helps them to feel like they were planned for and welcomed.
10. Warm the bread or buns. Ten minutes in a warm oven does wonders for your dinner rolls and makes them taste fresher.
11. Keep room temperature comfortable. Dinner can be miserable if the floors are cold or the place is sweltering hot from the kitchen's heat. Be aware of the room's temperature (not just your own) and ask guests if they are comfortable.
12. Finally? Don't attempt a full cleanup; after all, you've already had a full day. The post-party mess can be daunting to face especially when all you really want to do after the guests leave is recline on the sofa with another slice of cake. Enlist an assistant, then roll up your sleeves, and begin with these 8 Steps to a Quick Cleanup.
Bonus!  Vikram Vij's Best Plate Forward Tip, courtesy of KitchenAid Canada.
"The best way to enjoy a party is to have a glass of vino going all the time and make sure there is enough music, food and wine for everybody. Have a great conversation about life and do not be fake."
Thanks for the tip, Vikram! I remember you are a former sommelier, so your inclusion of wine does not surprise. I love it!
KitchenAid's Cook for the Cure Culinary Showdown
Canadian Breast Cancer Foundation KitchenAid Cook for the Cure is a national fundraising program that has engaged thousands of Canadians raising over $2.3 million through events and contributions from their title sponsor KitchenAid Canada.
This year, with the Cook for the Cure event, KitchenAid is challenging foodies across Canada to put their best plate forward by doing what they love for the cure. Enter….the Culinary Showdown.
What is the Culinary Showdown? 
This ingenious event brings together an fantastic lineup of established Canadian chefs (including Food Network's Lynn Crawford, Chuck Hughes, Vikram Vij and more) who recruit a group of amateur food-forward folks to compete on their team for the first-ever KitchenAid Cook for the Cure Culinary Showdown.
This culinary challenge is hosted by actor Dean McDermott and gives foodies a chance not only to fundraise, but to cook alongside these legendary chefs in a team cooking challenge.
The top 50 fundraisers across Canada will win the opportunity to work alongside renowned chefs and put their own culinary skills to the test. Fundraisers who raise at least $2,500 will participate in the Culinary Showdown's Celebrity Chefs School, where they'll learn tips and techniques from the top chefs. Finally, participants who raise a minimum of $1,000 will watch the culinary battle as a member of the event's audience.
This is truly creative fundraising at it's best. Now, time to get cooking and put your best plate forward. Food lovers can register and begin their CBCF fundraising by visiting the Culinary Showdown website.
Psst. Look for a fun giveaway from Kitchen Aid coming soon in honor of Cook for the Cure!
How do YOU put your best plate forward when entertaining?