Written by Danny.
I am convinced that Spiced Apple Cider sold our house.  Sure we had a good agent, staged it pretty well, kept it tidy with 2 VERY young kids for almost 2 consecutive months – but the aromas of the cider simmering on the stove on one particular visit made it feel like somewhere you wanted to stay.  And they bought the house.
As you read about in Monday's post, Aimee had some friends over to our house last Friday for a good cause, and I was doing my utmost to practice what I preach and be of help .  I both wanted to and needed to make something, so that I could more easily convince Aimee to get off her feet and rest.  And so our annual holiday favorite beverage, Spiced Apple Cider was made.
Hot Spiced Apple Cider is a seriously easy thing to make, even for someone who seldom plays with "spices and stuff", and the best part is that it is relatively fool-proof.  I was told that I shouldn't have sliced the ginger quite so thin, as it makes that particular ingredient that much more potent.  This is reflected in the recipe below.
As has been discussed before on Simple Bites, the quality of your ingredients will affect how much of them you will need.  I.e. if you really do have fresh ginger, it is going to kick a lot harder than if you use older stuff.
This explains the reference to the cinnamon.  We don't have the seemingly ubiquitous 3″ dry sticks of cinnamon, but have some seriously crazy gnarly stuff from Mexico. Just one small stick was enough to impart the right flavors.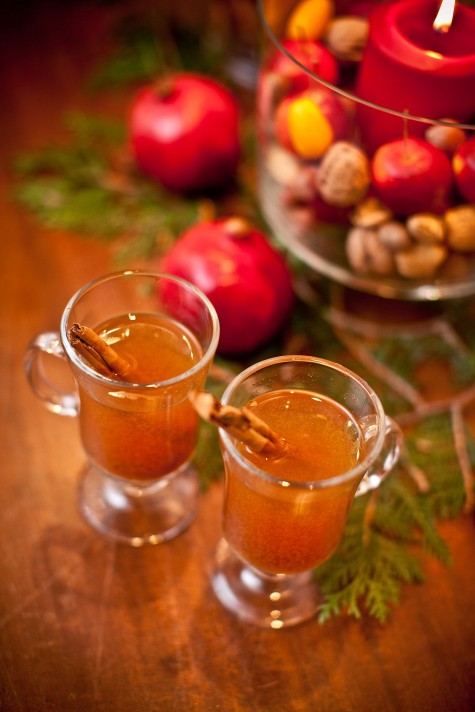 ALL photos by Angela Chin
If you want to make this hot apple cider a tad more, ahem, 'festive', add an ounce of brandy to the cups when you serve it.
Hot Spiced Apple Cider
Fresh apple cider is sometimes called 'cold pressed' or 'fresh pressed' and is an unfiltered, unsweetened pure apple juice. It is unpasteurized, and recognizable by its murky brown colour. Look for it in the refrigerated area of the organics section in your grocery store.
Print
Pin
Rate
Ingredients
12

cups

fresh pressed apple cider

3/4

cup

raw cane sugar

1

crazy

cinnamon stick

12

whole

cloves

3

whole

star anise

1

small chunk

fresh ginger

(about 2 teaspoons), peeled and sliced in to no more than 3 pieces.

2

stalks

lemon grass

bruised (or 1 sliced lemon)

1.5

large

bay leaf

17

peppercorns

no more no less. (yeah right! Seriously, though, I put a large teaspoon of peppercorns in for kick).
Instructions
The lemon grass will most likely not fit in your pot. Chop 1/2" or so off the nub, and 5 to 6" on the other end. Smash it with the flat of a knife or a cast iron pan and then chop it into 3 to 4" lengths.

I also manhandled the cinnamon and bay leaves. Other cooks use the words "crushed" or "bruised" for this action.

Combine all the ingredients in a saucepan. Place over medium heat, and stir until the sugar has dissolved. Bring to a boil, stirring occasionally.

Once the cider has boiled, reduce the heat to low, and simmer for 30 minutes.

Strain and serve hot.
Nutrition
Calories:
162
kcal
|
Carbohydrates:
42
g
|
Protein:
1
g
|
Fat:
1
g
|
Saturated Fat:
1
g
|
Sodium:
13
mg
|
Potassium:
286
mg
|
Fiber:
1
g
|
Sugar:
36
g
|
Vitamin C:
2.2
mg
|
Calcium:
29
mg
|
Iron:
0.7
mg
What is your favorite hot beverage to warm up with on cool December days?