Written by Jan of Family Bites.
I have grand plans to host an Irish-themed Sunday dinner later in the month.
My husband's grandparents were born in Ireland, as were my own great-grandparents, and I've been increasingly interested in learning more about the booming food culture of the Emerald Isle, specifically the regions that were home to our ancestors.
While we all know that potatoes are a staple in the Irish kitchen, I'm not sure it's common knowledge that the country exports their prized dairy all over the world. The top-quality grass-fed milk produced by thousands of the nations farmers is pure liquid gold, and artisans are bringing the ancient methods of cheese and yogurt making to modern day Ireland.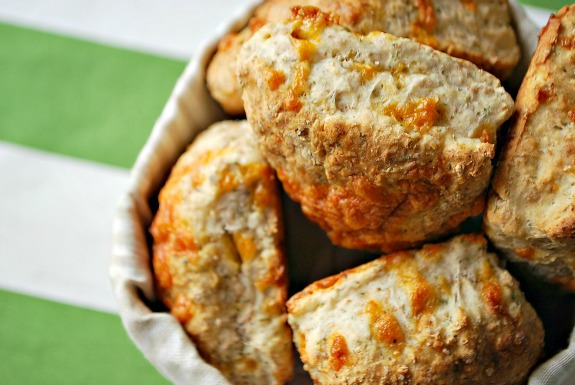 Or how about the fact that the Connemara fields, in the Connacht region of the county, raise some of the most sought-after lamb in all of Europe? Nestled close to the waters of the Atlantic, the ocean spray enhances the growth of the wild grasses the lambs eat, infusing their meat with a naturally salty flavour.
Those food facts alone make the Irish worth celebrating, don't you think?
St. Patrick's Day provides the perfect opportunity to explore my own personal heritage, but if your family is native to another land that doesn't have a day of acknowledgment marked on the calendar consider creating your one of your own. Choose a date that's significant to the history of where you come from, and host a dinner party complete with regional foods, specialty drinks, festive décor, themed music, and possibly even a dress code.
An Irish-themed dinner party
Here's a sneak peak at what my Irish-themed dinner party is going to look like, and perhaps you'll be inspired to celebrate your own heritage through a feast of food. This party menu is less about green food, and more about preparing the dishes you'd likely find if you went to Ireland and were lucky enough to be invited to someone's home for dinner, plus something fun for the kids, of course.
The Menu:
The Music:
No party is complete without a few good tunes spinning in the background. Feel free to check out my playlist featuring songs about, and bands from, Ireland.
The Décor:
I'm staying away from the leprechauns and rainbows this year and going with a simple gold and green colour scheme for my table.
Cheesy Irish Soda Scones
These scones are best served warm on the day they are made. Feel free to omit the cheese and herbs and replace them with 1/3 chopped chocolate for a sweeter soda scone. Alternatively, leave out all flavour additions and serve the plain scones warm with butter and jam.
Print
Pin
Rate
Ingredients
3

cups

all-purpose flour

or an equal mix of all-purpose and whole grain flours

1

teaspoon

kosher salt

1

teaspoon

baking soda

2

teaspoons

dill weed

1 1/2

cups

buttermilk

2/3

cups

aged cheddar cheese
Instructions
Preheat the oven to 425 degrees and line a baking sheet with parchment paper.

Combine the flour, salt, and baking soda in a medium mixing bowl and whisk. Add the dill and stir. Make a well in the centre and add the buttermilk. Working quickly, use your hands or the end of a wooden spoon and mix until you have soft, moist dough.

Transfer the dough to a lightly floured work surface and shape it into an 8" round disk. Using a sharp knife or bench scraper, cut the dough into 6 equal triangular sections.

Set the scones on the prepared baking sheet and sprinkle each with some of the cheese. Bake for 15-20 minutes, or until a tester inserted into the centre of one of the scones comes out clean. Another way to test the doneness of the scone is to tap on the bottom of it, and if it sounds hollow then it's baked through.
Nutrition
Calories:
315
kcal
|
Carbohydrates:
50
g
|
Protein:
11
g
|
Fat:
6
g
|
Saturated Fat:
3
g
|
Cholesterol:
19
mg
|
Sodium:
712
mg
|
Potassium:
160
mg
|
Fiber:
1
g
|
Sugar:
3
g
|
Vitamin A:
225
IU
|
Calcium:
169
mg
|
Iron:
3
mg
Tell me, where do your ancestors come from and do you like to celebrate your heritage with food?