If anyone thinks that my kitchen is always spotless, with perfectly polished stemware, gleaming counters, and an neat silverware drawer, think again. Like you, I also battle paper clutter, have charcoal buildup on the bottom of my oven, and that silverware drawer? Full of crumbs.
Oh, and there's a daily collision of dishes in the sink.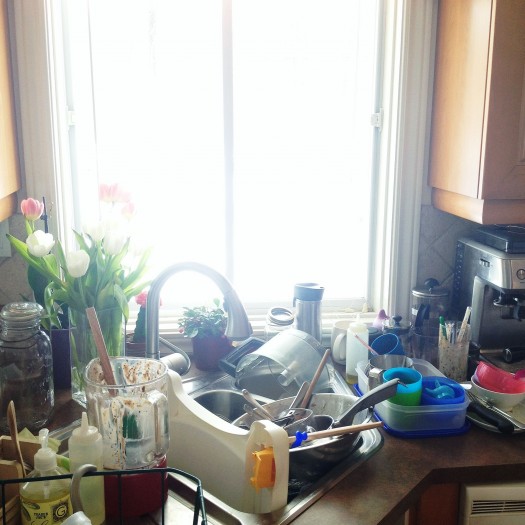 Honestly, it was the fresh tulips and the sunshine that saved me that day. I'm holding out for Spring, but she is toying with us up here.
I had hoped to tackle a few problem areas in the kitchen last week over spring break, but who was I kidding? Instead we had unseasonably warm weather and I kept busy with three kiddos. We went tobogganing, lunched with friends, and hiked through the forest looking for signs of spring.
We also cooked together, a lot, and we planned for and partied through, Clara's first birthday. Cleaning, as per usual, got bumped to the back burner.
Do you carry out a deep clean in your kitchen each spring? I rather feel as though I should, but I can never settle on that 'free' day to follow through. To be fair, I keep my pantry and (most) cupboards in tip-top shape, thanks to containerization and storing food in jars, so they are not the problem. I also stay on top of refrigerator organization, although the front door and handle are on the sticky side. Again.
My obvious trouble zones are the stove/oven, cupboard fronts and counter-top sprawl, windows, and those pesky Tupperware drawers – I have two, so twice the mess.
These areas cannot afford to be ignored, so I've decided to tackle them one at a time, here and there over the next month. I can surely fit 20 minutes of cleaning into my day, into my week, and I challenge you to do the same.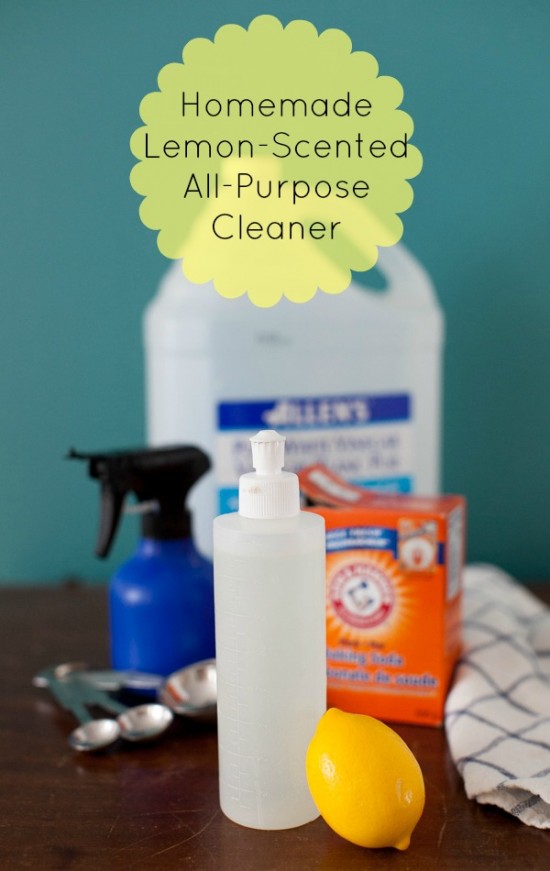 Today's short task is disinfecting counters. I have a thing for spotless counters; they are as satisfying as freshly washed hair. I know my cats jump on my counters when I'm not looking. It wigs me out just thinking about the bacteria left behind.
I'm also cleaning behind the toaster, moving the canisters, and wiping up the flour under the Kitchen Aid. It's an easy job that yields fast results. The Tupperware sprawl can stay locked up in a drawer for a bit longer- this weekend I'm enjoying shining counters.
This all-natural, homemade disinfectant will have your kitchen counters gleaming in no time. Plus, the fresh lemon scent will perfume your kitchen beautifully.
The recipe is adapted from Tsh's all-purpose household cleaner in her book, Organized Simplicity: The Clutter-Free Approach to Intentional Living
, a handy resource for spring cleaning if there ever was one.
1/4 cup white vinegar
2 Tablespoons baking soda
1 litre (4 cups) hot water
1/2 a lemon
In a small bucket or 4-cup Pyrex measuring cup, combine vinegar, baking soda and hot water.
Squeeze in the juice from half a lemon, then drop the rind in as well to infuse the cleaner.
Stir well to dissolve the baking soda and allow to cool. Remove the lemon rind.
Transfer into a spray bottle or squeeze bottle and label clearly. Your homemade cleaner is ready to use!
What are a few 'trouble zones' in your kitchen? Do you tend to knock them off one-by-one or schedule a big cleaning day?