Clara turned one yesterday, and after seven years of robot cakes, Cars pinatas, and Lego gifts, we celebrated our very first 'girl' birthday. There were spring flowers and garlands of pink hearts, cucumber sandwiches and strawberry cake, and the cutest little guests decked out in hair bows and pretty dresses.
Clara's birthday party felt like not only a celebration of her first year and the bright light that she is in our lives, but a lingering farewell to infancy. I can see it plainly now, she's ready to be a little lady, whether I'm prepared for it or not.
In the days leading up to the party, I keenly felt this milestone and the significance of it. While she was busy demonstrating her newest skill set to me, I was having flashbacks to the day she was born and the intimacy between a mother and her newborn.
I needed to say good-bye to those precious early days that I cherish so much. I needed to spend a few hours cutting hearts out of paper and stringing them onto garlands while I mourned the end of baby baths in the sink, cozy afternoon naps on my chest, and teeny, teeny pink sleepers.
I blinked back tears when I frosted the layers of her cake, and let them flow freely when I hung newborn images of her in a garland; photos where she was so tiny, she rested comfortably between my shoulder and the crook of my arm. I sighed when I cut cucumber sandwiches into hearts, and eventually made my peace with the milestone.
By Sunday, her actual birthday, I was ready to party. So, apparently, was she.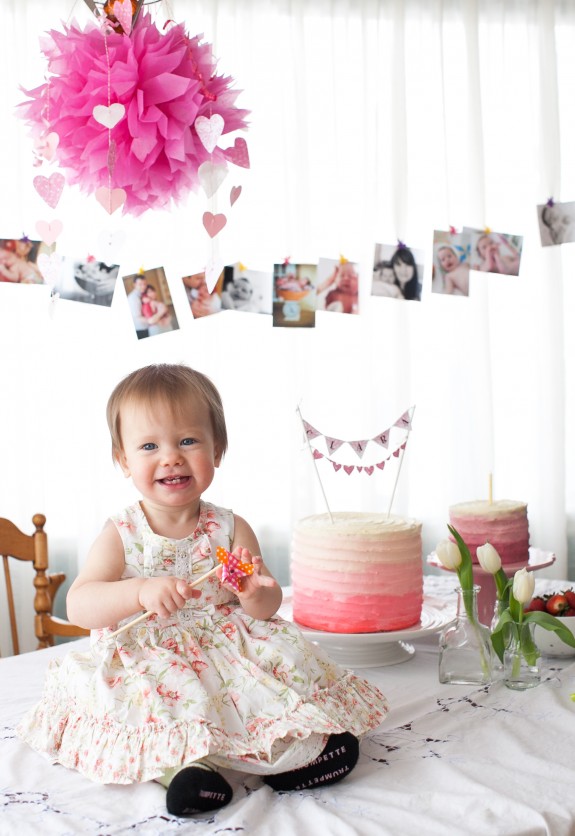 I had a discussion with a friend a few weeks ago about first birthdays. Is there really a good reason to bother if they won't remember the event? Why spend the money? Invest the time? I guess there are both sides to the coin, and every family does what is right for them, be it a lavish party or a cupcake and a single candle.
The details of our sweet little celebration for Clara were therapeutic for me. While frosting the cakes and crafting the bunting, I reminisced over just how much Clara has changed our lives for the better.
That in itself is cause for celebration.
Two Cakes
I tried not to obsess over what sort of cake to make for Clara, but I failed miserably. In the end, two popular trends right now – ombre frosting and bunting banners – were just too tempting and I used them both as inspiration for the cakes. Yes cakes, plural. There were two.
This ombre strawberry layer cake was in Clara's honour, and served about 16 adult guests, with a slice leftover for my breakfast. Inspiration came in many forms for this creation, including Ashley's peach gradient cake for her daughter's first birthday.
I based my cake recipe on Rosie's Strawberry Layer Cake, and assembled it together with a double batch of Martha Stewart's strawberry buttercream frosting. The final decorating technique was inspired by this cake from Yossy. You can find directions for both the ombre and spiral swirl technique on this post.
It turned out to be quite pretty, and tasted fresh and spring-like, especially when paired with vanilla-macerated strawberries. To make the marinated berries, mix about two cups of sliced berries with 2 tablespoons of raw cane sugar and a teaspoon of vanilla or 1 vanilla bean, scraped and seeded. Mix together, then cover the bowl with plastic wrap and leave to sit at room temperature for a few hours.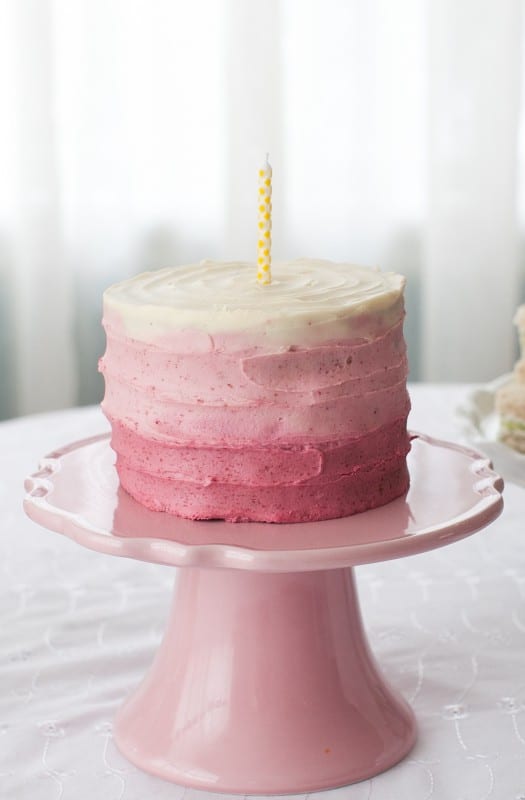 Clara's smaller cake was less of a 'smash cake' and more of an unprocessed mini layer cake for Clara and her three friends. It was two layers of an Apple Spice Cake with Maple, frosted with a strawberry cream cheese frosting. The frosting was tinted pink with beets and strawberry puree and decorated in the same ombre swirled fashion as its larger counterpart.
I adapted a favorite apple cake of mine to eliminate the sugar and make it more suitable for little ones, and as it turns out, I far prefer the new version over the old.
Clara was also a fan.
I'm including the recipe for Clara's Apple Spice Cake because it is a keeper. Not only is it naturally-sweetened, but it is lighter than air and studded with soft apple pieces. It's pretty irresistible fresh from the oven, but also stacks up well as a layer cake.
Apple Spice Cake with Maple
A naturally sweetened, lighter-than-air cake that is simple to make and bursting with apples. Adapted from the Green Market Baking Book
Print
Pin
Rate
Ingredients
3/4

cup

coconut oil

1/2

cup

pure maple syrup

1/3

cup

brown rice syrup

2

medium eggs

1

teaspoon

pure vanilla extract

1 1/2

cups

organic cake flour

1/2

teaspoon

baking soda

1/2

teaspoon

baking powder

1/2

teaspoon

salt

1

teaspoon

cinnamon

2

cups

chopped apples
Instructions
Preheat to oven to 325F and butter two 8-inch round cake pans.

Warm the coconut oil in a glass measuring cup until it is runny, then pour into a large bowl. Use the same cup to measure the syrups to the bowl. Add the vanilla and mix well.

Add the eggs and mix wet ingredients well.

In another bowl, mix together the flour, baking soda, cinnamon and salt.

Slowly add the dry ingredients to the wet mixture and combine but do not over mix.

Fold in the apples and combine to coat.

Divide batter between the two pans and bake for about 20-25 minutes or until a toothpick inserted in the centre comes out clean.

Cool for ten minutes on a wire rack, then loosen around the edges of the pan with a knife and invert cakes onto the cooling rack. Serve warm or cool and frost.
Nutrition
Calories:
309
kcal
|
Carbohydrates:
36
g
|
Protein:
3
g
|
Fat:
17
g
|
Saturated Fat:
14
g
|
Cholesterol:
32
mg
|
Sodium:
193
mg
|
Potassium:
114
mg
|
Fiber:
1
g
|
Sugar:
19
g
|
Vitamin A:
60
IU
|
Vitamin C:
1.2
mg
|
Calcium:
45
mg
|
Iron:
0.4
mg
Strawberry Cream Cheese Frosting
A naturally-sweetened, pretty pink frosting that is tinted with a strawberry-beet puree. Perfect for baby's first birthday
Print
Pin
Rate
Ingredients
6

oz

cream cheese

room temperature

1/4

cup

unsalted butter

room temperature

2

Tablespoons

brown rice syrup

2

small roasted beets

peeled

2

Tablespoons

strawberry puree

see note
Instructions
In a food processor or blender, puree the roasted beets until as smooth as possible. Push through a fine mesh sieve to ensure there are no lumps.

Mix about 2 Tablespoons of the beet puree with the strawberry puree and set aside.

In the bowl of a stand mixer, combine cream cheese and butter and beat with the whisk attachment until light and fluffy.

Add brown rice syrup and beat again, scraping down the sides of the mixer bowl.

To make the ombre frosting decoration, divide the frosting into three small bowls. Mix in enough strawberry-beet puree to tint two of the bowls a dark and light pink colour. Leave one bowl white.

Place the cake on a turntable and find a small offset spatula, if you have one.

Starting at the bottom of the cake with the darkest colour, use the offset spatula to apply frosting to the bottom 3rd of the cake, then follow with the lighter colour in the centre of the cake and towards the top. Top the cake and top edge with white frosting to finish.

Smooth the frosting on the sides as much as possible. Smooth the top.

Finish the cake by holding the tip your offset spatula horizontally, pressing gently on the frosting at the bottom of the cake. Smoothly spin the cake turntable while simultaneously dragging the spatula up the side of the cake, stop when you get to the top. Wipe the spatula clean, then gently press the tip of the spatula into the middle of the top of the cake and spin the turntable while simultaneously dragging the spatula towards the outside of the cake.

Serve at once or refrigerate for up to two days until ready to eat. Once the icing on the cake hardens, wrap loosely with plastic wrap to avoid absorbing odours from the refrigerator.
Notes
For my strawberry puree, I blended roasted strawberries that I had in the freezer, but you can just as easily use berries from frozen, or fresh, if you have good, sweet berries. Puree thawed or fresh berries until smooth and push through a fine mesh sieve to remove the seeds.
Nutrition
Calories:
147
kcal
|
Carbohydrates:
6
g
|
Protein:
1
g
|
Fat:
13
g
|
Saturated Fat:
7
g
|
Cholesterol:
38
mg
|
Sodium:
88
mg
|
Potassium:
101
mg
|
Sugar:
5
g
|
Vitamin A:
470
IU
|
Vitamin C:
3.2
mg
|
Calcium:
29
mg
|
Iron:
0.3
mg
 Resources
Printstagram – Have your favorite Instagram baby photos made into Cute Mini Prints or Squares from the folks at Printstagram, then pin them up for a garland that is certain to bring back memories.
Simple Cake Bunting Tutorial
Bunting on Etsy.
Easy Ombre Frosting Video
Michael's – for colored kitchen twine, pretty paper, and other party supplies
Turntable for frosting cakes is from Ikea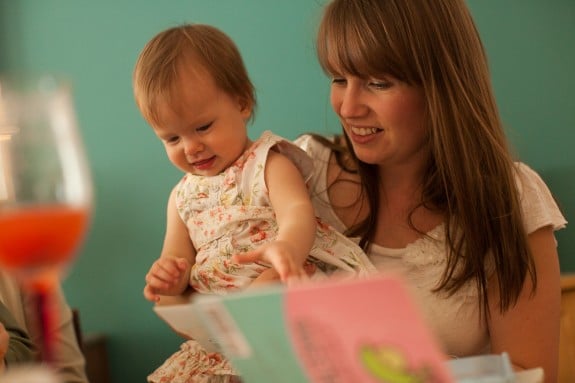 A note about gifts…
Being the third child and the first girl in the family, Clara's existing baby book collection consisted mainly of battered hand-me-down stories of dinosaurs and books on trucks, trucks, and more trucks. So I included this statement in Clara's birthday invitations: "Gifts are optional, as always, but should you wish to bring something, we would very much appreciate a contribution to Clara's library."
To our delight, all the guests kindly obliged, and Clara received over a dozen sweet board books, personalized by the givers, and obviously handpicked with care. It is a collection she will cherish for years to come and one that will hopefully help to nurture a lifelong love of reading. Thank you, friends and family!
How did you celebrate your baby's first birthday?