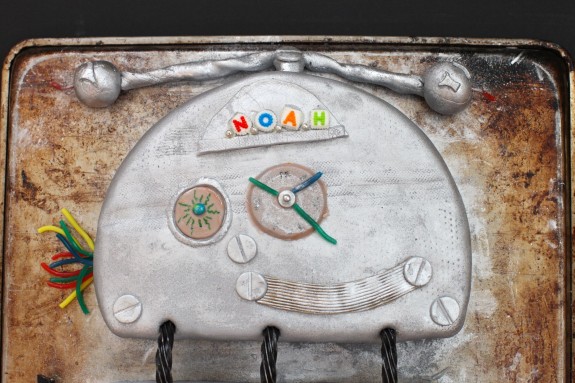 My chubby-cheeked firstborn, my Noah, is seven. Yesterday we bounced balloons, cut cake, passed lemonade, and sang to celebrate another milestone, another year gone by. The signs are everywhere: his front tooth is lose, the cuffs of his favorite blue sweatshirt are creeping up his arm and he's growing in every direction.
Around the table at his party, he deftly wielded an eight-inch serrated knife and carved up slices of birthday cake for each one of his friends. He served himself last. That, in itself, is a sure sign he is growing up.
I've already shared my tips for a simple kids birthday party, so I won't go into detail on the decorations (none) or games (one enormous neighborhood treasure hunt), but I am excited to tell you about Noah's cake. A homemade cake is an essential part of the birthday party, and this year's theme was: Robot!
Noah draws robots all the time, doodling them in his sketchbook, or earnestly coloring elaborate androids with several (or one) eyes and many antennae. I knew his cake had to be a a robot of sorts. A quick search for 'robot birthday cake' on Pinterest brought up this cute fellow from Betty Crocker. He was part of my inspiration, but I tried to make my version to be, well, weirder. Danny helped me out a lot in that department, and probably did half the work, adding protruding wires, random buttons, and a few secret codes.
All in all, he turned out to be a cute little fellow.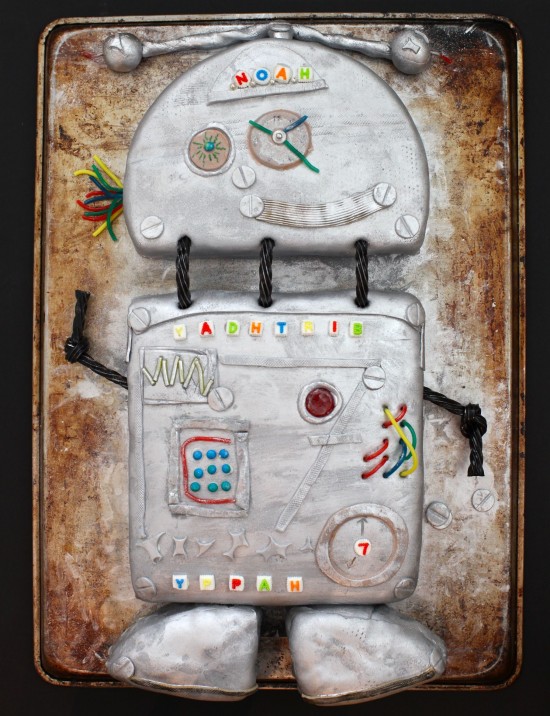 If you are a rolled fondant 'newbie' this cake is excellent project to cut your teeth on because there is no need to worry over lumps, cracks, wrinkles, tears, or dents. In fact, your robot will look all the more authentic if he is somewhat 'battered'. The back of an old 15 Inch X 21 Inch X 1 Inch Aluminum Sheet Pan made a solid base for 'Robot' that also matched his battered tin look.
If you like to occasionally mess around with your child's play dough, you'll have fun making this robot cake and its rolled fondant decorations. Also, if you despise the cutting/stacking/frosting of an elaborate layer cake, then again, this project is for you. It is made from just one rectangle sheet cake cake and one round cake and comes together very quickly.
Robot Birthday Cake: a quasi-tutorial
Please forgive the lack of step-by-step photos, but the silver pearl dust that I used too easily transfers to everything, and I wasn't about to take any risks with my camera gear. I wasn't planning on sharing this cake, but an especially enthusiastic response from an Instagram image I posted (as well as a certain thrilled 7 year old's reaction) convinced me to sketch out how it came together here on the blog. If you have further questions, hit me up in the comments!
For the robot cake you will need:
Slice the bottom third off of the round cake, and cut it in half for the feet. Remove an inch or two from the 9×13 cake for a shorter torso.
On the baking sheet or a large presenting board, place in position the head, the torso, and two 'feet' of the robot. Cover everything with the cream cheese frosting and place in the refrigerator to firm up a little.
Meanwhile, dye the rolled fondant gray, using a toothpick dipped into the black gel to scoop a very little dye. Work the fondant until it is smooth and the color is well distributed.
Divide the fondant into three pieces – head, body, and feet. Working with one section at a time, roll the fondant, dusting the counter with a little icing sugar to prevent it from sticking, and cover the three sections of robot. Press fondant slightly to help it adhere to the frosting, and trim away any extra along the edges.
Working in small sections, dampen the fondant by dipping two fingers into cool water and rubbing them on the cake. Immediately, tip your powder brush in the silver dust and brush onto the damp fondant. Repeat until all the cake is covered. Use a combination of brush strokes and dabbing of the brush to get different textures on the cake.
Your glittering silver robot is ready to decorate! Now is the time to get creative and add buttons, numbers, or candy to the cake. I used a lot of rolled fondant scraps to add trim, a 'smile' and different textures. I cut small round circles, pressed a toothpick down the center and brushed them with silver dust to make them look like the heads of screws.
Once your robot is suited up to your liking, refrigerate until about an hour before serving.
***
One of Noah's school friend's mother asked me for the address of the bakery where I ordered the cake. I took her request as a complement! I had such fun making Noah's robot, and I have a feeling he's going to remember this fellow for many years to come.