A recent rhubarb harvest inspired a baking project over the long weekend. I tossed rhubarb with lavender sugar and creamed butter with oats for the first ~ exquisite ~ fruit crisp of the season.
While I worked, I thought about how this rustic dessert is a perfect example of a zero waste recipe. I also realized I've never written about crisps or crumbles on this blog, despite the fact that I bake them up all. year. long.
So here we go! Kicking off this post are my genius zero waste tips for fruit crisps. By the end of this post, you'll have a handy fruit crisp formula: a master recipe for this beloved dessert. And in between, I'll inspire you to get creative with alternative ingredients for both fillings and toppings.
I'm also sharing my recipe for gluten-free, zero waste Nutty Fruit Crisp Topping. And I had to include instructions for a do-ahead, big-batch fruit crisp topping for those weekends when you're feeding a crowd.
We have a lot to cover in this post, so let's jump right in.
Genius Zero Waste Tips for Fruit Crisps
I'm giving you these zero waste kitchen tips at the top of this post, so you can put them to use right away. Any dessert recipe that helps us to further embrace the zero waste lifestyle is a recipe worth keeping!
1 The Use-What-You-Have Dessert
Between summer berries and fall apples, the variations on a crisp/crumble are endless. There are no rules when it comes to combining fruit under a crumb topping. It's all delicious, especially using my Fruit Crisp Formula. I unpack this idea below in a section called Any Ingredient Fruit Crisp.
2 Ugly fruits yield a more delicious crisp
Use your aging, ugly fruits for baking this simple and rustic dessert. The more ripe they are, the more flavour they deliver. Shrivelled apples, mushy berries, over-ripe stone fruit – these will all cook down to a deliciously jammy filling.
3 Use nut milk pulp in your crisp topping
I gleaned this fantastic tip from The Zero Waste Chef cookbook and will use it forever. Author Anne-Marie breaks down even more zero waste tips in her Use-it-Up Vegan Apple Crumble.
Homemade nut milks leave behind a pulp that doesn't need to be thrown away! It's delicious when incorporated into granola and scones, and now toppings for dessert. It imparts a deliciously nutty flavour to the crisp topping and helps it to clump into those irresistible toasty nuggets.
Pulp from nut and seed milks can be frozen, so toss it in the freezer until you are ready to make your crisps and crumbles.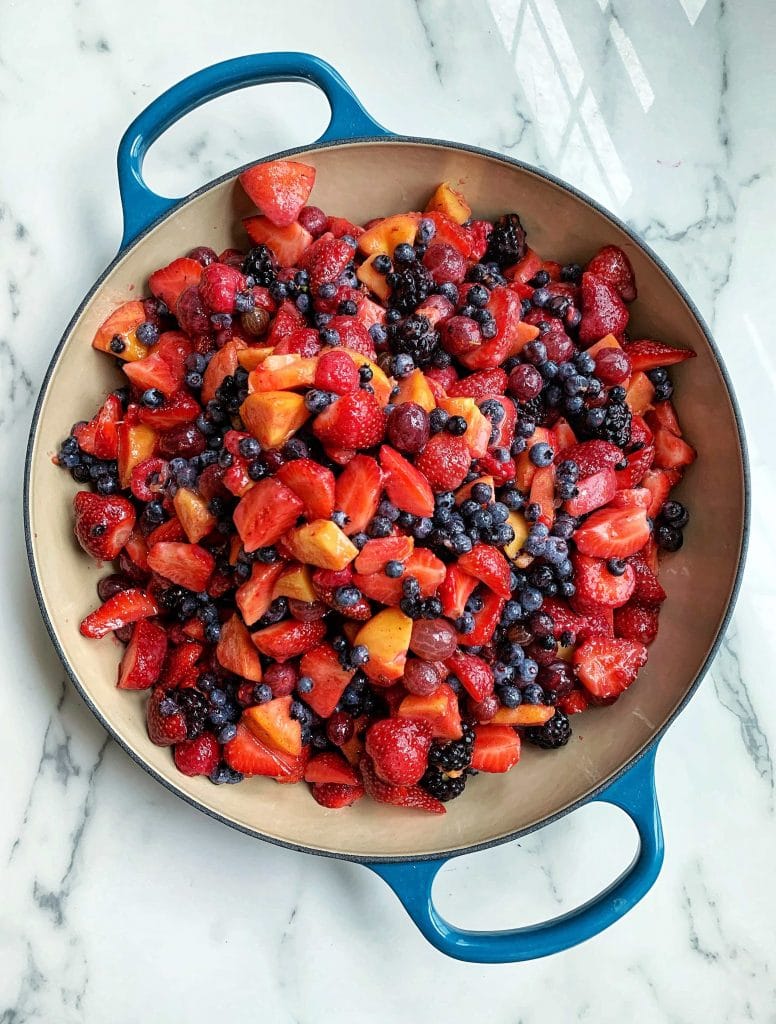 The Fruit Crisp Formula
So now you're ready to embrace the use-what-you-have method to make a fruit crisp. The formula below will help you do just that.
Use this formula to build your own fruit crisp desserts all year round. The sugar and cornstarch amount will fluctuate slightly depending on your fruit.
Tart fruit such as rhubarb or apples will require a fair bit of added sugar, but a crisp with wild blueberries might not need more than a tablespoon. A filling if ripe juicy berries will need an extra teaspoon or two of cornstarch, while an apple crisp can do without.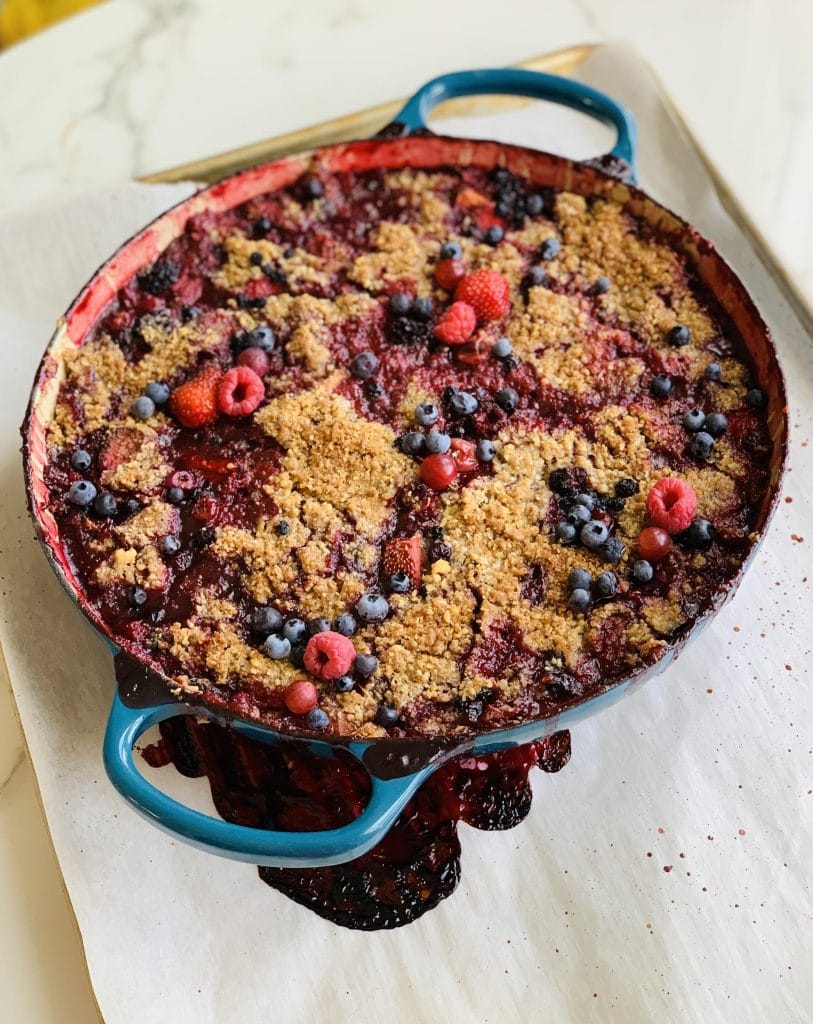 Don't be shy to play with flavour combinations, mixing and matching fruit to toppings (see the next section on Any Ingredient Fruit Crisps). A few classic combinations are: Strawberry Rhubarb, Apple Raspberry, Blueberry Peach, Blackberry Nectarine, Pear Lavender, etc….
I love the combination of a stone fruit and a summer berry – all tucked under my gluten-free, zero waste Nutty Fruit Crisp Topping (recipe at the bottom of the post).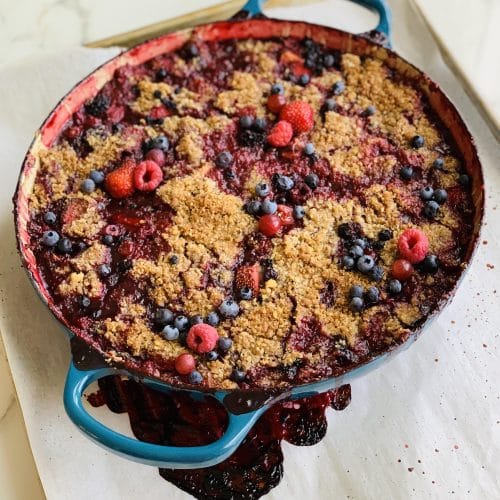 The Fruit Crisp Formula
A master recipe for a beloved rustic dessert. Keep this formula close for seasonal fruit crisps all year round.
Print
Pin
Rate
Ingredients
5

cups

chopped fresh fruit

berries, apples, stone fruit, pears, rhubarb, etc

1/2

lemon

juiced

1/4

cup

sugar

or to taste

2

Tablespoons

cornstarch

for very ripe fruit

1/4

teaspoon

baking spice

ex: cinnamon, ginger, cardamom, etc

2

cups

crisp or crumble topping

your choice!
Instructions
Preheat the oven to 350°F. Lightly oil a 9-inch baking dish, such as a pie plate or Pyrex dish.

In a large bowl, combine the fresh fruit with the lemon juice, sugar and cornstarch. Add baking spice, if desired. If you have time, let the mixture stand 30 minutes to macerate the fruit.

Transfer the fruit and all the juices to the dish. Crumble the topping over the fruit, leaving large clumps throughout.

Place the dish on a rimmed baking pan lined with parchment (in case there are spills!) and place in the oven. Bake crisp for 45-55 minutes or until juices bubble up around the sides and the fruit in the center of the dish is soft when poked with a fork.

Cool the crisp, then serve warm with ice cream or whipped cream. Will keep for up to 3 days refrigerated – if it lasts that long!
Notes
Sweeter fruits like berries and stone fruits will not need additional sugar, but rhubarb or tart apples will benefit from double the sugar in this formula.
Nutrition
Calories:
219
kcal
|
Carbohydrates:
49
g
|
Protein:
2
g
|
Fat:
3
g
|
Saturated Fat:
2
g
|
Polyunsaturated Fat:
1
g
|
Monounsaturated Fat:
1
g
|
Trans Fat:
1
g
|
Cholesterol:
8
mg
|
Sodium:
24
mg
|
Potassium:
203
mg
|
Fiber:
4
g
|
Sugar:
35
g
|
Vitamin A:
687
IU
|
Vitamin C:
9
mg
|
Calcium:
17
mg
|
Iron:
1
mg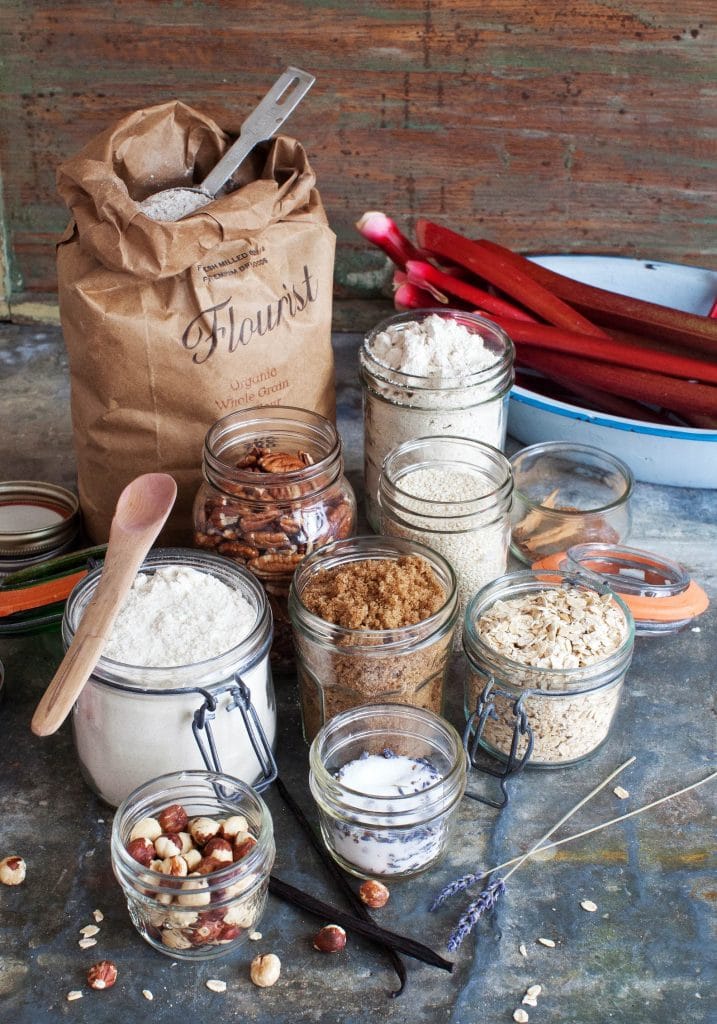 Any Ingredient Fruit Crisp
Butter, flour, sugar and oats: in a nutshell, that's a crisp topping. But there's so much room to play within those four ingredients.
If you're wondering what the difference is between a crisp and a crumble: a crisp has rolled oats, a crumble does not. A cobbler is another dish entirely. I always opt for oats in my versions, so in this post they are crisps.
I've tested enough fruit crisps in my life to know that they improve when you upgrade the pantry ingredients. Switch out all-purpose flour for ancient grains like spelt, buckwheat and rye that contribute rich, nutty flavours.
You can also use a combination of flours, again, circling back to that zero waste mindset of using what you have. This Rhubarb Raspberry Rye Crumble from Tara's cookbook Seven Spoons is a perfect example.
Additions such as spices and nuts help to level up the flavour to your fruit crisp, and aromatics like lavender, vanilla bean or orange zest put this classic dessert over the top.
We haven't even touched on variations in the sweetener department for fruit crisps! My friend Amanda from Naturally Sweet Kitchen uses a combination of maple syrup and coconut sugar in her Rhubarb and Ginger Crumble.
Most rhubarb recipes overcompensate for this tart fruit by adding tons of sugar; Amanda strikes a nice balance (it's gluten-free, too!).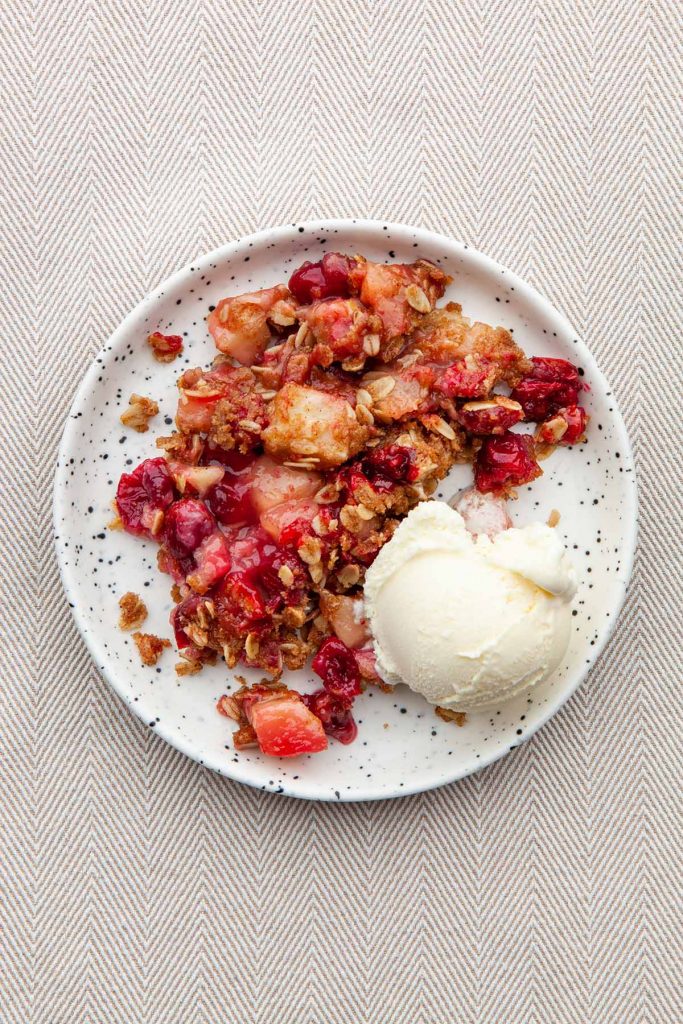 Photo by Kelly Neil
Crisp/Crumbles for Alternative Diets
If you were not aware, the fruit crisp or crumble is one of the best gluten-free vegan desserts you can make. If you ever need a pot-luck dish for a group with special diets, the crisp is a fantastic, crowd-pleasing option.
Alternative flours like almond, oat and rice bring fun textures — and the added bonus of being gluten-free. I'm obsessed with the sandy, crumbly texture that a gluten-free crisp topping delivers (recipe below)! Try it once and you may never go back to all-purpose flour again.
Coconut oil lends itself well for a dairy-free option. A great example of that would be the Cranberry Apple Crisp on Baked the Blog (pictured above). Or go with vegan butter, like in Kelly's gorgeous Nectarine Blueberry Crisp.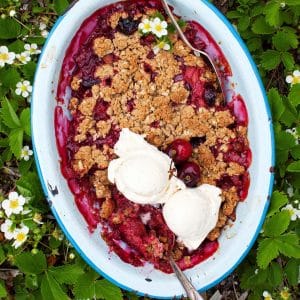 Nutty Fruit Crisp Topping (gluten-free)
My favourite fruit crisp topping! I'm obsessed with the sandy, crumbly topping that this recipe delivers. It's the perfect contrast to the syrupy fruit underneath. Oat flour is now sold by Quaker.
Print
Pin
Rate
Ingredients
6

Tablespoons

unsalted butter

6

Tablespoons

brown sugar

1/4

cup

nut milk pulp

or seed milk pulp

1/4

cup

buckwheat flour

1/4

cup

oat flour

1/4

cup

brown rice flour

1/2

cup

old-fashioned rolled oats

1/2

teaspoon

ground cinnamon

1

pinch

fine sea salt
Instructions
In a food processor fitted with the blade attachment, cream the butter and the sugar together until smooth. Stop the processor and scrape down the sides.

Add the nut milk pulp to the creamed butter and process again until smooth. Scrape down the sides.

Dump in the remaining ingredients and pulse until a crumble forms. Don't over mix.

Your crumble topping is now ready to use. Sprinkle over a fruit base or transfer to an airtight container and refrigerate for up to 5 days. Crumble topping can also be frozen for up to three months.
Nutrition
Calories:
254
kcal
|
Carbohydrates:
30
g
|
Protein:
5
g
|
Fat:
14
g
|
Saturated Fat:
8
g
|
Trans Fat:
1
g
|
Cholesterol:
30
mg
|
Sodium:
14
mg
|
Potassium:
179
mg
|
Fiber:
3
g
|
Sugar:
12
g
|
Vitamin A:
350
IU
|
Vitamin C:
1
mg
|
Calcium:
31
mg
|
Iron:
1
mg
The Big Batch, Do-Ahead Fruit Crisp Topping
Having several jars of toppings for fresh fruit crisps in the freezer is like having dessert in your back pocket. And this is a recipe that freezes very well!
All you need to do is place your favourite luscious summer fruit, washed and cut, into a baking dish and cover it with your pre-made crisp topping. Then bake it into a comforting dessert and serve warm with vanilla ice cream.
Ingredients
1 1/2

cups

unsalted butter

1

cup

muscovado sugar

or dark brown sugar

1

cup

sugar

2 3/4

cups

all-purpose flour

1/2

teaspoon

ground cinnamon

1/2

teaspoon

fine sea salt

1

cup

quick oats

1

cup

old-fashioned rolled oats
Instructions
In a stand mixer or food processor, combine the butter and the sugars until creamy. Stop and scrape down the sides.

Add the flour, cinnamon and salt and pulse to combine. Stop and scrape down the sides.

Add both of the oats and mix until the topping resembles coarse crumbs. Don't over mix!

Using a funnel, fill four pint jars with the crisp topping. Top each with a lid, label and freeze.

Each pint holds 2 cups of topping, enough for approximately six individual fruit crisps or one 9×9 pan.
Nutrition
Calories:
1477
kcal
|
Carbohydrates:
197
g
|
Protein:
15
g
|
Fat:
73
g
|
Saturated Fat:
44
g
|
Trans Fat:
3
g
|
Cholesterol:
183
mg
|
Sodium:
320
mg
|
Potassium:
333
mg
|
Fiber:
6
g
|
Sugar:
104
g
|
Vitamin A:
2128
IU
|
Vitamin C:
1
mg
|
Calcium:
102
mg
|
Iron:
6
mg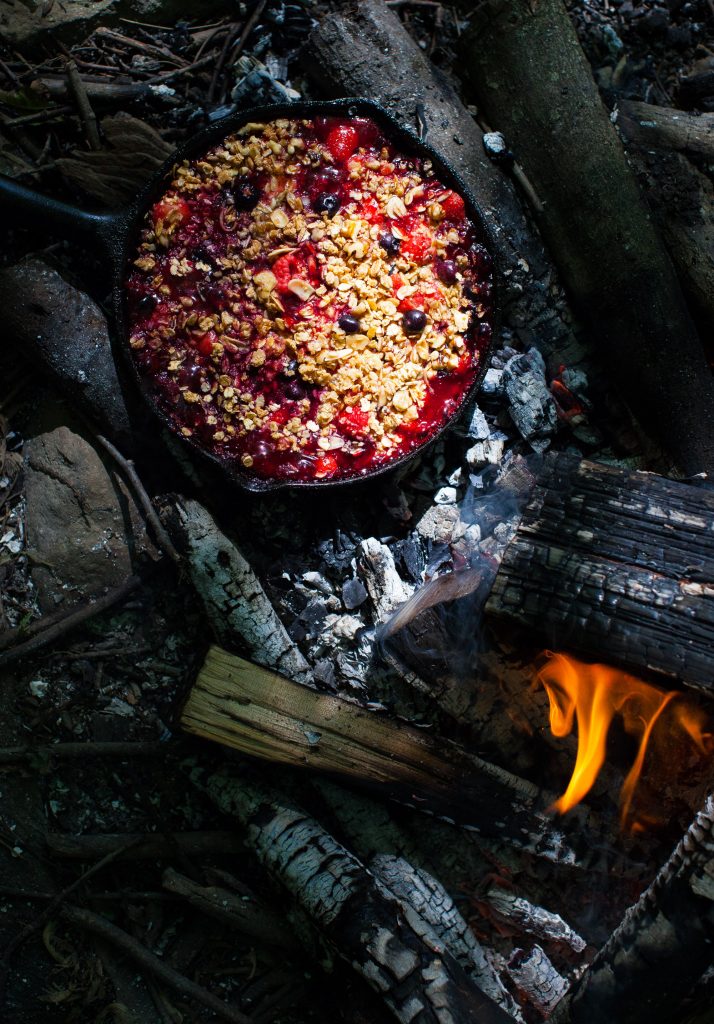 The Lazy Campfire Crisp
One last nod to this versatile dessert: the campfire skillet triple berry crisp! Here I simply fill a cast iron skillet with berries and heap granola on top. I dot it with butter and bake over the coals until bubbly in the center.
Great for dessert or breakfast around the morning fire, this triple berry crisp is one of my picks for The Ultimate Camping Food Day. Bonus points for using hand-picked wild berries. Yum!
Share your favourite crisp/crumble recipes and inspiration in the comments!