I've always been the type of person to look for the silver lining in every situation. And the upside of spending a rainy spring in full lockdown is this: more time to read cookbooks.
There's been an absolute landslide of incredible culinary publications recently. I'm relieved that the current global 'situation' has not harmed, but rather nurtured the rise of cookbooks. And they seem to be better than ever.
Come join me for a spring cookbook round-up. We'll travel to the Arab world through The Arabesque Table and to a remote Inn on the edge of Prince Edward Island. You'll be inspired keep a more sustainable kitchen and put those sheet pans to good use.
I think we could all use a little extra help in the kitchen these days. Sometimes all it takes is a new cookbook to spark fresh interest in cooking and baking. I wonder which title below will be that book for you?
2021 Spring Cookbook Round-Up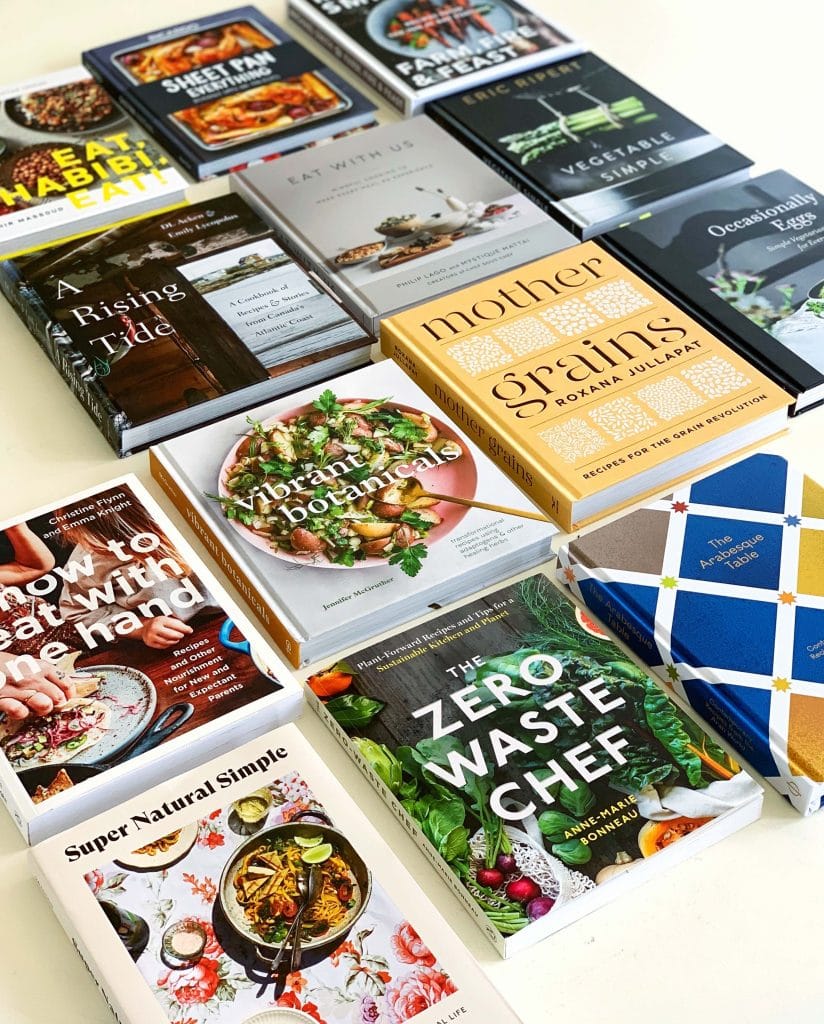 Every time I write one of these lists, I make the same recommendations. Cookbooks are incredibly personal. you have to connect with the author. Cookbook content that inspires me may not nudge you in the direction of the kitchen.
If you can, take some time in a bookstore or library to flip through these books and let yourself fall in love with one or two. Better yet, research the author and decide who you would like to support (Woman? BIPOC? Canadian?). Then buy one for yourself and one for a friend.
And lastly, I'm not claiming that these are the best cookbooks so far in 2021; these are merely my personal favourites! I'll think you'll agree, however, that they are all rather fabulous.
Kitchen Science/Home Ec
My favourite kind of cookbooks are the ones that challenge me in my culinary journey. These three titles do just that in the areas of zero waste cooking, ancient grains and the use of herbs as healing.
Each of these cookbooks offer a fascinating deep dive and practical application on the subject.I'm currently reading all of these cookbooks, but The Zero Waste Chef has my full attention.
No matter where you are on your eco-conscious journey, this book will inspire you. It's full of wisdom for real life in a sustainable kitchen.
The Zero-Waste Chef: Plant-Forward Recipes and Tips for a Sustainable Kitchen and Planet | Anne-Marie Bonneau
Vibrant Botanicals: Transformational Recipes Using Adaptogens & Other Healing Herbs | Jennifer McGruther
Mother Grains: Recipes for the Grain Revolution | Roxana Jullapat
Simple (mostly) Vegetarian Cookbooks
It's so interesting how 'simple' means something different to everyone. The recipes in these titles certainly run the gamut of aspirational to accessible.
I find myself returning to 'Occasionally Eggs' the most for quick smoothies, power bites and other five-minute recipes. However, all of these cookbooks are incredibly gorgeous and worthy of a spot on the shelf.
Occasionally Eggs: Simple Vegetarian Recipes for Every Season | Alexandra Daum
Super Natural Simple: Whole Food, Vegetarian Recipes for Real Life | Heidi Swanson
Vegetable Simple | Eric Ripert
Sheet Pan Everything | Ricardo
Just Eat!
A selection of vastly different cookbooks but all with the same thread of feeding ourselves and those we love. I couldn't pick a favourite, but I've been cooking mostly from the delightful 'How to Eat with One Hand' while in lockdown with 3 kiddos. The recipes don't require too much brainpower and I almost always have the ingredients on hand.
Eat Habibi Eat!: Fresh Recipes for Modern Egyptian Cooking | Shahir Massoud
Eat with Us: Mindful Recipes to Make Every Meal an Experience | Philip Lago and Mystique Mattai
How to Eat with One Hand: Recipes and Other Nourishment for New and Expectant Parents | Christine Flynn and Emma Knight
Everyday Dinners: Real-Life Recipes to Set Your Family Up for a Week of Success | Jessica Merchant
East Coast Lifestyle
The Maritimes is so deserving of the spotlight, and these titles are perfect examples of why. They feature a rich history, a vibrant culture and absolutely exquisite ingredients.
I object to the fact that neither of these two cookbooks were written by true born and raised East Coasters (WHO is going to write these books?). Still, they are both incredibly beautiful in their own way and wonderful reads, too.
Farm, Fire, Feast: Recipes from the Inn at Bay Fortune | Michael Smith
A Rising Tide: A Cookbook of Recipes and Stories from Canada's Atlantic Coast | DL Acken and Emily Lycopolus
Inspiring Global Titles
Everyone's Table: Global Recipes for Modern Health | Gregory Gourdet | Quite possibly the most extraordinary cookbook of the year to date. The subtitle says it all! This book keeps both the planet and the body in mind in every recipe. It's beautifully photographed by the talented Eva Kosmas Flores and is just stunning in every way.
The Arabesque Table: Contemporary Recipes from the Arab World | Reem Kassis
To Asia, With Love: Everyday Asian Recipes and Stories From the Heart | Hetty Mckinnon
World Travel: An Irreverent Guide | Laurie Woolever, Anthony Bourdain
I'd love to know which cookbooks are inspiring you this season! Share your favourite titles or authors in the comments.
This post contains affiliate links that help cover operational expenses.