A vibrant, naturally-sweetened iced haskap green tea recipe. Superfruity and refreshing.
My haskap culinary journey began like the best food adventures: at my local farmers market in peak summer.
The bright berry displayed in the booth captured my attention and the facts sheet on this superfruit was astonishing to read. Did you know that the haskap has more antioxidants than blueberries and more vitamin C than oranges?
Since that market stall encounter, haskap berries have remained on my radar. I keep a jar of haskap preserves in the fridge for stirring into yogurt or spreading on scones. My own superfruit stash.
Haskap Berries in Canada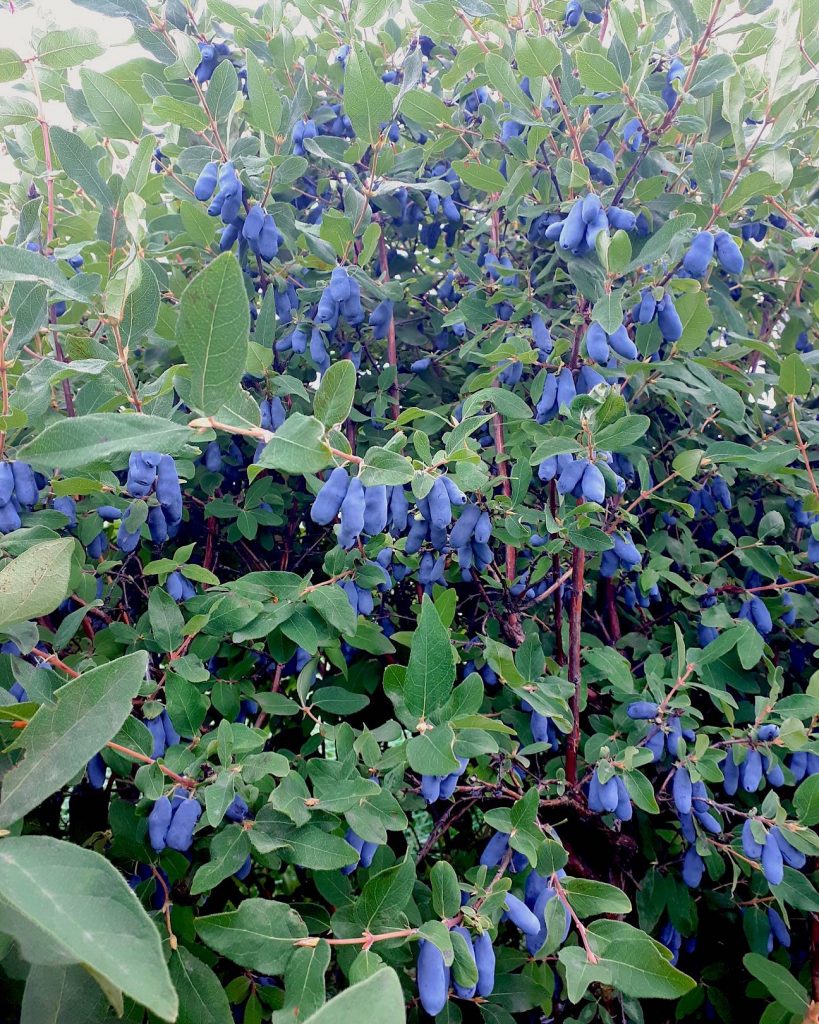 In case you're unfamiliar with the haskap, it's the size of a plump raisin and deep blue in colour – more indigo than purple.
The haskap has a thin, almost papery skin and can be eaten right of the bush. It serves up a both sweet and tart burst of flavour, as intense as a black currant, but entirely original.
Here's an interesting fact: the haskap berry originated in Siberia, but made its way to the Northern Hemisphere thanks to migratory birds leaving seeds behind as they traveled.
It makes perfect sense that a boreal plant would feel at home here in Canada. I'm so glad it did!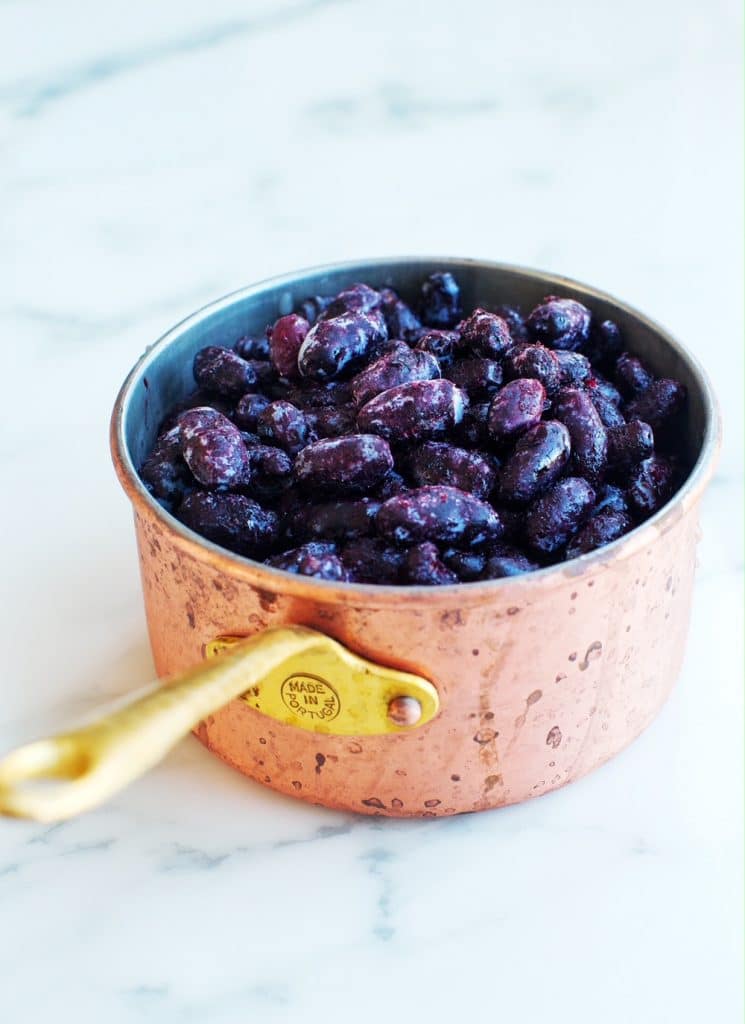 Visiting a haskap farm and picking the berries for myself is on my summer bucket list. For now, though, I have a stash of frozen berries courtesy of Haskap Canada Association to play with in the Simple Bites kitchen.
Experts say that anything you can cook, bake or preserve with a blueberry, you can also do with the haskap. And like wild berries, haskaps are generally available all year long in frozen form, and fresh for a few weeks in the summer.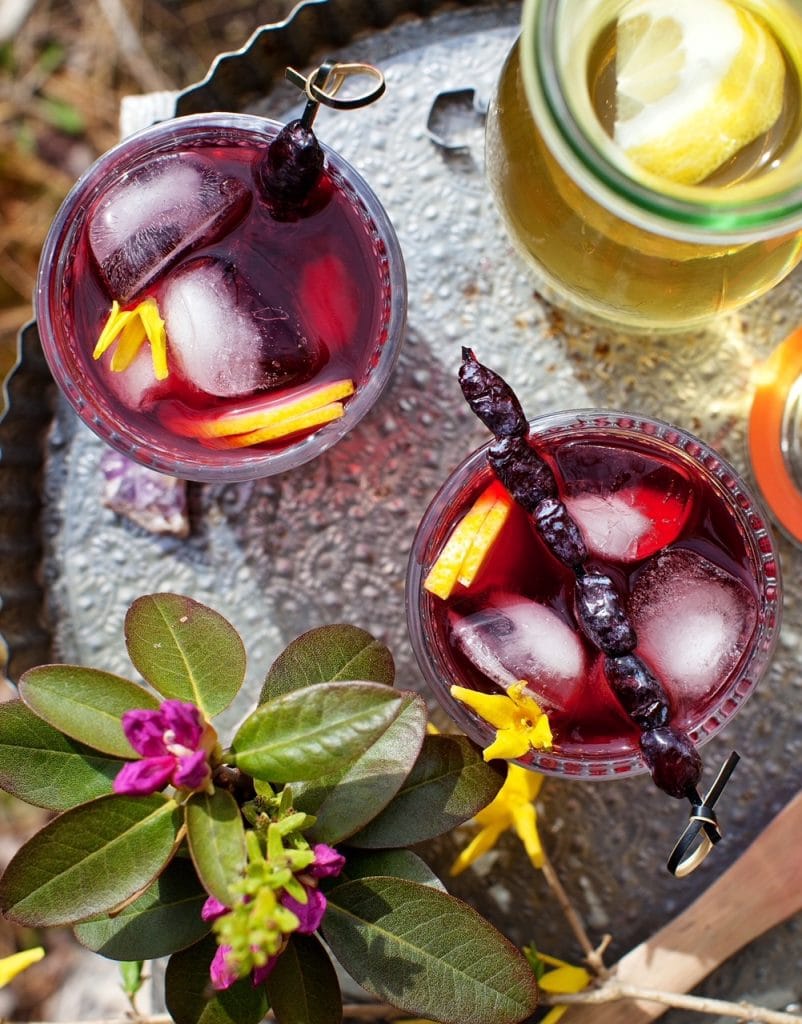 Iced Haskap Green Tea
Instead of jam or muffins, I knew I wanted to create a refreshing, non-alcoholic cold beverage. I drink a lot of iced green tea in the warmer months. It's thirst-quenching and rich in antioxidants. It also gets a little boring.
Iced haskap green tea is my new and improved summertime sip! It's a vibrant, refreshing drink with a myriad of health benefits. I sweeten it lightly with a little maple syrup, but you can adjust it according to your tastes.
I enjoy it anytime of day, whether it be after a morning jog or relaxing in the evening instead of a cocktail. And this iced tea is definitely going on my list of BEST picnic foods.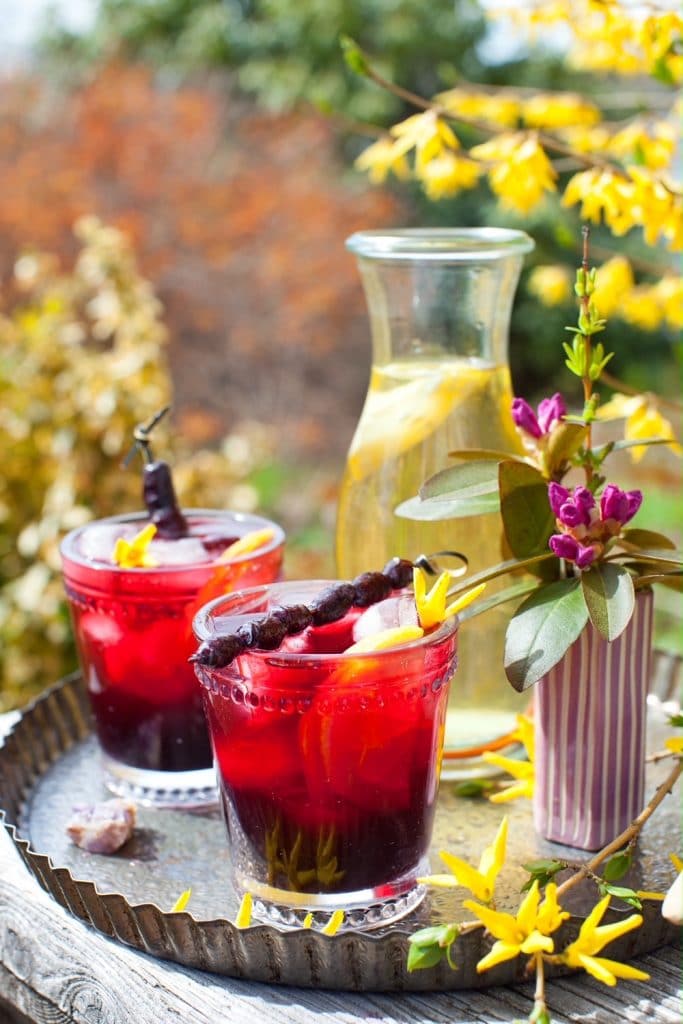 Do-Ahead Tip: The haskap berry simple syrup in the recipe below can be made and frozen in ice cube trays. This way it is ready for summer sips. Just pop out a cube and add it to ice water, club soda, or ice tea for an immediate refreshing drink.
It's also handy to have these frozen flavour bombs for cocktails! No matter which way you choose to use the haskap simple syrup, it's guaranteed to bring an explosion of flavour to your summer beverages.
Variations: Play around with tea flavours. The haskap syrup is equally delicious stirred into iced chamomile or mint tea.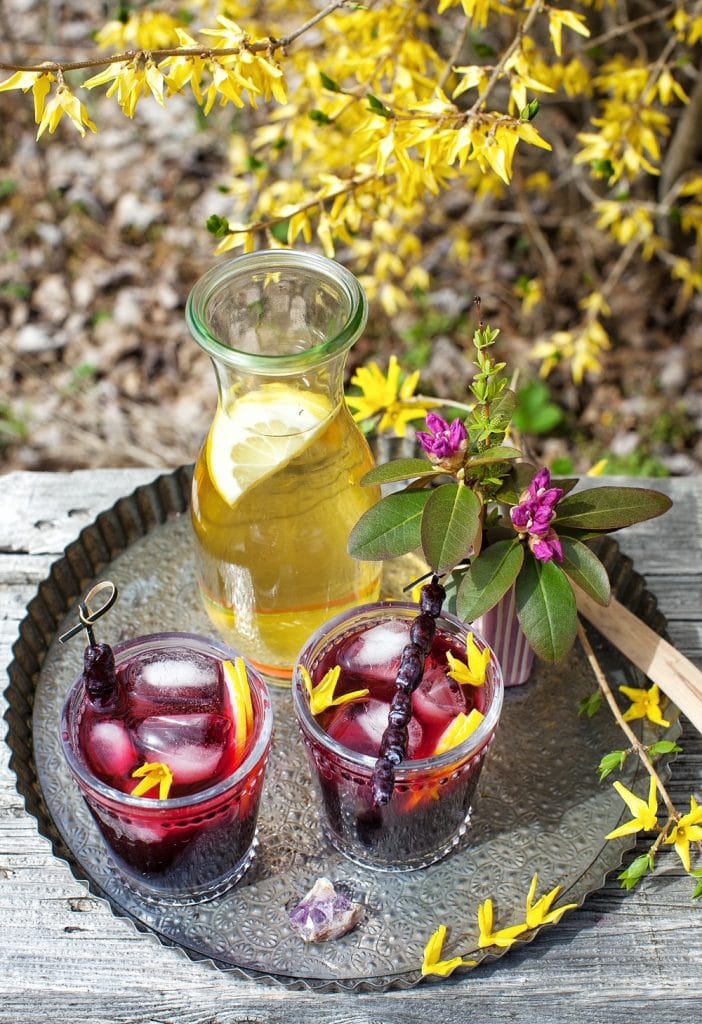 Iced Haskap Green Tea
A vibrant, naturally-sweetened sip. Iced haskap green tea is superfruity and refreshing.
Print
Pin
Rate
Ingredients
2

green tea bags

1

cup

frozen haskap berries

1/4

cup

pure maple syrup

1

cinnamon stick

1/2

lemon

sliced

ice

to serve
Instructions
Step 1: Make the green tea infusion. In a quart jar, combine the green tea bags with 3 cups of cold water. Cover, place in the fridge and infuse overnight.

In the morning, remove the tea bags and drop a few slices of lemon in the jar. This is your iced green tea, ready for flavouring.

Step 2: Make the haskap simple syrup. In a small saucepan, combine haskap berries, maple syrup,cinnamon and 1/4 cup water. Bring to a boil over medium high heat, stirring frequently.

Reduce heat to low and simmer for 5 minutes to cook the berries. They will soften, deflate, and release their juices. Remove the pot from the heat and let infuse and cool somewhat. Remove the cinnamon stick.

Place a fine mesh colander over a bowl or measuring cup. Strain the haskap syrup into the colander; use a spatula to get every last drop from the pan. Press the berries slightly with the spatula and try to get as much juice as possible. (As a no waste step, transfer the haskap pulp into a small bowl or jar and reserve for yogourt or topping pancakes.) Chill the haskap simple syrup in a jar until ready to serve; you should have nearly 1 cup

Step 3: Serve the iced tea: Shake both the iced green tea and the haskap syrup. Fill two glasses halfway up with ice. Fill the glass 3/4 with iced green tea, then top up with haskap syrup. Stir well, add a slice of lemon and serve immediately.

Alternately, combine syrup and tea together in the quart jar or pitcher. Shake well, pour over ice and serve.

Tea keeps for up to 3 days in a sealed jar in the fridge.
Notes
Note: I brew my tea overnight for a clearer, less bitter tea. For a quicker batch made in under an hour, you can also brew it in a pot and let it cool.
Nutrition
Calories:
87
kcal
|
Carbohydrates:
22
g
|
Protein:
1
g
|
Fat:
1
g
|
Saturated Fat:
1
g
|
Polyunsaturated Fat:
1
g
|
Monounsaturated Fat:
1
g
|
Sodium:
4
mg
|
Potassium:
169
mg
|
Fiber:
3
g
|
Sugar:
12
g
|
Vitamin A:
223
IU
|
Vitamin C:
20
mg
|
Calcium:
48
mg
|
Iron:
1
mg
This post is brought to you by the Haskap Canada Association. Words and opinions are entirely my own.