As I write this post, a steaming cup of honey-sweetened roasted apple tisane perches on my desk, brewed from a couple of withering Cortlands plucked from my cold room stash.
It's infused with ginger and a little tumeric because I'm fighting a mild cold, and the fragrant tisane is just the tonic I need to stay warm and hydrated while I work. 'Tis the season for comforting hot drinks – and a few sparkling ones too.
Yesterday we had guests for Sunday dinner, and I served my classic winter sangria with slices of clementine and pomegranate seeds. This weekend my annual cookie swap is happening and I'll be mixing up big pitchers of spiced eggnog and sparkling apple cider punch. And on the coldest days this week, I'll have a fragrant pot of hot apple cider waiting for the boys when they arrive home from school.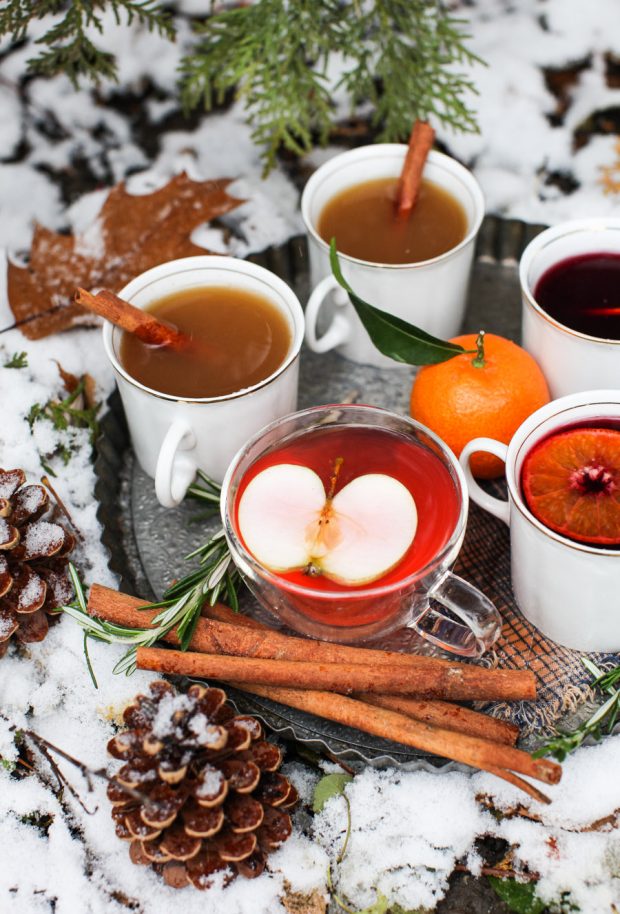 So here's the thing: obviously coffee isn't going anywhere and hot cocoa is still a mainstay in our home in winter, but the drinks in today's round-up are something different, a seasonal addition to the regulars.
Welcome to my small repertoire of hot and cold drinks that I make every year around the holidays. (…and through to spring, really; my mulled wine is often a Valentine sip on a cold February evening after a skate around the pond.) All are quite simple to make and can easily be doubled or tripled to serve a crowd, if needed.
Today I am sharing a round-up of those sips, in hopes that they become your favourite cold-weather drinks to serve as well. Whether you are hosting a holiday party or merely want to warm up after a winter walk, you can't go wrong with any of the following.
Festive Cold Beverages
Sparkling Apple Cider Party Punch 
Cranberries, bourbon, vanilla, fresh-pressed apple cider – this seasonal party punch is as refreshing as it is delicious.
Winter Sangria with Citrus and Pomegranate
This make-ahead dark and delicious winter sangria easily rivals its summer counterpart. It's perfumed with clementines and sliced pears, and garnished prettily with fresh pomegranate arils.
This simple, yet festive sip is non-alcoholic, and thus appropriate for holiday celebrants of all ages.
We're eggnog enthusiasts in our home, but only for the rich and creamy homemade version. Lightly spiced and heavily spiked, it certainly gets the party started.
Festive Hot Beverages
Inspired by my trip to London, this Christmas classic is lightly spiced and not too sweet. Remember to pack a thermos for the rink or sledding hill.
Roasted Apple and Rosemary Tisane
Forget heavy pumpkin spice lattes, this winter tea is all about clean flavours and fragrance. I like to serve this natural infusion that the end of a lavish holiday meal to soothe the tummy.
A festive drink that is loved by young and old alike. The ingredient list may be longer than most, but it pays of in full by delivering an aromatic cider that perfumes the whole house.
Bonus Recipe:
I'm not much of a flavoured coffee person, but if you are, my former contributor, Kristen, shared a recipe for Toffee Caramel Dessert Coffee that looks pretty amazing.
Do you have a hot or cold holiday drink you love to bring back every year?