We're still grasping at summer even though there is a decided 'nip' in the air. I found myself day dreaming about turkey dinner recently and had to shake myself out of the reverie by reminding myself that, hey! it's still August. At least it won't be a shock when the leaves start turning color, as I think I'm already in fall mode.
Still, I haven't pulled out the crock-pot yet. We continue to enjoy chilled soups for lunch and dinners that feature or favorite seasonal vegetable, corn.
We got a late start on gardening this summer, but my herbs still pulled through and are thriving. Lemon Balm, a fast-growing herb from the mint family that has a lovely lemon scent, has wasted no time pushing the boundaries of the raised bed.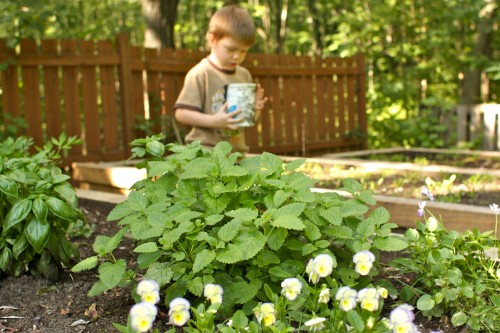 I adore lemon balm, and make a point to pick a few leaves and roll them between my palms every time I pass the garden beds, but this bushy herb was in need of some serious pruning. What to make?
With twenty-or-so guests on their way over for my birthday celebration, I knew a jug of fresh-squeezed lemonade would be perfect. And infused with lemon balm? Even better.
(You have to remember, I'm a strict teetotaler during pregnancy (obvi!) so I have to get creative with my caffeine-free, alcohol-free summer drinks.)
This lemon balm-infused lemonade did not disappoint. Perfumed lightly with the herb, it offered a mildly minty taste that, naturally, paired perfectly with the lemonade. Refreshing and tart, it was a lovely start to our evening – for young and old alike.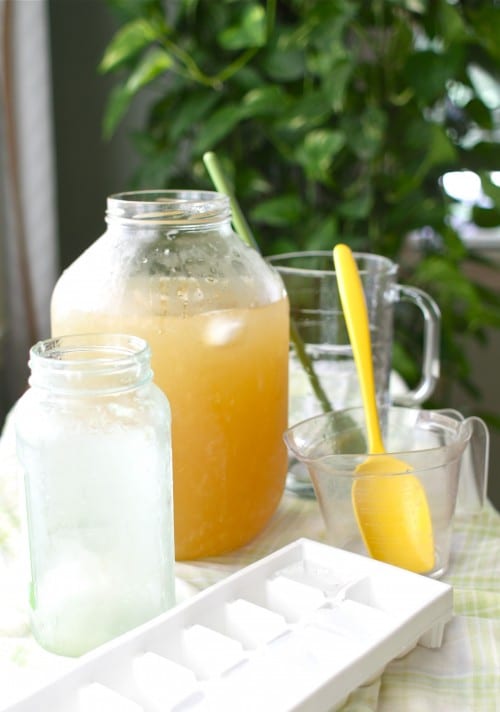 This tray of lemonade is my contribution to a virtual baby shower for the soon-to-be mama Maria of Two Peas and Their Pod! Maria and Josh, I toast the two of you with this non-alcoholic summer drink and wish you the very best in this new crazy adventure called Parenthood. Believe me when I say it is the best journey you will ever take.
A warm thank you to Marla and Lisa for organizing this virtual shower. You ladies are super sweet! See bottom of post for the full menu.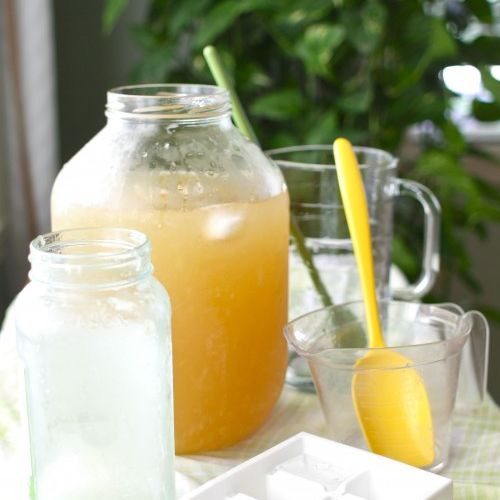 Ingredients
1

cup

Demerera sugar

1

cup

agave syrup

3

cups

fresh lemon balm leaves

slightly compacted in the measuring cup

3

cups

freshly squeezed lemon juice

strained
For Garnish
Thinly sliced lemons

Fresh lemon balm leaves

Plenty of ice
Instructions
Combine four cups of water, the sugar and agave together in a 2-quart pot. Bring to a boil. Stir until sugar is completely dissolved, then remove from heat.

Add lemon balm leaves to the simple syrup, stir, and cover with a lid. Allow to infuse for about two hours or until the mixture is completely cool.

Strain the syrup through a fine sieve into a gallon glass jar or large pitcher. Discard wilted lemon balm.

Add lemon juice to the lemon balm-infused simple syrup and stir. Add 12 cups cold water. Taste and adjust as required. Add more agave if you find the lemonade too tart. Alternately, add more lemon juice if you prefer your lemonade on the puckery side.

Chill until ready to serve.

Serve over ice with a garnish of fresh lemon slices and fresh lemon balm. Enjoy!
Nutrition
Calories:
434
kcal
|
Carbohydrates:
110
g
|
Protein:
2
g
|
Fat:
1
g
|
Saturated Fat:
1
g
|
Sodium:
16
mg
|
Potassium:
395
mg
|
Fiber:
3
g
|
Sugar:
92
g
|
Vitamin A:
1435
IU
|
Vitamin C:
81.6
mg
|
Calcium:
99
mg
|
Iron:
2.1
mg
Drinks
Simple Bites – Lemon Balm infused Lemonade
Ingredients, Inc. – Healthy Fruit Punch
Food for My Family – Lemongrass Soda
She Wears Many Hats – Mini Pistachio Smoothies
Georgia Pellegrini – Watermelon Agua Fresca & a New Pea
Appetizers/Savory Bites
With Style and Grace – Truffle Popcorn (sorry, link broken beyond repair)
Family Fresh Cooking – Baby Peas & Cheese Frittata
Barbara Bakes – Creamy Orange Fruit Dip and Fruit
Aggie's Kitchen – Pasta Salad with Balsamic Basil Vinaigrette
Reluctant Entertainer – Nutella Berry Bruschetta
Dessert
Dorie Greenspan – French Lemon Cream Tart (sorry, link broken beyond repair)
TidyMom – Blue and Chocolate Cake Balls
i am baker – Baby Pea Baby Shower Cake
Brown Eyed Baker – Pavlova
Picky Palate – Chocolate Chip Oatmeal Cookie Sandwich
What's Gaby Cooking – Coconut Cupcakes with Cream Cheese Icing
Cookin' Canuck – Nutella & Cream Cheese Swirled Blondies
Kevin and Amanda – Baby Blue Chocolate Chip Oatmeal Cookie Cups
Sweetopia – Decorated Sugar Cookies
Mountain Mama Cooks – Lavender Shortbread Cookies
Sweetapolita – Little Pea Sugar Cookie Pops
Bake at 350 – Petit Fours with fondant pea pods
Recipe Girl – Baby Button Cookies
Recipe Boy – Mud Cups with Gummy Worms
Add a Pinch – Blackberry Tartlets
Dine and Dish – Oven Baked Cinnamon Apples
Vintage Mixer – Mint Chocolate Pudding Shots
Crafts
Wenderly – Handmade Sweet Pea Cards
Our Best Bites – How To: Make a Diaper Cake Centerpiece
How are you hanging onto summer?