Let's make a pact to stay hydrated this summer, okay?
My love of flavoured water almost seemed too simple to blog about, but I reminisced over many, many basic tutorials I've shared in this space and reminded myself they are some of my most popular content. So, I'm here to convince you that infusing your drinking water with gorgeous summer produce is the ticket to staying refreshed (and kicking any soda habit) in the hot months to come.
I've never been good about drinking water. My sister Haidi can keep a quart Mason jar on the go all day and chug it back frequently, but I've tried that and I always leave the jar someplace and then forget all about it.
Keeping a jar or two of flavoured water at eye level in my refrigerator not only frequently reminds me to drink, but entices me to stop, sip and savour. It sounds totally cheesy, but a lovely infused water is something I actually look forward to throughout the day.
It's the little things.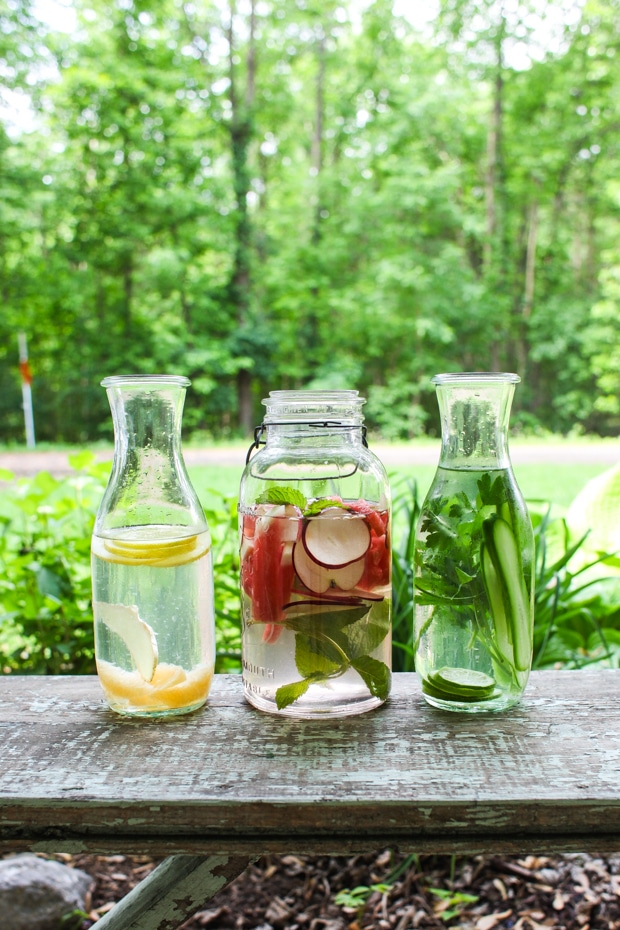 I like to keep things simple and flavoured water is just that: pour filtered water over clean fruits, vegetables or herbs, infuse and enjoy. I generally tend to use up what I have on hand – half a lime, the end of a cucumber, a wrinkled orange – and just go with it.
I think I'm too frugal to spend $6 on organic blackberries or something of the sort just to have them disintegrate in my drinking water. But I'm not judging any of you who do! Search Instagram for the hashtag 'detoxwater' or 'flavoredwater' and you'll see berries are a popular ingredient.
Now, experts and non-experts alike claim that flavoured water has cleansing and detox properties and can actually help flush your body of toxins. Do I believe all that? Meh. I'm not even sure if I believe in detox, but I do think that there are mild health benefits to drinking flavoured water.
Water with fresh lemon, for example, can aid digestion, which is why I begin my day with the Citrus Morning. I have it before coffee, before breakfast, and continue to sip it throughout the morning. The ginger also aids digestion and one slice is mild enough to stomach first thing in the morning.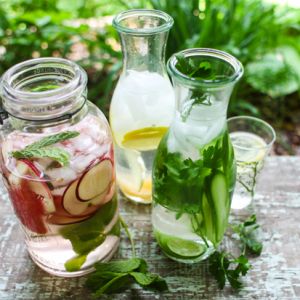 Citrus Morning
Start your day with this simple flavoured water.
Print
Pin
Rate
Ingredients
5

grapefruit segments

4

lemon slices

1

fresh ginger slice

1

litre

filtered water
Instructions
Combine grapefruit, lemon and ginger in a 1 quart mason jar.

Pour over filtered water to the top of the jar.

Cover and chill 1 hour or up to 24 hours.

Start your morning feeling refreshed.
Notes
For additional health benefits, add a slice of tumeric root to this drink when you can find it fresh.
Nutrition
I like my Parsley, Lime and Cucumber water in the afternoon when I'm often working outside. It's cool and utterly refreshing. It might be my imagination, but it keeps my breath fresh, too.
I've planted tons of cucumbers and parsley in my garden this year, so this combination is going to be around all summer, that is for sure.
Parsley, Lime and Cucumber Flavoured Water
Thirst quenching and flavourful - this is how to stay hydrated during the summer.
Print
Pin
Rate
Ingredients
1

mini cucumber

washed and sliced thinly

2-3

sprigs

fresh Italian parsley

4

slices

lime

1

litre

filtered water
Instructions
Place cucumber, parsley and lime slices in a quart mason jar.

Top with water to fill the jar.

Cover and infuse in the refrigerator for at least 4 hours and up to 36.
Nutrition
The Watermelon Mint Sipper lasts the longest of the three flavoured waters I'm sharing today, meaning it doesn't turn bitter or start tasting like compost after 24 hours of infusing (real talk). Even after 48 hours in the refrigerator it's as good as ever, maybe even sweeter, thanks to the melon.
It's a great 5-o-clock sipper poured over ice when perhaps you are feeling like a cocktail, but it's only just a weeknight.
Ingredients
1-2

cups

sliced seedless watermelon

1

small apple

sliced thin

2-3

sprigs

fresh mint

1

quart

filtered water
Instructions
Place sliced watermelon and apple in a wide-mouth quart jar.

Lightly 'bruise' the mint with your fingertips to bring out the natural oils and add it to the jar.

Fill the jar with filtered water.

Cover and refrigerate for at least 4 hours and up to 48.

Get refreshed anytime.
Notes
Try adding basil instead of the mint for a delicious twist.
Nutrition
Calories:
141
kcal
|
Carbohydrates:
36
g
|
Protein:
1
g
|
Sodium:
51
mg
|
Potassium:
364
mg
|
Fiber:
4
g
|
Sugar:
28
g
|
Vitamin A:
1050
IU
|
Vitamin C:
20.7
mg
|
Calcium:
50
mg
|
Iron:
0.6
mg
And one step past flavoured water is agua fresca, with this honey-sweetened Watermelon Agua Fresca leading the pack. Try it sometime! There's also a vibrant green Cucumber Honeydew Agua Fresca in my cookbook that is utterly delicious.
Are you drinking flavoured water? What's your favourite flavour combination?