We packed a picnic lunch on Saturday and spread a quilt over the violets and ferns of the forest floor. There were smoked salmon stuffed bagels to enjoy, along with chocolate pots de creme, but it was a bottle of chilled Watermelon Agua Fresca that stole the show.
Whizzed up in the blender with a few ice cubes, it was thrown together just 5 minutes before we left, while my boys pressed their noses against the screen door and inquired when lunch would be ready.
Our blush pink 'fresh water' was enjoyed by even the smallest member of the family, who guzzled her watered-down version before anyone else had finished theirs. I take it she approves of both picnics and summer beverages.
The season for fresh, fruity drinks is upon us, and will last through September, when it is overtaken by pumpkin spice lattes and spiced cider. For now, however, berries, stone fruits and melon flavor our sips, paired with herbs and other aromatics.
Whether we are picnicking with just the five of us or entertaining a group of guests, we're drinking homemade, non-alcoholic beverages all summer long. We don't load up our shopping cart with cases of soft drinks or juice boxes, and wine is reserved for special occasions.
Cocktails? Yes, they make a fairly frequent appearance, but this post is about the thirst-quenchers, suitable for the whole family. Okay, except for the iced tea and coffee.
Making agua fresca, iced tea or lemonade is one way we infuse our summer drinks with seasonal flavors and skip the sugar and artificial ingredients contained in most store-bought versions. We also manage to save a little money in the process.
Drink well, spend less? That works. It also happens to fit into our theme for this month's Eat Well, Spend Less challenge: summer entertaining on a budget. Read on for my 5 fresh ideas for summer sips and a recipe for Watermelon Agua Fresca.
5 fresh ideas for non-alcoholic summer sips
Flavored Water
A simple infusion of your favorite fruit, vegetable or herb is the fastest way to liven up your daily dose of water. Flavored waters also look lovely presented in jugs or drink dispensers for parties. Jan's created this handy list of her favorite combinations if you are looking for inspiration beyond your own fruit bowl or garden.
Lemongrass, cilantro, and mint? Honeydew melon and cucumber? Yes please.
Photo by Shaina
Sparkling Water + Homemade Flavored Syrups
Cola and Crush do not make it onto my grocery list, but I do keep a bottle or two of sparkling water and club soda on hand for homemade sodas. Paired with seasonal syrups, ice cubes and a lime wedge, these drinks rival any summer cocktail. Of course, you can always add a splash of gin, tequila, or your favorite spirit if it's five-o'clock on a Friday!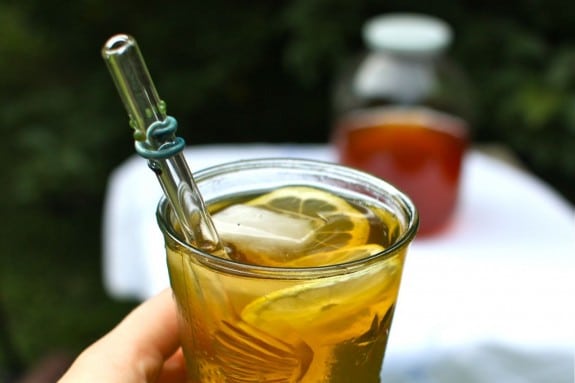 Iced Tea and Coffee
Aside from the infused water above, cold-brewed iced tea or coffee may be the most simple beverage you can make this summer. Literally, "just add water" is all the effort required and the results speak for themselves.
Keep cool and caffeine-fueled with these homemade versions of iced tea and coffee.
Lemonade
A summer classic. My boys make their own with a lemon, a splash of thinned honey syrup I keep on hand, and a top up of filtered water. Look for bruised and battered lemons and limes in the discounted produce section as they will contain the most juice.
Agua Fresca
With the literal translation from Spanish meaning 'fresh water' you already know agua fresca is going to be refreshing and delicious. We've been enjoying a watermelon version (recipe below) but feel free to substitute any melon instead.
Watermelon Agua Fresca
A refreshing summery drink featuring a balance of sweet melon and tart lime. Serve well-stirred, over ice, and garnish with fresh mint if you like.
Print
Pin
Rate
Ingredients
6

cups

cubed watermelon

about 1/2 a medium melon

2

Tablespoons

agave syrup

or honey

1/4

cup

lime juice

about 2 large limes

2

cups

filtered water

ice

for serving

mint sprigs

for garnish (optional)
Instructions
Place half of the watermelon in a blender or food processor and blend until smooth and liquid. Pour into a fine mesh colander that has been set over a large bowl and filter out the pulp and seeds. Discard the pulp and repeat with second batch of melon cubes.

You should have about 4 cups of watermelon juice. Stir in the agave, the lime juice and water. Stir well and taste. Adjust sweetener or acidity as needed.

Chill agua fresca until needed. Serve over ice with a sprig of mint or thin slices of lime. Yields 6 cups.
Notes
Mama's Tip: reserve a cup or so of the watermelon juice before the other ingredients are added and keep it for baby. Be sure to dilute it with water as it still contains plenty of natural fructose.
Nutrition
Calories:
69
kcal
|
Carbohydrates:
17
g
|
Sodium:
6
mg
|
Potassium:
182
mg
|
Sugar:
14
g
|
Vitamin A:
865
IU
|
Vitamin C:
15.3
mg
|
Calcium:
13
mg
|
Iron:
0.4
mg
Be sure to check out what the other ladies are writing about this week on our topic of summer entertaining on a budget. Posts will be added throughout the week.
Do you have a favorite homemade summer sip?