I can think of fewer places I would rather be on a chilly November afternoon than sipping tea and chatting with girls who have gathered together to swap jam, jellies and preserves.
That was how I spent part of my Sunday past, enjoying the warm hospitality of my good friend Melanie, while the boys stayed home to rake leaves. Clara came too, sitting primly on the sofa in her party dress and nibbling crackers so neatly that my heart swelled with emotion at the thought of all the tea parties we have ahead of us.
It was delightful to be a guest for once, and the practical aspect of the swap made it a not-to-be-missed event on my calendar. Read on for a few photos from the swap and a recipe for Cranberry Pear Conserve with Ginger, my contribution to the table.
A jam, jelly & preserve swap plays out much like a cookie swap, only guests bring canned goods instead of baked treats. First we taste the preserves, served with cheeses, crackers and toasts or scones, and accompanied by tea.
This is usually the part where canning tips are swapped, as well as confessional stories from the kitchen, usually of a batch gone horribly wrong. I loved how one guest stated that she gave the first (less satisfactory) batch to her boss, and brought the second, perfected round of spiced, sweet applesauce to our swap.
Swapping the jars takes just a few minutes, and you leave with the same amount that you brought, only now you have a beautiful selection of pickles, fruit butters, jams, conserves and sauces. Voila, an instant preserves pantry.
A few weeks ago at the market, I spotted two baskets of over-ripe pears that were discounted to $4 and I snatched them up, along with a knob of ginger. The pears were so far gone, I didn't want them to sit another day and risk losing them.
That evening, I worked late into the night, mincing orange, grating ginger, and chopping pears for a quadruple batch of Cranberry Pear Conserve with Ginger. The recipe is adapted from Marisa's Pear Ginger Conserve in her cookbook, Food in Jars
, only I added cranberries, omitted the walnuts, and jacked up the ginger dosage for a little extra kick.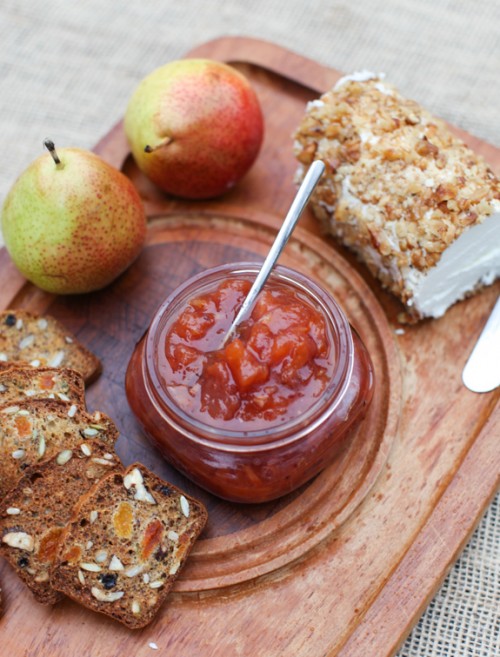 It's delightfully chunky, and the tang of the cranberries balances out the sweetness of the pears quite nicely, not to mention the berries give the conserve a pretty festive color. I probably don't have to point out that it would make a lovely holiday gift…
I serve this conserve with a soft chevre and a handful of my homemade fruit and nut crisps for the perfect holiday appetizer, although it would pass perfectly fine as jam for your Sunday brunch.
I'll let you be the judge of how it is best enjoyed.
Cranberry Pear Conserve with Ginger
A sweet autumn preserve with a zing of ginger, perfect for pairing with a cheese plate.
Print
Pin
Rate
Ingredients
6

cups

ripe pears

Bartlett or Anjou work best, washed

1

whole orange

scrubbed

1

cup

cranberries

fresh or frozen

2

cups

granulated sugar

1

lemon

1

2-inch cube

fresh ginger
Instructions
Core pears and roughly chop. Use a sharp knife or mandoline to slice the orange into thin slices, then chop the orange very finely.

In a large nonreactive pot, combine the chopped pears, cranberries, minced orange, and sugar. Bring to a simmer over low heat, stirring often.

Meanwhile, zest and juice the lemon, and finely grate the ginger. Add lemon zest, lemon juice, and grated ginger to the pot of pears and stir to combine.

Increase heat and bring to a slow boil. Cook until the blush-colored syrup turns translucent and the fruit is very soft, about 30-40 minutes.

Remove from heat and ladle into sterilized jars. Cover with lids and either process in a hot water canning bath for 10 minutes, or refrigerate for up to one month.
Nutrition
Calories:
559
kcal
|
Carbohydrates:
146
g
|
Protein:
1
g
|
Sodium:
4
mg
|
Potassium:
397
mg
|
Fiber:
10
g
|
Sugar:
128
g
|
Vitamin A:
150
IU
|
Vitamin C:
45.5
mg
|
Calcium:
42
mg
|
Iron:
0.7
mg
 Any final canning projects this season?