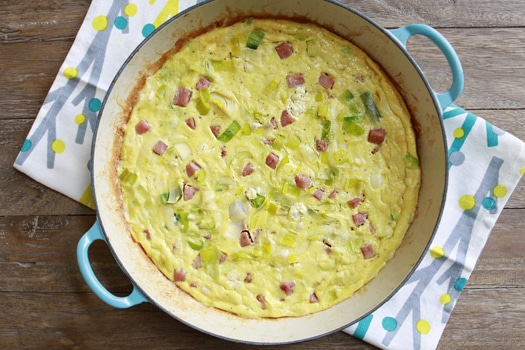 written by Katie of GoodLife Eats
I like starting my morning with something savory this time of year because there are so many sweet offerings to enjoy with the fall and winter holidays. Savory, protein-rich dishes like Frittata help balance out sweets like Chocolate Gingerbread Cookies and Hot Spiced Apple Cider that too often make it past my lips.

Frittatas offer a great opportunity to get creative in the kitchen as well as provide the chance to use whatever contents you have in your fridge. I find that about 8 eggs, plus a splash a milk can be combined with almost any vegetable, cheese, and/or meat that I have on hand in the fridge for a delicious addition to the breakfast table.
Frittata Ingredient Combo Ideas
Leek + Ham + Goat Cheese
Spinach + Mushrooms + Red Pepper + Feta
Apple + Bacon + Cheddar (Recipe: Here)
Kale or Swiss Chard + Slow Roasted Tomatoes + Parmesan
Broccoli + Potato + Bacon + Cheddar
Do you have a favorite combo?
all photos by Katie of GoodLife Eats
We usually find ourselves quite rushed during the weekday mornings as we hurry to get everyone fed, dressed, and brushed before heading to school. And of course there are the occasional tantrums, sibling scuffles, and mornings where it is simply too hard to get out of a warm bed to account for.
That means I don't have time to whip up much beyond toast, a bowl of quick-cook oatmeal, or cereal for breakfast. None of us like those ideas very much (except Logan who has a special love for toast), so we often opt for make-ahead ideas to nourish ourselves in the morning.
Lately I have taken to making a large frittata on less busy days that we can reheat throughout the week for no-fuss, no-mess hot breakfasts, but there are plenty of options that take a little bit of your time on one day and bless you for many days ahead.
More Make Ahead Hot Breakfasts Ideas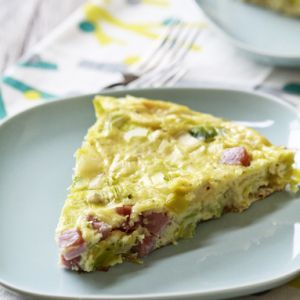 Ingredients
3

large

leeks

white and light-green parts only

2

Tablespoon

olive oil

1 1/2

cup

cooked ham

diced

8

large

eggs

1

Tablespoon

milk

kosher salt

ground black pepper

3

oz

goat cheese

crumbled
Instructions
Preheat the oven to 350 degrees F.

Halve the leeks lengthwise and slice 1/4 of an inch thick. Rinse the leeks of any residue dirt. Set aside.

Heat 1 tablespoon of olive oil over medium-high heat in a large, well-seasoned cast-iron skillet or ovenproof nonstick skillet. Add the sliced leeks and saute for 4 - 6 minutes, or until the leeks are tender. Remove from heat. Add the ham and saute for an additional 1 - 2 minutes to allow the flavours to develop.

In a large bowl, whisk the eggs, milk, 1/2 teaspoon salt, and 1/8 teaspoon black pepper (or amounts according to your preferences).

Remove the leeks and ham from the skillet and add to the whisked eggs along with the crumbled goat cheese. Gently stir to combine.

Wipe out the skillet and grease the bottom and sides of the skillet with the remaining 1 tablespoon of olive oil. Set the skillet over medium-low heat. Slowly pour the egg mixture into the prepared pan. Cook over medium-low heat without stirring for 8 - 10 minutes, or until the bottom is set.

Transfer the frittata to the oven and bake until the top is set, about 5 - 10 minutes more. Cut into wedges and serve immediately.
Make Ahead Option
Cool the baked frittata completely, cut into individual portions and store in a sealed food safe container in the refrigerator for up to 3 days. Reheat portions as needed.
Nutrition
Calories:
257
kcal
|
Carbohydrates:
6
g
|
Protein:
18
g
|
Fat:
17
g
|
Saturated Fat:
5
g
|
Cholesterol:
308
mg
|
Sodium:
495
mg
|
Potassium:
263
mg
|
Sugar:
2
g
|
Vitamin A:
1295
IU
|
Vitamin C:
12
mg
|
Calcium:
93
mg
|
Iron:
2.8
mg
What sorts of breakfasts do you prefer this time of year?